Republican and Democrat Voters Both Want Stimulus By End of 2020: Poll
The vast majority of Republican and Democrat voters want a second stimulus bill to be approved by the end of this year, with millions of Americans facing unemployment and the threat of deep rent arrears.
A new poll from Data for Progress and Vox found that 81 percent of all voters either strongly or "somewhat" agreed that Congress needed to pass another COVID-19 relief bill before the end of the year.
By comparison, 11 percent of polled voters said they disagreed that a fresh stimulus bill needed to be passed in the coming weeks. A further 9 percent told pollsters they didn't know how they felt.
When the results were broken down on partisan lines, Data for Progress found that almost nine in ten Democrats (88 percent) wanted a new stimulus bill passed ahead of the new year, along with roughly three-quarters (74 percent) of Republican voters.
A near-identical share of independent and third-party voters also backed further federal relief in 2020, while only 13 percent opposed such measures.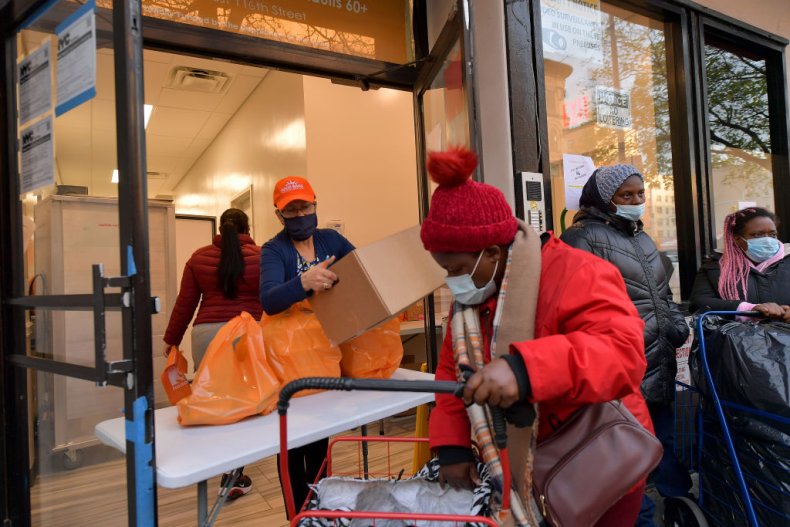 Seventeen percent of GOP voters said they disagreed that Congress needed to pass another relief bill before January 1, while just 4 percent of Democrats felt the same way.
Data for Progress surveyed 938 likely voters across the U.S. between December 8 and December 9 for its latest poll. Its margin of error stands at 3.2 percentage points.
The new poll data was released as stimulus talks on Capitol Hill continued to stall this week amid disputes over state and local government aid, liability protections for business, and an extension of unemployment benefit payments.
Speaking to reporters on Thursday morning, House Speaker Nancy Pelosi (D-CA) warned that stimulus talks could drag on past Christmas if necessary, adding that lawmakers could not go home for the holidays until a package had been brokered.
"If we need more time, then we take more time, but we have to have a bill, and we cannot go home without it," she said. "I have to believe the administration and Republicans in the Senate when they say they do not want to shut down government."
A bipartisan proposal worth roughly $908 billion gained traction earlier in the week, but Politico reported that Senate Majority Leader Mitch McConnell (R-KY) shot down the proposal, claiming that it would not work for most Republicans in the upper chamber.
Democrats also slapped down proposals put forward by the Trump administration and Republican leaders on Capitol Hill this week.
As the talks between lawmakers look set to continue for at least another week, millions of Americans face long-term unemployment and heavy rent arrears as a result of the coronavirus crash in March.
A forecast released by Moody's Analytics this week cautioned that almost 12 million Americans could owe more than $5,800 in rent and utility bill arrears on average by the start of the new year. The latest U.S. Census Bureau data also shows that more than 11 million Americans face housing insecurity amid the pandemic.
According to Bureau of Labor Statistics data released last week, the number of long-term unemployed Americans rose by 385,000 to a total of 3.9 million in November.