Nancy Pelosi Says Stimulus Talks Could Stretch Past Christmas
House Speaker Nancy Pelosi warned that stimulus talks could continue past Christmas if Republicans and Democrats fail to agree on a second COVID-19 relief package within the next week.
Appearing at a weekly press conference, Pelosi said she hoped another stimulus bill would be put to the floor by December 18, when lawmakers are slated to vote on federal government funding. But she added that talks could still go beyond that point.
The top House Democrat also stressed that lawmakers needed to pass a second coronavirus relief bill before they could leave Capitol Hill for the Christmas holidays.
"Hopefully that December 18 date, we would like to have this done. For us it's several days before because it takes times for the Senate to clear its throat," Pelosi said. "So when we have the text and the agreement, then we will make that public, go to the floor, pass the bill, and give the Senate time before the expiration of this."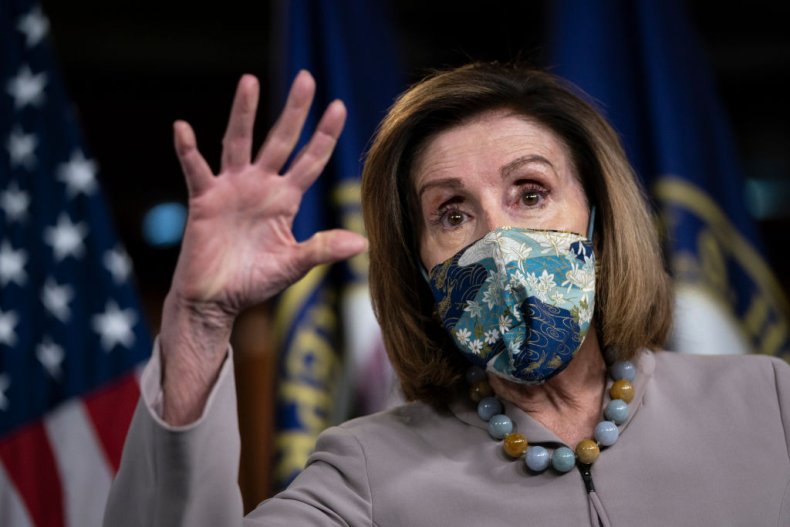 The California Democrat later added: "Now, if we need more time, then we take more time, but we have to have a bill, and we cannot go home without it. I have to believe the administration and Republicans in the Senate when they say they do not want to shut down government."
Pelosi then repeated that she hoped the package would be ready by December 18 to ensure Americans had been granted much needed financial relief before the holiday season.
"But we've been here after Christmas you know," she reminded reporters. "We were here five years ago on the budget."
The House speaker warned that stimulus talks could drag on past Christmas after Republican and Democrat negotiators spent the week struggling to reach a deal on the outline of a second COVID-19 relief bill.
Senate Majority Leader Mitch McConnell said a bipartisan package worth around $908 billion would not work for most Republicans in the upper chamber. He also called for talks over state and local government aid, and liability protections for business, to be dropped from talks so a deal could be reached.
The Republican's proposal was slapped down by Democratic leaders who felt the suggestion that both sides concede on red lines was unacceptable, with Senate Minority Leader Chuck Schumer (D-N.Y.) accusing his counterpart of trying to "sabotage" negotiations.
A White House stimulus proposal worth $916 billion was also turned down by Democratic lawmakers over its lack of a weekly jobless benefit extension. However, the proposal did offer $600 stimulus checks to Americans who received $1,200 payments under the CARES Act passed in late March.