Republican Group to Run Ad on Fox News Thanking Mitt Romney for Convicting Trump
A group of life-long Republicans who supported the impeachment of President Donald Trump will air an advertisement next week praising Sen. Mitt Romney for being the lone GOP senator to cross party lines and vote to convict the president on one article of impeachment.
Republicans for the Rule of Law, the organization behind the ad buy, will also pay for two digital billboards featuring Romney's image with the text: "THIS IS WHAT A TRUE PATRIOT LOOKS LIKE."
"Sen. Mitt Romney stepped up to the challenge and into the history books," Republicans for the Rule of Law spokesperson Chris Truax said in a statement. "He faced enormous pressure from his party, his constituents and even members of his own family."
"But Mitt Romney is nobody's puppet," he continued. "Whether we agree with all of his conclusions or not, we should all salute Senator Romney for his sincere commitment to the rule of law."
The 30-second video, which can be viewed at the bottom of this story, will run 25 times statewide in Utah on Fox News throughout next week. The digital billboards will be up on Friday in Salt Lake City on Interstate 15 near the 3300 South exit.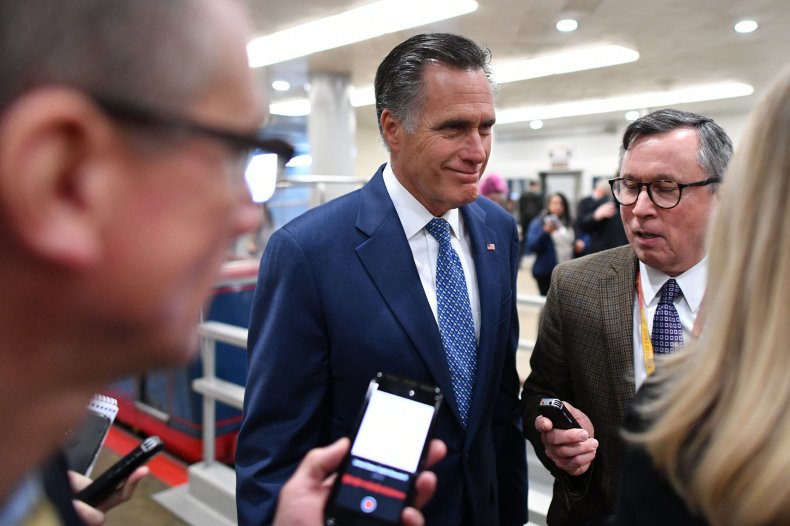 The ad also thanks Romney for making the "right choice" and doing what "his conscience and his country required." It highlights portions of the first-term senator's floor speech delivered Wednesday, in which he explained the difficult conclusion he'd come to reach that the president should be removed from office for abuse of power for pressuring Ukraine to investigate a political rival while withholding crucial military aid.
"But my promise before God to apply impartial justice required that I put my personal feelings and political biases aside," he said. "Corrupting an election is perhaps the most abusive and destructive violation of one's oath of office that I can imagine."
Romney voted to acquit Trump on the second impeachment article, obstruction of Congress.
"No one can watch his senate speech without appreciating his integrity, his decency, and his sense of duty," Truax said.
Since his vote, Romney has faced backlash from the conservative realm of politics.
Trump questioned his faith at the National Prayer Breakfast on Thursday, telling faith community leaders: "I don't like people who use their faith as justification for doing what they know is wrong."
The president's oldest son, Donald Trump Jr., called for Romney's expulsion from the Republican Party; Romney's former press secretary claimed his vote was "motivated by bitterness and jealously"; Romney's niece, Republican National Committee Chairwoman Ronna McDaniel, wrote in a tweet that she, "along with the @GOP, stand with President Trump"; and House Republicans close to Trump blasted him as "a sore loser."
However, Romney's GOP colleagues in the Senate stood by his side, rejecting calls for his expulsion or for him to be formally reprimanded. Although they disagreed with his position, Republican senators labeled the suggestion he be expelled as "silly talk" and that there'd be ample opportunities to continue working with Romney on legislative matters.
"We don't have any dog houses here," Senate Majority Leader Mitch McConnell (R-Ky.) told reporters after Trump's acquittal. "I was surprised and disappointed... I think Senator Romney has been largely supportive of almost everything we've tried to accomplish."