Republican Labeled 'Traitor' for Infrastructure Vote Calls Bill Win for Americans, Not Biden
Rep. John Katko, a Republican from New York, defended his vote in favor of the infrastructure bill, after he and 12 other GOP lawmakers who supported the legislation have faced fierce criticism in recent days.
Speaking on Fox News Saturday, Katko said the legislation was a "quintessentially conservative bill" because "it's all paid for and it's all about roads and bridges and infrastructure and it's going to be really good for the economy."
The small group of Republican lawmakers who supported the bill on November 5 came under fire by members of their own party, including Georgia Rep. Marjorie Taylor Greene of Georgia, who called them "traitors."
Following the vote, Rep. Matt Gaetz, a Florida Republican, said that Katko should be removed from his position as the ranking member of the House Homeland Security Committee
Fox News host Neil Cavuto asked Katko about the backlash he has received in the wake of the vote.
"Are you surprised by the heat you're taking right now, congressman, from other Republicans who say you gave Nancy Pelosi a win?" Cavuto asked
Katko said he doesn't see the legislation as a win for President Joe Biden, but as a "win for the American people."
"The average blue-collar person driving their car to work every day has about $1,000 more a year in maintenance and repair costs for their vehicles because of the sad state of our roads and bridges. And I think about those people when I think about this bill and I think of our clean drinking water, and I think about attracting industry from overseas here when we get our infrastructure in a better state," Katko said.
"There's a lot of big wins for American people, and a lot of big wins for our economy," the congressman added.
"Donald Trump doesn't see things that way, congressman. Are you worried about being primaried? Cavuto asked.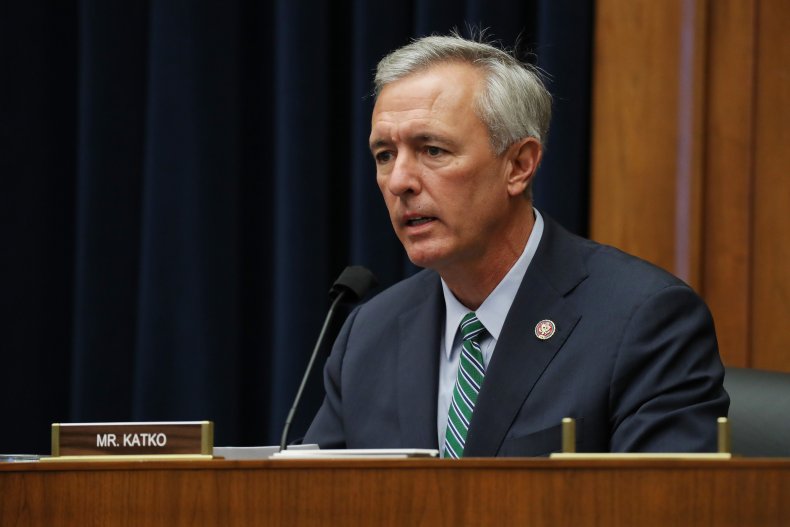 In response, Katko said that he always seems to "defy gravity" in his district where he said there are 5 percent more Democrats than Republicans.
"I have the toughest district in the country for a Republican to hold and I have a good finger on the pulse of my district. So whatever the challenges may be, we'll be ready for them and we'll take them serious and I'll be happy to run on my record like I always do."
Katko is already facing some 2022 challengers, including Andrew McCarthy, a military intelligence analyst and Air Force veteran.
"Democrats in the Senate and House impose their will on the American people every single day. The time to play nice with traitors in our own party is over," McCarthy tweeted on November 11.
"I will unseat phony Republican John Katko in 2022."
Another challenger, Tim Ko, a physician assistant in neurosurgery and pro-Trump Republican, announced he would run against Katko earlier this month.
While Katko supported the infrastructure legislation, he called Democrats' other legislative priority, the Build Back Better Act, a "train wreck of a bill."
"It's going to vastly expand social programs, probably more so than any time since FDR and it's going to raise taxes at a time when we already have major supply chain issues. So it's a terrible bill and I don't think there's a single Republican that will vote for it," Katko said.