Trump Attacks McConnell, House 'RINOs' Over Passage of 'Non-Infrastructure' Bill
Former President Donald Trump on Sunday denounced Senate Minority Leader Mitch McConnell and House Republicans over the passage of President Joe Biden's infrastructure bill through the lower chamber.
The U.S. House passed Biden's infrastructure bill late Friday in a 228-206 vote largely along party lines. 13 Republican representatives broke with the party to vote in favor of the bill.
At least one said their rationale was mostly to hit back against progressive Democrats, six of whom voted against it.
"Very sad that the RINOs in the House and Senate gave Biden and Democrats a victory on the 'Non-Infrastructure' Bill," Trump said in a statement. "Where only 11% of the money being wasted goes to real infrastructure."
"How all of those Republican Senators that voted thinking that helping the Democrats is such a wonderful thing to do, so politically correct. They just don't get it!," he continued.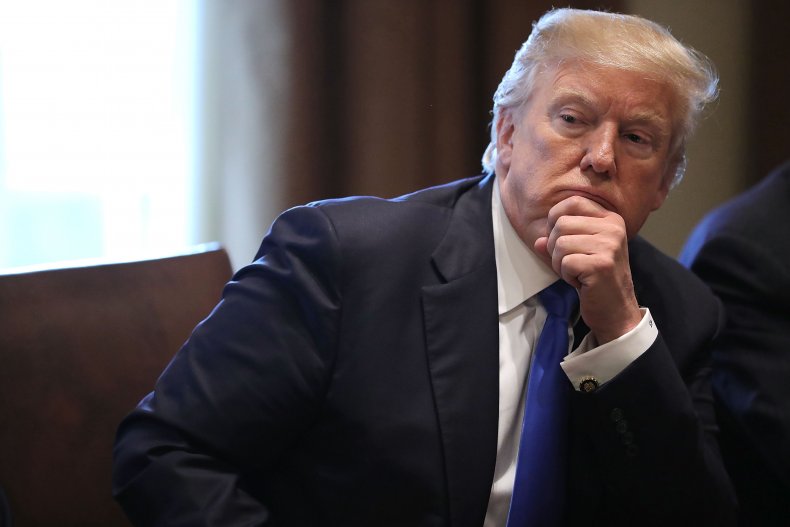 "Now they'll go for the big kill—getting their second $1.9 Trillion Bill (really $5 Trillion) approved, again with RINO support," the former Republican president added. "All Republicans who voted for Democrat longevity should be ashamed of themselves, in particular Mitch McConnell, for granting a two month stay which allowed the Democrats time to work things out at our Country's, and the Republican Party's expense!"
The bill now heads to Biden desk to be signed into law. It passed the Senate in August in a 69-30 vote with support from every Democrat and 19 Republicans. McConnell was among the Republican members who supported it, drawing the ire of former president Trump and his supporters.
"The Republicans in the Senate have the cards, including political cards, to stop the onslaught of Democrat Legislation that will further lead to the destruction of the United States," Trump said in a statement in September. "The 19 Senators who voted for the [non] Infrastructure Bill, of which only 11 [percent] is infrastructure as we know it, have created a big setback for Republicans. They can't make mistakes like that again. They must play every card in the deck!"
Trump argued that passing the infrastructure legislation would boost Democrats in future elections. He also threatened to endorse challengers for any Republicans who vote in favor of Biden's agenda.
Trump's own failure to pass infrastructure legislation during his presidency has been cited by Democrats in the wake of Biden's bill passing.
California Rep. Adam Schiff, a top Democrat, invoked the Trump administration's numerous "infrastructure weeks" in a Facebook post celebrating the vote on Friday. Biden himself also referenced the running joke in his own address on Saturday.
"Finally, infrastructure week," the president said. "I'm so happy to say that: infrastructure week."
Newsweek reached out to the Biden White House and McConnell's office for comment.