Trump Supporter to Challenge GOP Congressman Who Voted To Impeach
A supporter of former president Donald Trump is launching a primary campaign to challenge Republican Rep. John Katko.
Tim Ko, a physician assistant in neurosurgery, is hoping to appeal to supporters of Trump who have lost faith in Katko, according to Syracuse.com.
The congressman, who represents New York's 24th congressional district, was among 10 House Republicans who broke with the party and voted with Democrats to impeach Trump after the deadly riot at the U.S. Capitol on January 6.
"To allow the President of the United States to incite this attack without consequence is a direct threat to the future of our democracy. For that reason, I cannot sit by without taking action," Katko said at the time.
But 56-year-old Ko, of DeWitt in Onondaga County, said he decided to make his first bid for elected office because he believes Katko abandoned his conservative principles before and after the vote.
Ko said he and other conservative Republicans were not happy that Katko voted to pass the Equality Act earlier this year, and was also among a small number of House Republicans that he backed the Protecting the Right to Organize Act, an overhaul of labor laws.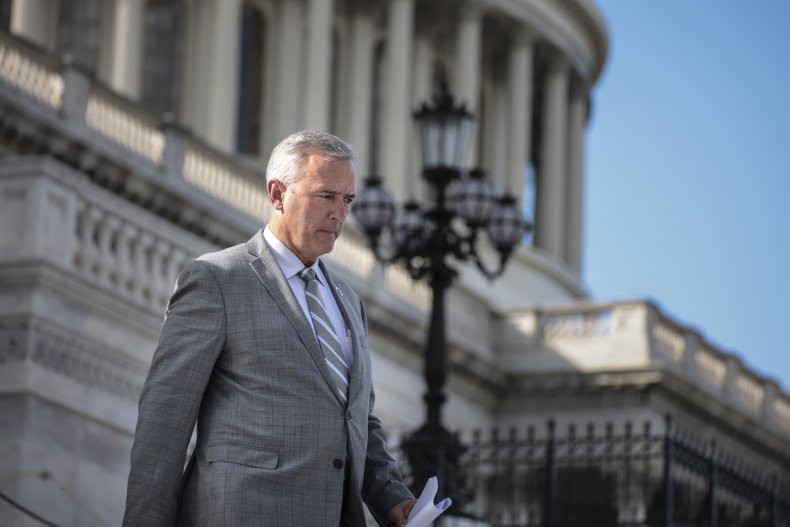 "I thought, we're not being represented by this guy," he told Syracuse.com. "He's voting with Democrats on big spending bills. The more I learned about John Katko I realized he's in Congress for the wrong reasons. He's not serving the people. He's self-serving."
Katko's vote to impeach Trump led the Onondaga County Conservative Party to say they would not back Katko's reelection.
It caught Trump's attention and he sent the party's chairman, Bernie Ment, a handwritten note penned over a news article about it. "A great move—Katko will never win again," Trump wrote. "I won big in area. Will help with campaign—find a great candidate."
The former president has aggressively targeted the 10 House Republicans who voted to impeach him. "1 down, 9 to go!" Trump said in a statement celebrating Ohio Rep. Anthony Gonzalez announcement that he would not seek reelection, avoiding a primary challenge from a former Trump administration aide.
According to Syracuse.com, Ment has personally endorsed Ko and said he would back him when the party's executive committee meet later this month to discuss candidates for the party's ballot line.
"He has strong conservative principles. He's pro-Trump. He's pro-gun. He's pro-life," Ment said. "At the end of the day those are the three issues we're very passionate about in the Conservative Party."
Ko has filed a formal statement of candidacy with the Federal Election Commission. He said his goal is to raise $100,000 in campaign donations by the end of 2021.
Ko, Rep. Katko's office and the Onondaga County Conservative Party have been contacted for additional comment.