Republican Senator Lisa Murkowski signaled on Thursday that she will vote against confirming Judge Amy Coney Barrett to the Supreme Court next week.
The Alaska lawmaker, who met with the conservative nominee earlier this week, would join the likes of Senator Susan Collins of Maine, the only other Republican who plans to vote against the Trump nominee on Monday. Barrett's nomination was advanced out of the Senate Judiciary Committee on Thursday by unanimous consent after Democrats boycotted the vote.
"I've shared for a while that I didn't think we should be taking this up until after the election, and I haven't changed," Murkowski said, according to a congressional pool report.
Asked explicitly whether she would be a "no" vote, the third-term senator responded: "That means I haven't changed my mind on that."
Murkowski—much like Collins, who is battling for re-election—opposes the decision to fill the seat of the late Justice Ruth Bader Ginsburg before the election. Murkowski was virtually the only Republican whose position remained unclear.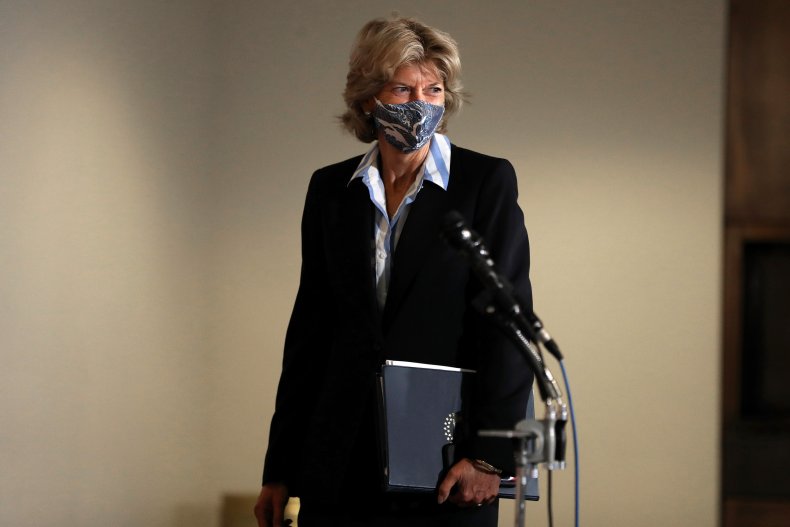 Despite the resistance from Murkowski and Collins, Republicans still have the necessary votes to confirm Barrett, which is expected to occur around 7 p.m. Monday. Democrats would still need two more GOP senators to cross the aisle and vote with them against her, a notion that does not appear feasible. The confirmation vote is expected to be 51-49.
As one of the moderates in the Senate Republican Conference, Murkowski is often a swing vote on contentious issues. Both she and Collins drew the ire of Trump when they came out against his choice to swiftly fill Ginsburg's seat before Election Day. But unlike Collins, Murkowski is not up for re-election until 2022. She cruised to re-election in 2016, beating her closest challenger by more than 15 points.
Politico first reported of Murkowski's likely dissension.
Collins reiterated her opposition on Wednesday.
"I've made very clear, and said months before Ruth Bader Ginsburg passed away, that I did not believe that we should be confirming a Supreme Court justice in a presidential election year this close to the election, prior to the election," Collins told Newsweek. "Obviously, I'm going to vote against the motion to proceed to the nomination when it comes up later this week."