New Plan Could Keep Trump Off Republican Debate Stage
A plan by the Republican National Committee (RNC) that would require GOP candidates running in the 2024 presidential election to sign a pledge to back the party's final nominee might prevent former President Donald Trump from getting on the debate stage.
Republicans still seem to be divided on whom they will support for the GOP nomination in the 2024 election, but the RNC wants to introduce a rule that would ensure unity among party members.
A person familiar with the matter told Newsweek on Friday that the RNC's Temporary Standing Committee on Presidential Debates will meet next week to formally set the rules for officially sanctioned debates and adopt a resolution that would require all candidates on the official primary debate stages to first vow that they would support the GOP's eventual nominee in the 2024 race.
This means that Trump, who announced his presidential run in November 2022, could potentially be prevented from participating in the debate if he didn't back his party's final nominee.
The former president previously noted that he will not commit to backing the eventual nominee if it's not him, saying that his support "would have to depend on who the nominee was," The Washington Post reported on Friday.
However, some Republicans said that they will not back Trump as the GOP nominee.
Meanwhile, New Hampshire Governor Chris Sununu said he will back the eventual nominee but expressed his certainty that it will not be Trump, according to the Post. Sununu recently launched a new fundraising committee to receive donations as he targets a potential presidential run in 2024, WBUR reported this month.
Former Maryland Governor Larry Hogan also recently tweeted that he "won't commit to supporting" Trump, while former Arkansas Governor Asa Hutchinson said that Trump is not the right person for the country's future.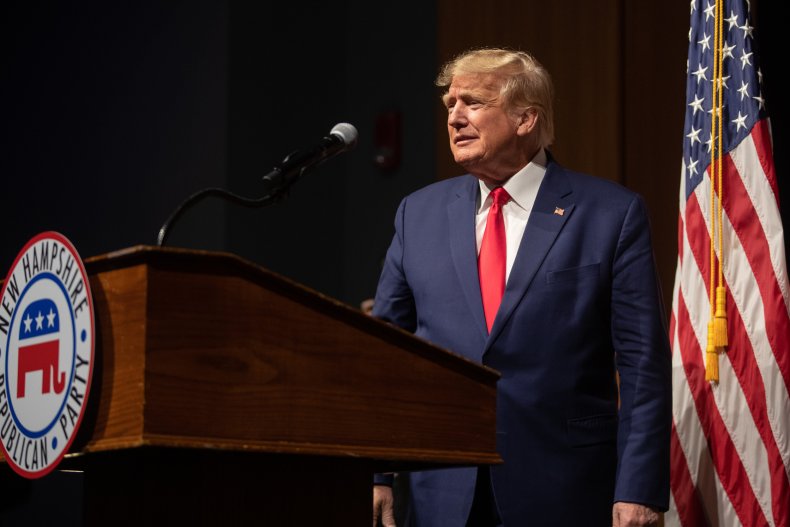 "To be clear, my position on Trump hasn't changed," Hogan said. "Trump won't commit to supporting the Republican nominee, and I won't commit to supporting him. As I have repeatedly said, I fully expect to support the Republican nominee—who I don't believe will be Trump."
The divide among party members raised concerns for RNC Chairwoman Ronna McDaniel, who said in an emailed statement to Newsweek that the "RNC will remain neutral during the Republican presidential primary and that's why it is so important for the RNC to ensure a fair and transparent process for the 2024 Republican candidates to debate."
"After the primary, it is imperative to the health and growth of our Republican Party, as well as the country, that we all come together and unite behind our nominee to defeat Joe Biden and the Democrats. By remaining neutral during the primary process, we will be best positioned to unite the party," McDaniel added.
However, not all Republicans agree with the RNC's plan to require candidates to sign a pledge.
"For leaders such as myself who believe Donald Trump is not the right direction for the country—and I said specifically that January 6 disqualified him—that would certainly make it a problem for me to give an across-the-board inclusion pledge," said Hutchinson, who is exploring a potential campaign, according to the Post.
Hutchinson reportedly spoke with McDaniel about his opposition to the plan and argued that the GOP shouldn't be imposing litmus tests.
"Historically, our party has not taken party loyalty oaths," said Hutchinson, who is exploring a possible campaign launch in April, according to the Post.
Last month, McDaniel urged unity among party members despite some Republicans' opposition to Trump.
"We do need to come out of this primary united," McDaniel said last month during an interview on Steve Bannon's War Room podcast. "And we have a lot of candidates running saying, 'I'll never support Trump,' and if you are going to get on this debate stage, you are going to have to say, 'I'm going to support the nominee.'"
"We cannot have a rigorous debate process and come out with a nominee and have anyone say, 'I'm walking away,'" McDaniel added.
Update 2/17/2023, 3:09 p.m. ET: This article has been updated to include additional information.