Another Virginia school district has rebuffed a transgender policy set forth by Republican Governor Glenn Youngkin and the state's Department of Education.
The school board for Amherst County Public Schools voted 6-1 on Wednesday to reject the state's policy finalized in July that made recommendations for K-12 students and defers to the "rights of parents to determine how their children will be raised and educated."
The new rules overturned a policy enacted by previous Democratic Governor Ralph Northam that included students being allowed to use restrooms and locker rooms matching their gender identity, in addition to teachers using students' preferred pronouns.
"The law requires the Virginia Department of Education to provide model policies and requires school boards to adopt policies consistent with those provided by the Department," Macaulay Porter, spokeswoman for Youngkin, told Newsweek via email.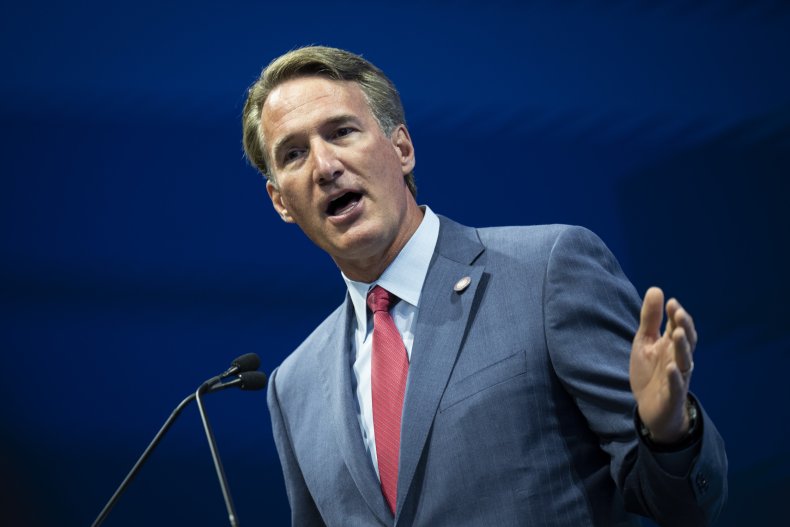 "The Amherst County Public Schools policies diverge from VDOE [Virginia Department of Education] model policy guidance and perpetuate a false notion that they know what's better for a child than a child's parent. The Amherst County school board is expected to follow the law."
Present guidelines imposed by the Youngkin administration provide more power to parents, who determine their children's names and pronouns as part of official record—and are the only ones who can change the record. Schools are also instructed to tell parents about any changes to students' "well-being," including their "health, social and psychological development."
Narissa Rahaman, executive director of the LGBTQ+ advocacy group Equality Virginia, told Newsweek that the "cruelty is the point" when it comes to the state's model policies on transgender and nonbinary students—especially in a time when Virginia public schools are underfunded compared to other states and they may possibly have to pay for legal counsel if they buck present law.
"We applaud the Amherst County School Board for taking action to not adopt a model policy that would create a hostile and unsafe learning environment for students," Rahaman said.
"They understood the harm and discrimination the governor's Department of Education policies would inflict upon transgender and nonbinary students and made the best possible decision, that Amherst schools are safe for all students."
The Amherst school board reportedly heard from five community members on Thursday evening during the public comment portion of the meeting before their final vote, according to local ABC affiliate WSET.
Three of them supported the school following Youngkin's directive, with one saying, "It strengthens our ability to have respect for all students while giving parents the rights to make decisions with respect to their children."
The current district policy, last revised on August 11, reads: "The Amherst County School Board is committed to nondiscrimination with regard to membership in any category protected under federal or Virginia law. This commitment prevails in all of its policies and practices concerning staff, students, educational programs and services, and individuals and entities with whom the Board does business."
The 2021 model policies addressed eight areas of policy, including student identification such as names, pronouns and dress code. The Amherst County School Board opted to adopt the Virginia School Board Association update which updated existing non-discrimination policies and other related school policies, making minimal language updates while inserting legal references to the model policies.
Another community member warned of the ramifications of bucking the state's policy, including a loss of support from the state.
In August, Republican Attorney General Jason Miyares issued an opinion on Virginia's model policies, finding them to comply with federal and state nondiscrimination laws. He added that "local school boards are required to adopt policies that are consistent with them."
Amherst County Superintendent Dr. William Wells said Thursday that the board should follow the advice of its legal counsel and keep its own policy intact. Board member Dawn Justice was the only one to vote against the measure, saying that the state's policies are more parent-oriented.
"We don't keep secrets from our parents and Governor Youngkin's policy, I think, speaks to that and is very solid," Justice said.
Newsweek reached out to Youngkin's office, Miyares' office, and the Amherst superintendent and school board via email for comment.
Youngkin, during an interview with Fox News last month, called out school districts that didn't follow the state's model policies and said that "they don't have a choice."
"It's the law and the law is very clear that I issue model policies and local school districts have to adopt policies consistent with the model policies," Youngkin told Martha MacCallum.
When a draft of the current policy was issued in September 2022, more than 70,000 Virginians chimed in during a public comment period.
Some Virginia school districts—including Prince William County Public Schools, Fairfax County, Arlington and Richmond—have maintained their past policies toward transgender students, simultaneously concluding that their guidelines are still compliant with the law.
Charlottesville City Schools and Albemarle County Public Schools are also part of the 10 percent or so of Virginia school divisions to have stuck with the Northam policy, according to Equality Virginia.
Rahaman said it remains to be seen what the potential ramifications are for districts that buck the state's policies, including potentially having to pay for legal counsel in case the state files lawsuits against them.
"It's unfortunate what we're seeing with the policies, that we're sort of creating a patchwork of policies across the state depending on where you live and if it will be a safe place for you and your child to attend," she said.
"Unfortunately, the aftermath and collateral damage to introducing a policy like this is we don't have a uniform standard for creating a safe learning environment for students and teachers to create guidelines in their classrooms."
Update 9/15/23, 12:18 p.m. ET: This article was updated with comment from Youngkin's office.