A Republican senator has introduced a resolution calling for an international investigation into the Communist Party of China's actions amid the outbreak of COVID-19.
Sen. Josh Hawley of Missouri said on Tuesday morning that he would be seeking a full probe into what he called the "lies & actions" of Chinese authorities as they responded to the spread of the novel coronavirus.
He also accused the country's officials of killing "thousands of their own people" and turning COVID-19 into a global pandemic, ratcheting up a war of words between Washington and Beijing.
Detailing his plan to introduce the resolution today, Sen. Hawley tweeted: "Today I will introduce a resolution calling for full investigation of #China Communist Party's lies & actions that killed thousands of their own people & turned #CoronavirusOutbreak #COVID19 into a global pandemic.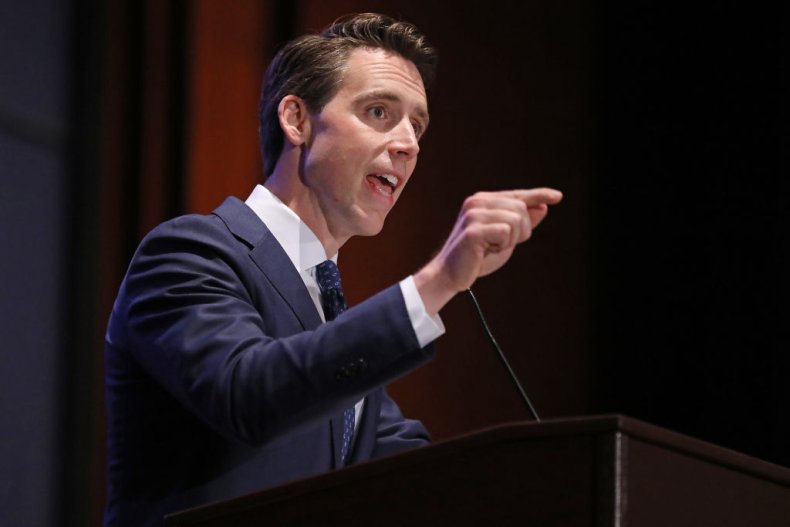 "The cost of Beijing's criminal conduct should be assessed and they should pay damages to USA and the world."
A copy of the resolution on the senator's website calls for an "international investigation" into the Chinese government and detailed its attempts to crack down on whistleblowers who warned of the coronavirus threat.
It also suggests that the U.S. and other nations impacted by the coronavirus outbreak should "design a mechanism for delivering compensation from the Government of the People's Republic of China" over the damage caused by attempts to "hide the emergence and spread of COVID–19 during the initial weeks of the outbreak."
Newsweek has contacted Sen. Hawley's office for comment. The Chinese embassy has also been contacted.
The Missouri Republican previously called for China to "foot the bill" for the spread of COVID-19 in the U.S. during an interview on Tucker Carlson Tonight last week.
"China ought to be held to account. And they ought to foot the bill for what the world, including the United States, is now suffering," he said.
The senator also praised President Donald Trump for his "aggressive response" to the coronavirus outbreak.
Trump and his senior allies have taken to referring to COVID-19 as the "Chinese virus," while Beijing has peddled a conspiracy theory alleging that the U.S. military brought the disease to China.
It is believed that the outbreak of the novel coronavirus occurred in the Chinese city of Wuhan, which reported a cause of "pneumonia of unknown cause" to the World Health Organization at the end of December last year.
A total of 67,801 confirmed cases of COVID-19 have been reported so far in the Hubei province, where Wuhan is located.
According to the Johns Hopkins University tracker, the number of confirmed COVID-19 cases worldwide has topped 392,000, while more than 102,000 cases of total recovery have been reported.
The global death toll of the novel coronavirus stands at 17,159, with 591 of those taking place in the U.S.
At the time of writing, America has recorded more than 46,400 confirmed cases of COVID-19.