Republican Senator Rick Scott Says He's 'Absolutely' Open to Calling Witnesses for Trump's Senate Trial
Republican Senator Rick Scott came out in support of possibly calling additional witnesses to testify in the Senate impeachment trial of President Donald Trump.
Several GOP senators have already expressed a willingness to hear from further witnesses, a key demand of Democratic lawmakers. In order for such a motion to pass, at least four Republicans would need to vote with the Senate's 45 Democrats and two independents. An amendment to guarantee witnesses was voted down on Tuesday, along partisan lines, but there will be another opportunity following opening arguments.
Asked by CNN's Dana Bash whether he was "open" to hearing from new witnesses, Scott, who represents Florida, said, "Oh absolutely." Pressed by the journalist, Scott insisted that witnesses were an option.
"I'm open to witnesses, but I think we ought to go through the right process," he said, explaining his belief that the vote yesterday was not the appropriate time to make the decision. Scott also said, as other Republicans have previously, that he'd like to hear from former Vice President Joe Biden's son Hunter, if witnesses are called.
Trump was impeached by the House of Representatives in December due to his efforts to pressure Ukraine to announce investigations that he allegedly believed would damage his political opponents. One of those probes was into unfounded claims that Biden acted corruptly to benefit his son's business dealings in the Eastern European country. The other was regarding a debunked conspiracy theory that Ukrainians and Democrats, not Russia, interfered in the 2016 election.
Democrats have called for additional witnesses, such as former national security adviser John Bolton and acting White House chief of staff Mick Mulvaney, to testify in the trial. Several Republicans have voiced a willingness to support such a decision.
Senator Mitt Romney, a Utah Republican, has repeatedly said he'd like to hear from Bolton specifically. Speaking to CNN on Tuesday, he shared a similar perspective to that of Scott, arguing that he'd be willing to vote for witnesses after opening arguments.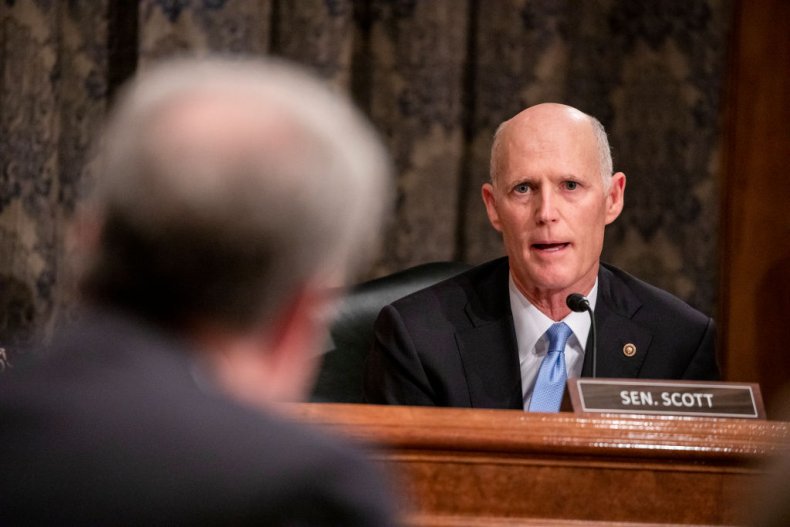 "I've already indicated that I'm interested to hear from John Bolton, perhaps among others," Romney said. "But I'm not going to be making that vote today. I'm going to make that vote after the opening [arguments]."
GOP Senator Susan Collins, who represents Maine, said earlier this month that she was coordinating with a "fairly small group" of her Republican colleagues to ensure that Trump's legal team and the Democratic House impeachment managers could both call witnesses, according to Bangor Daily News. "We should be completely open to calling witnesses," she said.
Kellyanne Conway, a senior counselor to Trump, warned Democrats that the president would call his own witnesses if others were subpoenaed.
"If the Democrats really want to go down that road and have witnesses, then we're going to have reciprocity in those witnesses," Conway told Fox News on Monday, suggesting that Hunter Biden would be called. "I dare them."
As for Trump, he told reporters on Wednesday that he doesn't want Bolton to testify because "he knows some of my thoughts."