Republican Senators Break With Trump to Push for Police Reform
Republican senators bowed to public pressure Tuesday by pushing police reform legislation that is expected to feature watered-down Democratic proposals yet offer substantive change aimed at racial injustice within America's police forces.
While details remain scant, the senators have made clear the need to respond to the killing of George Floyd, a black man, by a white police officer in Minneapolis, even as President Donald Trump stands firm in his "law and order" stance and tweets a wild—and false—conspiracy theory about a 75-year-old protester injured by police in Buffalo, New York.
"We are on a separate track from the White House," said Senator Tim Scott (R-S.C.), who is leading a group of senators as they hash out a package for their GOP colleagues to support. "I have been talking with folks in the White House about the track that they're on as well."
Among the potential components of the package are provisions regarding no-knock warrants, excessive force, de-escalation training, body cameras and a bipartisan anti-lynching bill that has been blocked by Senator Rand Paul (R-Ky.). The group that Scott, who is the only black GOP senator, is leading consists of Judiciary Committee Chairman Lindsey Graham (S.C.), John Cornyn (Texas), Ben Sasse (Neb.), James Lankford (Okla.) and Shelley Capito (W.V.).
The push for reform from Republicans represents a split from the president, who so far has refrained from pushing any specific changes to the country's criminal justice system, despite the civil unrest from Floyd's death that has erupted in the form of nationwide demonstrations.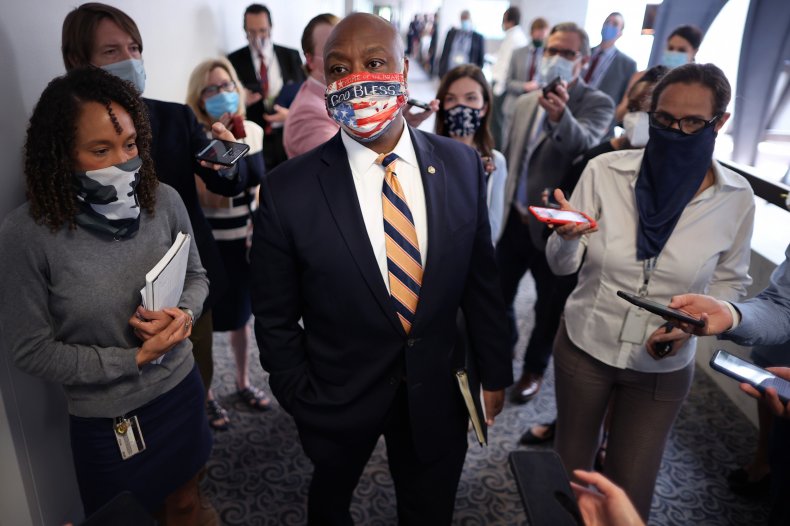 Top White House officials, including chief of staff Mark Meadows and senior adviser Jared Kushner, met with Scott in his Capitol Hill office Tuesday afternoon to discuss his forthcoming proposals. Declining to provide details, Meadows said they are "hopeful we can address the issue in a real way."
White House press secretary Kayleigh McEnany declined to provide details on Monday about what type of reform measures Trump supports, saying only that he is "looking at various proposals" and has been doing so "over the last few days."
The legislative movement by Senate Republicans comes the day after House and Senate Democrats unveiled a sweeping reform package that addresses many of the same topics. However, many Republicans said it goes too far in "federalizing" local police agencies.
The Democratic bill would ban the use of chokeholds and no-knock warrants, limit the amount of military-grade equipment given to local police departments, require the use of body and dashboard cameras, establish more stringent training practices, create a nationwide police misconduct database and eliminate qualified immunity for officers.
Scott's plan is likely to stop short of Democrats' bill on chokeholds, a central misconduct registry and immunity.
He suggested that rather than ban police chokeholds—an idea he supports but is greeted with hesitancy by other Republicans—more de-escalation training and resources could eliminate the need for the aggressive maneuver and allow local jurisdictions to determine whether they want to outlaw it.
Scott also indicated that grant eligibility should be tied to whether police report excessive uses of force that lead to serious injury or death to the FBI and whether agencies share that information and any disciplinary actions with one another for hiring purposes.
On qualified immunity to protect police from civil lawsuits, Scott said the Senate Republican Conference has not "socialized" on the matter and does not intend to include the measure in his legislation. But at least one Republican said he will still push to eliminate the protections for officers.
"Most in our Conference don't want to go that far, but I'm really going out to see if I can get a few others interested in looking at that as well, because I think that'd be the one thing that we show them, in our Conference, we mean business," Sen. Mike Braun (R-Ind.) said. "You never know, this might be a watershed moment."
Despite the differences yet to be ironed out, Republicans across the board have said there is a role for Congress to play when it comes to rooting out systemic racial injustices that persist in local law enforcement agencies. What remains to be seen is which policies the party chooses to coalesce around as they ready to strike a bipartisan package that can satisfy Democrats, Republicans and Trump.
"Absolutely, I think it's important to have a response. None of us have had the experience of being an African American in this country and dealing with this discrimination, which persists here some 50 years after the 1964 civil rights bill," Senate Majority Leader Mitch McConnell (R-Ky.) told reporters. "We're still wrestling with America's original sin. We try to get better, but every now and then it's perfectly clear we're a long way from the finish line."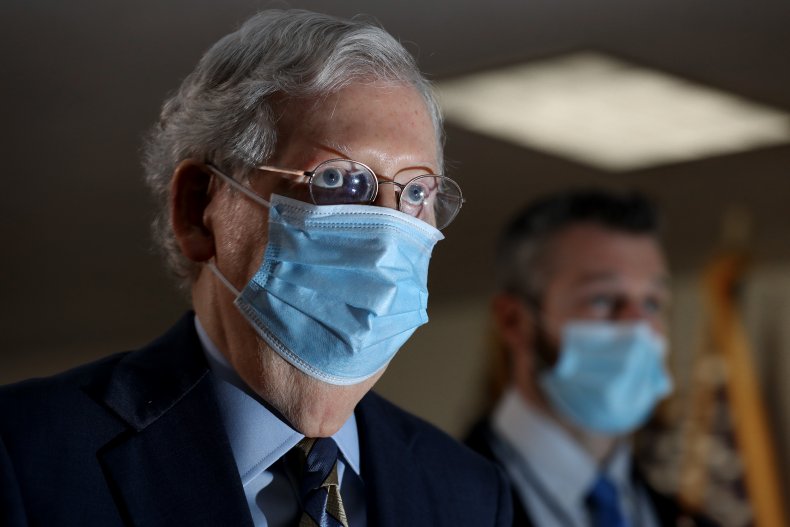 House Democrats plan to vote on their bill by the end of the month, House Majority Leader Steny Hoyer (D-Md.) said Tuesday.
But Senate Republicans are far less optimistic they will be able to move on a package before the July Fourth recess. Still, Scott signaled the possibility that they may have something ready next week for the Judiciary Committee to examine when it holds hearings on police brutality.
"I think time is of the essence," Scott said. "I think it's important for this nation to take a very powerful stand and position that says we're listening, we're hearing and we're reacting. We're responding in a positive, constructive manner that doesn't create a binary choice between supporting law enforcement and supporting communities of color."