Republican Senators Divided Over Trump's Call for $2,000 Stimulus Checks
President Donald Trump's call for lawmakers to raise the $600 stimulus checks to $2,000 has divided Republican senators.
Both chambers of Congress passed the $900 billion COVID-19 bipartisan stimulus package this week after several months of stalled negotiations as the pandemic worsened in most parts of the country.
The White House indicated to lawmakers that Trump supported the bill and urged them to get on board. But in a video on Tuesday, the president opposed the deal, calling it "a disgrace" for only providing a "measly $600" in direct payments.
"I simply want to get our great people $2000," he tweeted on Saturday.
Republican Senator Lindsey Graham of South Carolina, a Trump loyalist, backed larger stimulus checks after spending time with the president at his Florida golf club on Christmas Day.
"I am convinced he is more determined than ever to increase stimulus payments to $2000 per person and challenge Section 230 big tech liability protection," Graham tweeted on Friday evening, as he called the demand "reasonable."
"I hope Congress is listening. The biggest winner would be the American people," he added.
Senator Josh Hawley of Missouri also supported Trump's call for $2,000 direct payments this week."@realDonaldTrump is right—workers deserve much more than $600, as I have repeatedly said & fought for. And there's obviously plenty of $$ to do it—look at what Congress threw away on corporate giveaways & foreign buyouts. Let's get it done," he tweeted on December 23.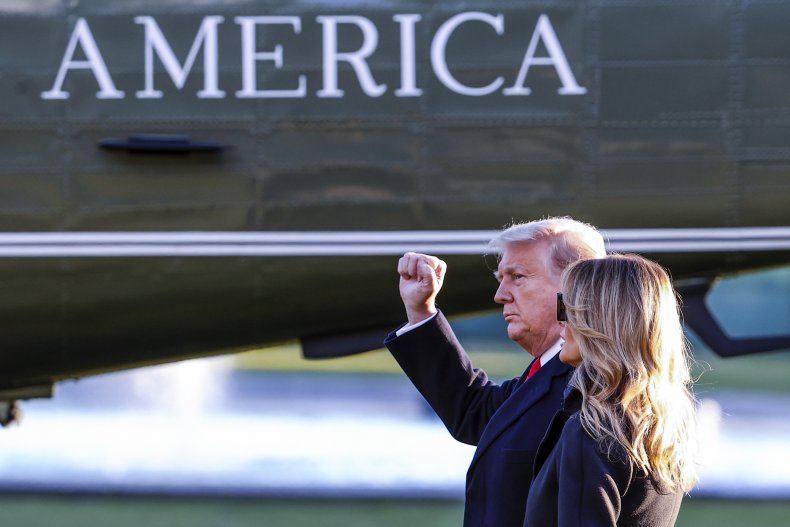 Most Republican senators, including Senate Majority Leader Mitch McConnell of Kentucky, have remained silent on the issue. However, a few GOP senators have publicly opposed Trump's demand.
Senator Roy Blunt of Missouri, chair of the Senate Republican Policy Committee, warned the president on Thursday that attempting to amend the package would be "a mistake."
"There's been some apparent misunderstanding about what's in the regular appropriating bill and what's in the COVID relief bill, and generally the regular appropriating bill includes things the administration asked for," Blunt told reporters. "It took us a long time to get to where we are. I think reopening that bill would be a mistake."
"The best way out of this is for the president to sign the bill, and I still hope that's what he decides," he added.
Senator Rand Paul of Kentucky reiterated his opposition to any direct payments on Wednesday. "I think giving money to people, though, who are already working—look, my kids are working and don't need a check. They're not rich, but they don't need a check. And most working Americans don't need a check right now," Paul said on Fox News.
Some 12 million Americans will lose their jobless benefits if Trump does not sign the stimulus package passed by Congress into law by Saturday night. As of Saturday afternoon, the president had not yet signed or vetoed the bill.
His sudden demand for checks to be increased to $2,000 has thrown the fate of the bipartisan stimulus bill—also attached to a funding package that would prevent a Tuesday government shutdown—into turmoil.
Democratic lawmakers quickly rallied behind Trump's demand to boost stimulus checks. However, House Republicans on Thursday blocked an attempt by Democrats in the lower chamber to unanimously pass $2,000 checks.
The block was expected as opposition to additional spending from fiscally conservative Republicans had already limited direct payments to $600, which is half of the $1,200 amount provided for Americans under the CARES Act earlier this year.
House Speaker Nancy Pelosi on Thursday called for Trump to urge Republicans to "end their obstruction," and support the $2,000 direct payments.
Newsweek reached out to the White House for comment.