Republican Support for Wearing Masks Leaps to 58% After Trump Wears One in Public for First Time
The majority of Republican voters now support wearing a face covering in public, a new poll suggests, nearly two weeks after President Donald Trump donned one in public for the first time.
Three out of four survey respondents, including 58 percent of Republicans, said they strongly or somewhat favor requiring Americans to wear face masks in public when they're around other people, according to the Associated Press-NORC Center for Public Affairs Research poll.
Nearly all Democrats, or 89 percent, said they were in favor of mask requirements.
The data shows an overall shift in perspective regarding the use of face coverings, which has become an increasingly politicized issue in the months since the coronavirus outbreak erupted in the U.S. in March.
More Republicans are wearing masks now than ever before, the AP-NORC survey indicates.
An Axios/Ipsos poll conducted in mid-July found that 45 percent of GOP voters said they wear facial coverings "all the time." This figure had increased in just a matter of weeks, as 35 percent of Republicans said they were wearing masks in a poll from late June.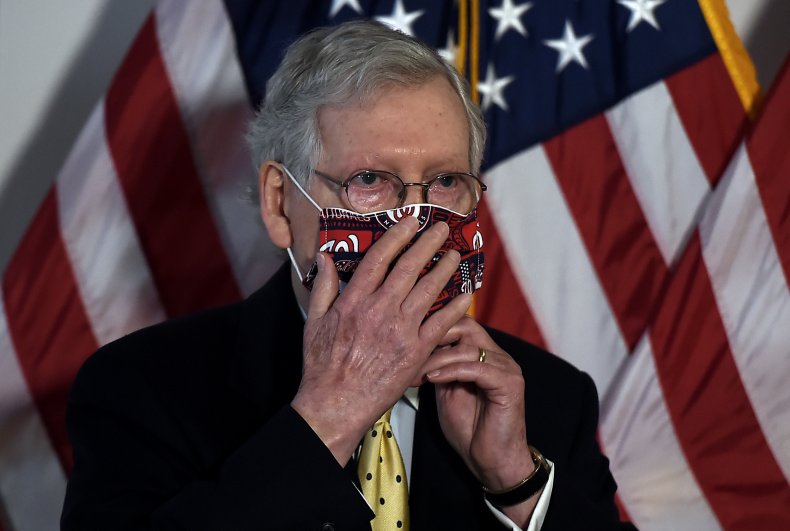 The apparent change in attitude comes almost two weeks after Trump wore a face mask for the first time in front of media since the pandemic began. During a July 11 visit to the Walter Reed National Military Medical Center in Maryland, Trump donned a navy blue mask emblazoned with the presidential seal as he visited wounded service members and health care workers.
The move represented a stark change for the president, who has given mixed messaging on face masks. In early April, he personally delivered the announcement when the U.S. Centers for Disease Control and Prevention (CDC) changed its face mask policy, recommending that everyone wear one in public when social distancing wasn't possible.
However, Trump said, "I don't think I'm going to be doing it" while making the announcement.
Michael Sparer, a professor and the chair of Columbia University's Health Policy and Management Department, told CNBC that Trump's messaging on masks has been "extraordinarily inconsistent."
"Unfortunately, as with much of science and health, the issue became extraordinarily politicized [during the pandemic], and I think the president bears a lot of responsibility for that," Sparer said.
Americans in cities around the country have gotten into verbal and even physical arguments over mask mandates. Many who are against the policy maintain that being forced to wear a mask is an attack on their civil rights.
Health officials, however, continue to implore Americans to wear facial coverings while out in public in an effort to help mitigate the spread of the virus, which has claimed 141,677 lives in the U.S. as of July 22.
"If we all rigorously did this, we could really bring this outbreak back to where it needs to be," CDC Director Robert Redfield told JAMA (formerly The Journal of the American Medical Association) on July 14.