Republican Senator Says Americans Hurt by Trump's China Tariffs Should Remember 'Sacrifices' of U.S. Soldiers
In perhaps the most left-field defense of President Donald Trump's ongoing trade war with China, Senator Tom Cotton of Arkansas said Americans hurting from the tariff increases should think of the "sacrifice" of U.S. soldiers overseas.
For weeks, Trump and GOP leaders claimed that the tariff hikes would only hurt China and have little to no effect on U.S. businesses and consumers. But Monday, Cotton offered a disjointed justification for what he described as a "short term sacrifice" in exchange for "hopefully" long-term economic security.
Speaking on CBS This Morning on Monday, Cotton said that U.S. farmers and consumers being hurt by Trump's trade war with China should consider the "sacrifices" made by soldiers fighting abroad or buried in Arlington National Cemetery in Washington.
"There will be some sacrifice on the part of Americans, I will grant you that," said Cotton, who served in the U.S. Army in both Afghanistan and Iraq from 2005 to 2009. "But also I will say that sacrifice is pretty minimal compared to the sacrifices that our soldiers make overseas, that our fallen heroes who are laid to rest in Arlington make."
Larry Kudlow, Trump's director of the National Economic Council, also acknowledged to Fox News Sunday's host Chris Wallace that American consumers "will suffer" alongside the Chinese as a direct result of the president's increased tariffs on imported goods from China.
"So these tariffs are going to end up hurting both Chinese and some Americans, I will grant you that. I think they'll ultimately hurt the Chinese more than they will Americans, in part because Chinese companies and their government have been cheating the United States for so long," Cotton said.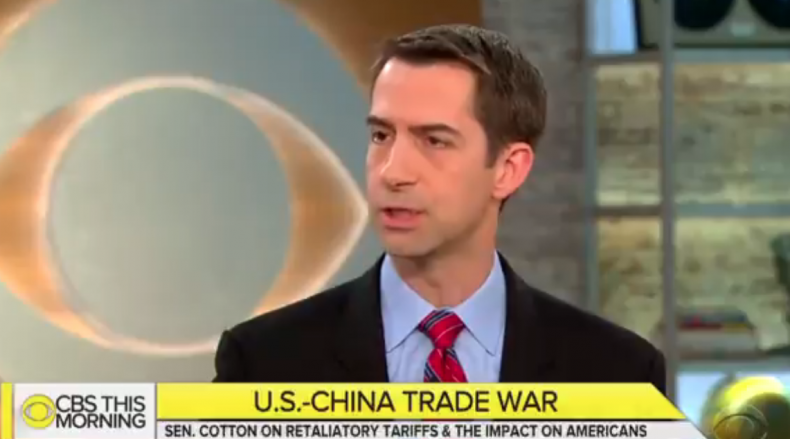 "But you can't compare those two sacrifices," interjected CBS This Morning host Gayle King.
The other CBS hosts brought up recent research from the University of Arkansas, Cotton's home-state university, which found that "retaliatory tariffs" were hurting farmers in Arkansas.
"When I'm home in Arkansas, I hear from farmers who are worried about opening up new markets and getting their products to market, but they also understand that China is a serious competitor to the United States and wants to displace us around the world," Cotton said. "And they look at the sacrifices that soldiers, airmen and Marines make around the world, and they are willing to bear some of those sacrifices in the short-term to hopefully in the long-term ensure our long-term prosperity and security."
"Why not tell them that on the front end?" host John Dickerson asked Cotton, reminding him that Trump and several Republicans had repeatedly denied that American consumers or companies would be hurt from trade war.
"Well, China will ultimately be paying a price...because Americans may be shifting their consumption or their investment decisions away from Chinese products that have often times been dumped in the United States," Cotton said. "You know we have Arkansans who are benefitting from these tariffs as well.
"Again, I'm not going to say that no one is going to make a sacrifice, but in the long term that effort is to make sure the United States is pre-eminent as a global superpower, both in the economic and the security [realm]."