Republicans Blame Ranked-Choice Voting for Sarah Palin Loss: 'A Scam'
Some Republicans are blasting a newly implemented Alaskan election system after Democrat Mary Peltola upset Donald Trump-backed Republican Sarah Palin Tuesday in a special election to represent the longtime Republican-leaning state in Congress.
The 2022 contest to fill the remainder of late Republican Congressman Don Young's term was the first-ever federal election in Alaska to be decided using ranked-choice voting, a system that allows voters to rank candidates from their first choice to second choice down to the last choice.
If any candidate fails to get more than 50 percent of the vote in any round, lower tiers of candidates are eliminated, and voter preferences on the ballot are then used to conduct "instant runoffs" until a single candidate captures a clear majority of the vote.
In the Alaskan contest, the winner was a Democrat, resembling a similar result seen in Maine in 2018 when Democrat Jared Golden unseated Republican Bud Poliquin to become the first congressman elected by the system.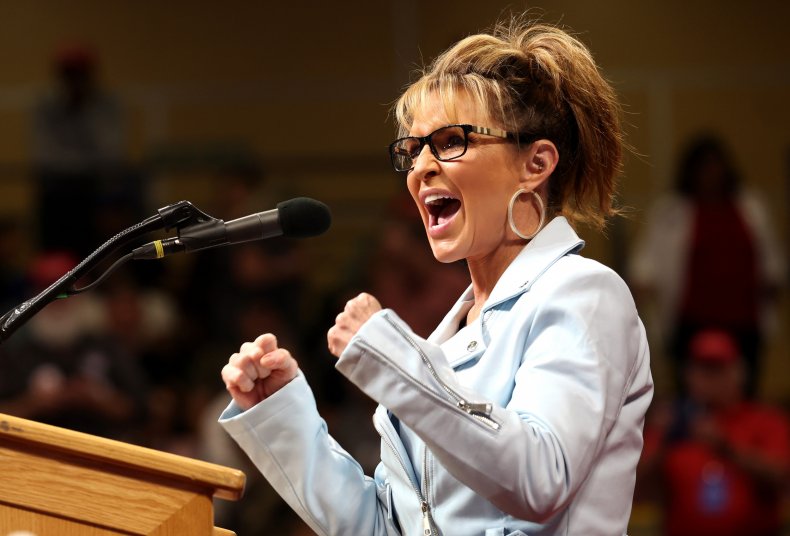 Most observers – and third-place finisher, moderate Republican Nick Begich – blamed the former Alaska governor's unpopularity in the state as the main reason for her loss. More than one-fifth of Begich's voters, according to the final returns reported by Alaska's elections commission, declined to choose between Palin or Peltola. That likely gave Peltola the boost she needed to secure her final three-point margin of victory.
"The biggest lesson as we move into the 2022 General Election is that ranked choice voting showed that a vote for Sarah Palin is a vote for Mary Peltola," Begich, a likely candidate to face Peltola in the November general election, said in an election night statement. "Palin simply doesn't have enough support from Alaskans to win an election."
"The result is consistent with what pollsters have been telling us for months," he added. "Sarah Palin cannot win a statewide race because her unfavorable ratings are so high."
Other Republicans, however, used the upset to criticize the entire practice of ranked-choice voting, noting Trump's 10-point margin of victory there in 2020 and the fact a Democrat had failed to be elected the state's lone congressional seat since Young defeated Begich's grandfather, a Democrat, in the early 1970s.
Calling on Begich to drop out, Palin railed against the outcome Wednesday night, the Anchorage Daily News reported, describing the system as "weird" and saying it had disenfranchised a large swath of Alaskan voters.
"Ranked-choice voting is a scam to rig elections," Arkansas GOP Senator Tom Cotton tweeted on election night. "60 percent of Alaska voters voted for a Republican, but thanks to a convoluted process and ballot exhaustion — which disenfranchises voters — a Democrat 'won.'"
But others disagreed, saying that the effort actually increased voter's ability to be heard in the process. In all, 62 state and federal seats were up for election in the August primary, with just seven of those races exclusively between a Democrat and a Republican.
And though ranked-choice voting was only narrowly approved by Alaska voters in 2020, polling by Alaskan ranked-choice advocates released earlier this week showed residents supported the top-four primary by a net 29 percentage points, while an additional 85 percent of residents said the ranked-choice ballot was "simple."
"From now on, the winners of Alaska elections are accountable to all voters, instead of a very few," Nick Troiano, executive director of the bipartisan election reform group Unite America, told Newsweek. "And that means better representation. In the long run, it's also going to mean better results.
"The status quo incentivizes division and dysfunction," he added. "The Alaska model incentivizes responding to the whole electorate, and what the whole electorate wants are leaders who put country over party. That applies to all of America, which is why other states should consider emulating Alaska."
Other conservatives agreed.
"The problem for the Republican Party in Alaska wasn't ranked-choice voting; it was their candidates," former Michigan Congressman Justin Amash, who was a member of the GOP, said on election night. "Requiring a candidate to get more than 50 percent to be elected isn't a scam; it's sensible. Let's get ranked-choice voting everywhere."
Newsweek reached out to the Alaska Republican Party for comment.
Update 9/1/22, 1:00 PM ET: This story has been updated with additional information and comment from Nick Troiano.