Republicans Blasted for Voting Down Insulin Cap After Lamenting High Prices
Republican lawmakers are being denounced on social media for voting against an insulin price cap for private insurers after complaining about the skyrocketing prices of the essential drug.
The price cap was dropped on Sunday before Senate Democrats successfully passed the Inflation Reduction Act of 2022. The bill had originally included a $35 per month Medicare and private insurance price cap on insulin, a medication that is essential to the survival of millions of Americans with diabetes. Only the price cap for Medicare recipients remained in the final version of the bill.
The bill was subject to strict rules after being passed by Democrats using the filibuster-proof budget reconciliation process. The Senate parliamentarian objected to the price cap on private insurers, prompting an attempt to override the objection. The override attempt was defeated 57-43, three votes short of a required 60, after Senator Lindsey Graham of South Carolina raised a point of order. All but seven Republican senators voted against keeping the cap.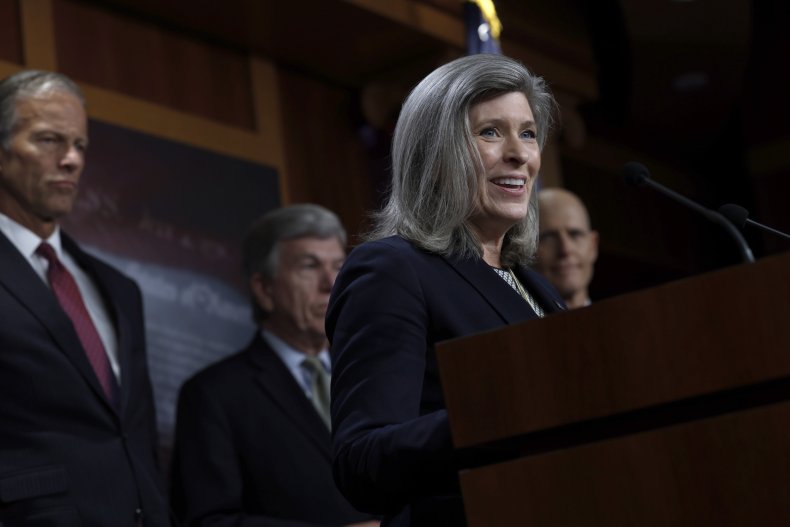 After the vote, users on social media accused a number of Republicans of hypocrisy and acting in bad faith for voting against the cap, while sharing past comments and clips of the senators lamenting the high costs of insulin and vowing to work to bring prices downs.
Washington Post reporter Dan Diamond shared to Twitter a clip of GOP Senator Joni Ernst of Iowa, who voted against the cap, speaking in 2020 about "the heartbreaking stories of individuals who could not afford their insulin, were forced to ration and skip doses and as a result, they lost their lives." The video had been viewed nearly 1 million times as of Monday evening.
"So Senator Ernst, when faced with the opportunity to rectify the cost of insulin you do the opposite," marketing executive Kieran Hannon tweeted in response to the clip. "Talk is cheap, actions prove character."
Ernst spokesperson Kelsi Daniell said in a statement to Newsweek that the senator had backed a Republican amendment to lower costs for lower- and middle-income Americans instead, and that she "voted to actually lower insulin costs, especially for low and middle income Americans, without breaking a budget rule – as the Democrats did with their proposal."
"The Ernst-supported amendment would ensure access to affordable insulin for uninsured patients and doesn't set an arbitrary cap that would shift costs from patients to hardworking taxpayers," Daniell added. "The Democrats' effort would increase premiums and costs to taxpayers while doing nothing to help the uninsured Americans who pay the most for their insulin prescriptions."
Ernst co-sponsored a bill in June to help lower insulin costs by improving access to existing "programs and resources available right now," alongside her fellow Republican Senator Chuck Grassley. Grassley also voted against the $35 price cap on Sunday.
A January 2021 tweet from Grassley, featuring the senator lamenting that insulin prices had "gone thru the roof," resurfaced after his vote against the cap. Grassley argued that Democrats had "blocked' his attempts to lower prices following criticism of his vote.
"I voted 2 make insulin available 4 pennies on the dollar 2 uninsured & w high deductible plans but Dems blocked it," Grassley tweeted on Sunday.
"This is a pathetic lie, Chuck," writer Alyssa Hertzig tweeted in response. "You may have gotten away with lies like this back in the 1950s, but we have readily available video now. With sound! Yes, 'talkies' that show you voting 'no' on the bill to cap insulin. Sad you don't have more respect for your diabetic constituents."
"You blocked it Chuck," tweeted actress Nancy Lee Grahn. "It was a public vote & we could all see that YOU blocked it. You & other Republican Senators voted against a bill to keep Insulin lower than $35 so that Diabetics can't afford to save their lives you senile lying monster. Ur blatently lying to ur followers."
Republican Senator Rob Portman of Ohio was also called out for voting "no," after saying in a statement last year that the way insulin had "continued to skyrocket is shameful."
"Last year, @senrobportman criticized the 'shameful' price hikes of insulin and promised to pursue bipartisan reforms to lower its costs," Dan Diamond tweeted. "Portman voted against the insulin copay cap today."
"Ohio Senator Rob Portman voted against a $35 insulin cap," former Democratic Ohio State Senator Nina Turner tweeted. "I must not be from the same Ohio because the people I know & talk to would've really benefited from that.."
Newsweek reached out to the offices of Portman, Grassley and the National Republican Senatorial Committee for comment.