Republicans Break With Kevin McCarthy, Tucker Carlson Over Jan. 6 Footage
Republican senators have criticized Tucker Carlson for how he used exclusive video footage of the January 6 Capitol riot given to them by House Speaker Kevin McCarthy.
Carlson shared on his Fox News show portions from the videos that he said depicted rioters as mostly peaceful "sightseers."
Almost 1,000 people have been charged for their participation in the riot, including 326 charged with assaulting, resisting or impeding police officers or Capitol employees.
Former President Donald Trump praised Carlson's segment on the footage.
Several GOP lawmakers have spoken out against Tucker Carlson for how he used footage from the January 6 U.S. Capitol riot that was given to him by Republican House Speaker Kevin McCarthy.
On Tuesday, Manu Raju, CNN's chief congressional correspondent, tweeted comments from Republican senators, including Senator Kevin Cramer of North Dakota, who called Carlson's portrayal of the Capitol assault "a lie."
Carlson reported in February that McCarthy provided his team with exclusive access to 44,000 hours of Capitol surveillance from the January 6 attack. On Monday, Carlson shared portions from those video clips on his Fox News program and said they showed the rioters as peaceful "sightseers" and not "insurrectionists."
"To somehow put that in the same category as a permitted peaceful protest is just a lie," Cramer said of Carlson's portrayal of January 6, according to Raju.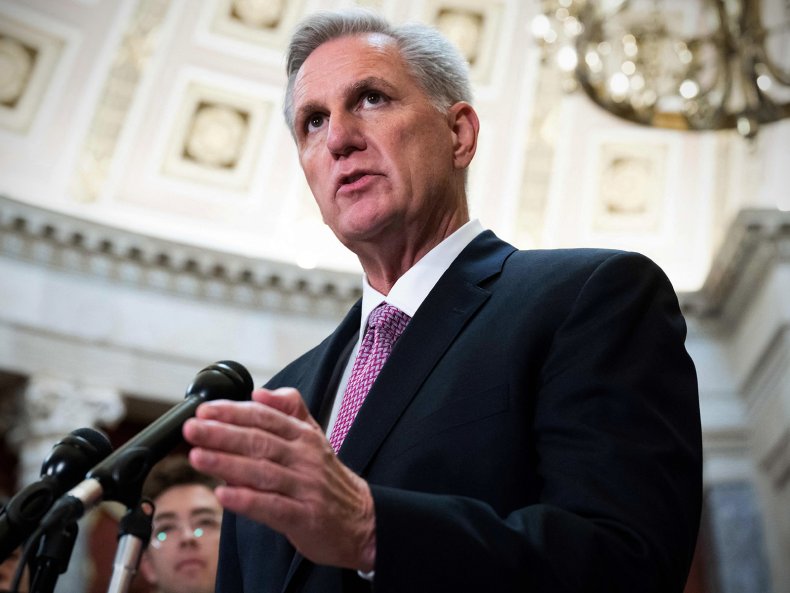 Raju wrote that Republican Senator Thom Tillis of North Carolina used an expletive to describe Carlson's version of the events.
"And I saw maybe a few tourists, a few people who got caught up and things," Tillis said. "But when you see police barricades breached, when you see police officers assaulted, all of that.... If you were just a tourist, you should have probably lined up at the visitor center and came in on an orderly basis. I just don't think it's helpful."
Carlson has been criticized for leaving out some of the more violent moments of January 6. Almost 1,000 people have been charged for their participation in the riot, including 326 charged with assaulting, resisting or impeding police officers or Capitol employees. Additionally, two pipe bombs that were not donated were discovered near the Capitol building.
"I thought it was an insurrection at that time. I still think it was an insurrection today," Senator Mike Rounds, a South Dakota Republican, reportedly said.
"The point is, what happened that day shouldn't have happened," Republican Senator Chuck Grassley of Iowa told Raju.
GOP Senator John Thune of South Dakota, who also serves as the Senate minority whip, said: "I think it was an attack on the Capitol.... There were a lot of people in the Capitol at the time that were scared for their lives."
Cramer said McCarthy should provide the footage that he gave to Carlson to other outlets.
"The best thing to do is to give it to every source at the same time and let everybody go through it and play it in its entirety...and then avoid the political opinions, versus just looking at the facts," the senator told Raju.
Newsweek contacted McCarthy's office and asked if he planned to eventually release the footage to the public but did not hear back by the time of this writing.
While Raju cited Republican lawmakers who took issue with how the Fox News host depicted the events of January 6, some conservatives praised the Tucker Carlson Tonight segment. Former President Donald Trump was among those who endorsed the show on social media.
"Tucker Carlson a MUST WATCH tonight. Releasing more VIDEO which was 'HIDDEN BY THE CROOKED J 6 UNSELECT COMMITTEE.' They should be prosecuted for their lies and, quite frankly, TREASON!" Trump wrote on his Truth Social platform.
George Ajjan, an international political strategist, told Newsweek that Fox News and McCarthy could both benefit from Carlson's segment.
"Speaker McCarthy's decision to give Tucker Carlson exclusivity of the January 6 footage is a win-win: McCarthy burnishes his own anti-establishment credentials by helping Carlson signal to the forever-Trump wing of the GOP that his show, and Fox News more broadly, retain their primacy in the world of right-wing media," he said.
However, Ajjan said there could be pitfalls for the California Republican.
"But with McCarthy's first big legislative push on the horizon, the current dustup over a problematic event from two years ago dangerously exacerbates preexisting fault lines among Republican factions," Ajjan said.
He continued: "Clearly, it didn't take McCarthy 15 ballots to get elected speaker because the GOP caucus finally agreed to avoid controversy, and if he cannot forge consensus on the upcoming energy bill, goodwill from Tucker Carlson will not save him."
Newsweek reached out to McCarthy and Fox News for comment.