Republican Demands All Jan. 6 Prisoners Be Released: 'I've Seen Enough'
Republican Congressman Mike Collins has called for the release of those arrested in connection with the January 6 attack after Fox News' Tucker Carlson aired new footage from the riots at the U.S. Capitol in 2021.
Collins, who represents Georgia's 10th congressional district, said in a tweet on Monday: "I've seen enough. Release all J6 political prisoners now."
The tweet was sent as Carlson played clips of the Capitol attack—handed over to him by House Majority Leader Kevin McCarthy—during his primetime show.
Approximately 518 people have pleaded guilty to a variety of criminal charges in connection to the riot, according to the Department of Justice, with 235 receiving a custodial sentence. A number of Republicans, such as Georgia's Marjorie Taylor Greene and Florida's Matt Gaetz, have described those arrested as "political prisoners," with the clips featured on Carlson's show further increasing conservative outrage.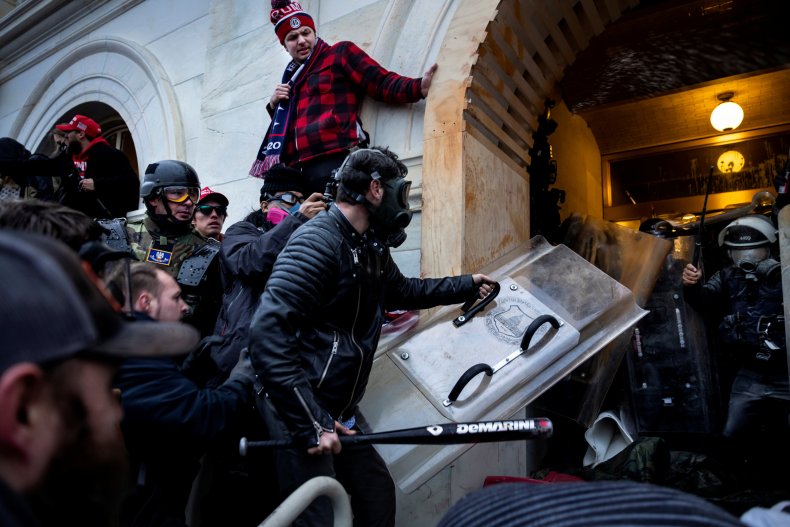 In a statement to Newsweek addressing the tweet, a spokesperson for Collins said: "Representative Collins has long been an outspoken supporter for the rights afforded to all Americans under the Constitution and Bill of Rights and will continue to do so while in Congress."
Carlson said the footage he aired on Monday disputes the "lies" told by Democrats and those sitting on the House Select Committee investigating the January 6 attack. Carlson alleged that the Democrats exaggerated the violence which occurred that day.
During a Tucker Carlson Tonight broadcast on Monday, he said: "A small percentage of them were hooligans, they committed vandalism ... but the overwhelming majority weren't. They were peaceful, they were ordinary and meek. These were not insurrectionists, they were sightseers."
Carlson, who has previously spread conspiracy theories about the January 6 attack, has been accused of misrepresenting the events which occurred during the riot.
On Monday night, Carlson played footage that showed "QAnon Shaman" Jacob Chensley being allowed to walk through the building's corridors without being stopped by police.
Carlson showed clips of Capitol Police officer Brian Sicknick, who died a day after the riots, looking "healthy and vigorous" after he was attacked by Trump supporters to suggest his death was "very obviously" not the result of violence he suffered at the entrance to the Capitol.
A medical examiner ruled that Sicknick died of natural causes after suffering multiple strokes hours after the riot and that the events of January 6 "played a role" in his condition.
In a statement, Sicknick's family accused Carlson of spreading "lies" about the January 6 attack by choosing to air clips that downplayed the violence in order to support his "delusional" views that the insurrection was "peaceful."
On March 6, the Department of Justice said that around 1,000 people have been arrested in connection to the January 6 attack, including more than 100 who were charged with using a deadly or dangerous weapon or causing serious bodily injury to an officer.
Nineteen people have been found guilty of assaulting, resisting, or impeding officers, a felony, including one—former New York police officer Thomas Webster—who has been sentenced to 10 years in prison.
In response to Collins' tweet calling for the release of the January 6 "political prisoners," Brian Klass, an associate professor of global politics at University College London, U.K. tweeted: "Everyone saw what January 6th was. And elected Republicans of Congress are openly taking the side of the violent mob that tried to overturn democracy. We're in trouble."
Collins' tweet parrots a similar call for those arrested in connection to the Capitol riot to be released made by former president Donald Trump in the wake of Carlson airing the security footage.
"Congratulations to Tucker Carlson on one of the biggest 'scoops' as a reporter in U.S. history," Trump posted on his social network, Truth Social.
"The New Surveillance Footage of the January 6th Events sheds an entirely different light on what actually happened. The Unselect Committee was a giant SCAM, and has now unequivocally been stamped as CRIMINAL FABRICATORS OF THIS MOST IMPORTANT DAY. Pelosi & McConnell failed on security. The Police story is sad and difficult to watch. 'Trump' and most others are totally innocent, LET THEM GO FREE, NOW!"
Update 03/07/2023: This article has been updated with comment from Rep. Mike Collins' spokesperson.