Trump Demands Release of Jan. 6 Prisoners After Tucker Carlson's 'Scoop'
Former President Donald Trump demanded the release of imprisoned January 6 Capitol rioters while congratulating Fox News host Tucker Carlson for pushing an alternative narrative of the attack.
Trump said in a Truth Social post on Monday that Carlson had achieved one of the nation's "biggest" news "scoops" due to Republican House Speaker Kevin McCarthy granting him access to more than 40,000 hours of January 6 surveillance footage taken from inside the Capitol. Trump said that he had been vindicated after Carlson aired some of the footage during his Fox News opinion show on Monday.
The former president maintained that the footage showed the House January 6 committee had been a "scam," while blaming Representative Nancy Pelosi, former Democratic House speaker, and GOP Senate Minority Leader Mitch McConnell for having "failed on security" before the riot.
"Congratulations to Tucker Carlson on one of the biggest "scoops" as a reporter in U.S. history," Trump wrote. "The New Surveillance Footage of the January 6th Events sheds an entirely different light on what actually happened. The Unselect Committee was a giant SCAM, and has now unequivocally been stamped as CRIMINAL FABRICATORS OF THIS MOST IMPORTANT DAY."
"Pelosi & McConnell failed on security," he added. "The Police story is sad and difficult to watch. 'Trump' and most others are totally innocent, LET THEM GO FREE, NOW!"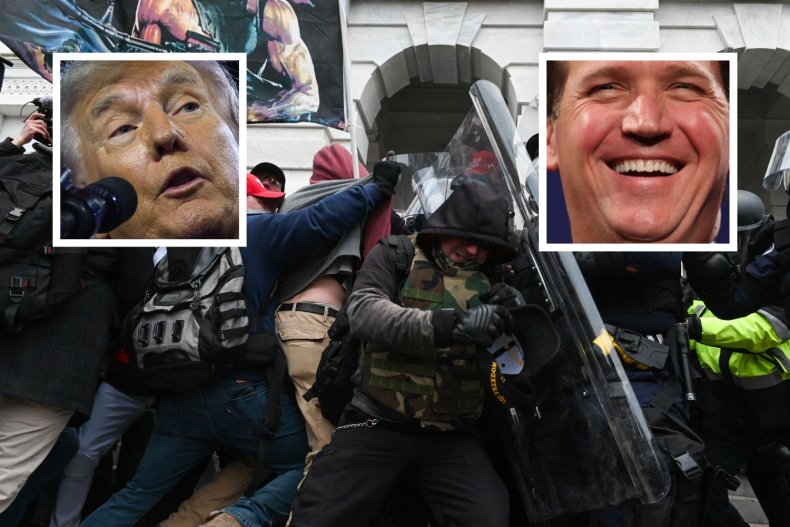 Hundreds of January 6 rioters have been sentenced for felonies and misdemeanors related to the insurrection attempt, including a significant number who were given jail or prison time.
Trump has previously called for the prisoners to be released, while the stance that the rioters have been unfairly persecuted has become increasingly popular among Trump allies and some other Republicans.
Republican Representative Marjorie Taylor Greene, a Trump loyalist, called for notorious "QAnon Shaman" Jacob Chansley to be granted a new trial after Carlson on Monday aired footage of him inside the Capitol.
"Jacob Chansley deserves a retrial," Greene tweeted. "All he did was nonviolently walk through the Capital [sic] wearing a costume while being escorted by Capital [sic] Police. I'm sick of the lies and the double standard."
In an additional post, Trump praised McCarthy for having the "courage" to release the footage exclusively to Carlson and Fox News. Democratic lawmakers have criticized the decision, warning that it could lead to the exposure of security flaws and fuel conspiracy theories.
Trump argued that Carlson's broadcast had "indelibly painted" a new image of January 6. He demanded that members of the January 6 committee be "prosecuted" before apparently invoking Martin Luther King, Jr.'s "I Have a Dream" speech by ending the post "FREE AT LAST!!!"
"Great courage shown by Speaker of the House Kevin McCarthy in releasing the surveillance footage to Tucker Carlson so that our Country, and indeed the World, can see what really went on during the January 6th events," Trump wrote. "A whole new, and completely opposite, picture has now been indelibly painted."
"The Unselect Committee LIED, and should be prosecuted for their actions," he continued. "Nancy & Mitch were a disaster on Security. Thank you Kevin and Tucker. FREE AT LAST!!!"
Carlson during his broadcast Monday described the January 6 rioters as "sightseers" who were overwhelmingly "peaceful." While only airing a small, edited portion of the available video, Carlson said the footage "does not show an insurrection or a riot in progress."
The Fox News personality also paid lip service to Trump's false claims of a "stolen" 2020 presidential election, arguing that President Joe Biden's victory was "a grave betrayal of American democracy" that "no honest person" can deny.
A court filing in Dominion Voting Systems' $1.6 billion defamation lawsuit against Fox News recently revealed text messages that show Carlson and others at the network did not believe Trump's election fraud conspiracies despite pushing them on air after the election.
Newsweek has reached out to the Department of Justice, McCarthy's office and Fox News for comment.