Tucker Carlson Describes Jan. 6 Rioters as 'Sightseers' in Footage Reveal
Fox News host Tucker Carlson says that video footage taken from inside the U.S. Capitol shows that the January 6 rioters were mere "sightseers."
The conservative pundit said during a Tucker Carlson Tonight broadcast on Monday that the small portion of the footage, some of more than 40,000 hours of tape provided to him by Republican House Speaker Kevin McCarthy, did not show an "insurrection or a riot in progress."
Carlson claimed, without evidence, that the Democratic Party and the media had conspired to suppress the footage because it "demolishes" the narrative of a riot taking place, while conceding that some of those who breached the Capitol were "hooligans."
"The footage does not show an insurrection or a riot in progress," Carlson said. "The video record does not support the claim that January 6 was an insurrection. In fact, it demolishes that claim. And that's exactly why the Democratic Party and its allies in the media prevented you from seeing it."
"The crowd was enormous," he continued. "A small percentage of them were hooligans, they committed vandalism ... but the overwhelming majority weren't. They were peaceful, they were ordinary and meek. These were not insurrectionists, they were sightseers."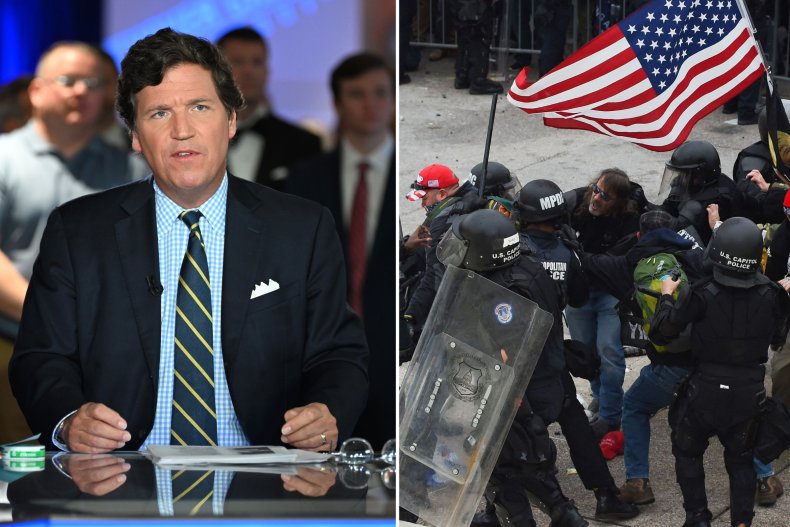 Carlson went on to argue that the footage "overturns what you have heard about January 6," pointing out that some of the images showed "protesters" who "queue up in neat little lines" and take part in "tours outside the speaker's office." Clips showing calmer moments of rioters inside the Capitol played as Carlson made his case.
While previewing the footage last week, Carlson said the tapes would show the government was "lying" about January 6. Democrats have denounced McCarthy for agreeing to release the footage to Carlson, warning that it could be used to spread conspiracy theories and expose security vulnerabilities.
Hundreds of January 6 rioters who took part in the ill-fated attempt to overturn former President Donald Trump's 2020 election loss have since been sentenced for felony and misdemeanor crimes related to the insurrection attempt.
Carlson has repeatedly used rhetoric that seemingly backs Trump's false claims that President Joe Biden's victory was the outcome of a "rigged" election, despite Fox News currently facing a $1.6 billion Dominion Voting Systems defamation lawsuit over related election falsehoods.
A recent court filing in the Dominion suit revealed text messages that indicate Carlson and other top Fox personalities had privately acknowledged that the election fraud claims were false, while repeating the lies in broadcasts.
On Monday, Carlson baselessly told his viewers that "facts" show the election, which saw Biden defeat Trump by 74 Electoral College votes and more than 7 million popular votes, was a "betrayal" of democracy. He suggested that "the real crime" was "what happened on Election Day 2020."
"The protesters were angry, they believed that the election they had just voted in had been unfairly conducted," Carlson said. "They were right. In retrospect, it is clear the 2020 election was a grave betrayal of American democracy. Given the facts that have since emerged about that election, no honest person can deny it."
Newsweek has reached out to Fox News, the Department of Justice and the U.S. Capitol Police for comment.