Five Bombshells in Tucker Carlson's Texts About Election
A new legal filing from the $1.6 billion defamation lawsuit brought by Dominion Voting Systems has unveiled text messages exchanged by some of Fox News' top anchors, including Tucker Carlson, revealing that he and other senior executives privately expressed disbelief at the Trump 2020 campaign's election fraud claims while still promoting those lies for the network's millions of viewers.
On Thursday, Dominion filed a brief that included communication between those at the top of the Fox pyramid in which they repeatedly disagreed with former President Donald Trump's claims of election fraud, even as they routinely had guests on their shows to bolster those claims.
Dominion has filed one of the largest First Amendment cases in decades, suing the nation's most-watched cable news network for more than a billion dollars as compensation for the damage it says it suffered as a result of Fox broadcasts. Dominion is asking for more than a quarter of the cash Fox Corporation has on hand, and the lawsuit poses a considerable threat to the network's reputation.
In response, Fox told Newsweek, "There will be a lot of noise and confusion generated by Dominion and their opportunistic private equity owners, but the core of this case remains about freedom of the press and freedom of speech, which are fundamental rights afforded by the Constitution and protected by New York Times v. Sullivan."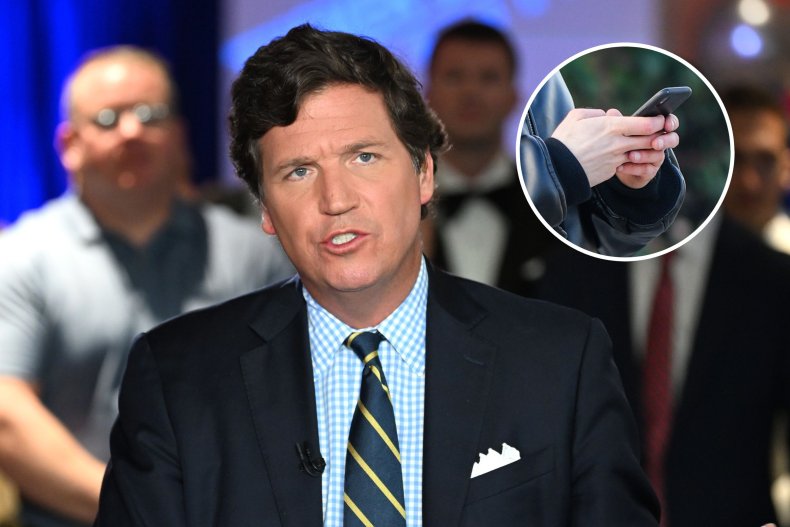 In statements shared with Newsweek, the network accused Dominion of mischaracterizing and cherry-picking quotes from its stars and spilling "considerable ink on facts that are irrelevant under black-letter principles of defamation law."
Because Fox's full response to the motion won't be publicly released until February 27, the network said future filings will provide "full context" to the messages exchanged between Fox staff. The network has also filed a counterclaim calling into question the price tag on the alleged damages.
Among the bombshells divulged in the newest filing, here are the top five revelations:
Carlson Warned Trump Could Destroy Fox News
In a message sent to his producer Alex Pfeiffer in November 2020, Carlson warned that the former president is "good at destroying things" and that his wrath could fall to the network if anchors weren't careful about their 2020 election night coverage.
"What [Trump]'s good at is destroying things," the message from Carlson read. "He's the undisputed world champion of that. He could easily destroy us if we play it wrong."
But months later, on January 6, 2021, Carlson told Pfeiffer that while Trump is "a demonic force, a destroyer," he was "not going to destroy us."
Since leaving office, the former president has railed against the network, accusing it of using unreliable polling and lamenting that shows like Fox & Friends have "gone to the 'dark side.'" Shortly after Trump announced his third presidential bid, it was reported that Fox Corporation CEO Rupert Murdoch "made it clear to [Trump] that we cannot back another run for the White House."
Carlson Feared Election Coverage Would Hurt His Own Reputation
Messages exchanged between Carlson and his colleagues revealed that the anchor worried about how his image would be impacted by the network's Election Day coverage.
Fox notably suffered backlash after being the first outlet to call Arizona for President Joe Biden, which ended up being the final result after Biden won the state with some 10,000 votes over Trump.
However, at the time of the call, Carlson described being enraged that the call could hurt his reputation.
"We worked really hard to build what we have," he told Pfeiffer on November 5. "Those f*****s are destroying our credibility. It enrages me."
Then when the election was called for Biden, Carlson texted him, "Do the executives
understand how much credibility and trust we've lost with our audience? We're
playing with fire, for real...an alternative like Newsmax could be devastating to us."
Every Insult Carlson Made About Trump's Legal Team
But while Carlson tried to please the Trump campaign, and to avoid angry viewers, he knew that the election fraud claims were "ludicrous" and "totally off the rails."
In separate messages, he outright told Pfeiffer and anchor Laura Ingraham that Trump attorney Sidney Powell, who led Trump's efforts to overturn the results of the election, was "lying" about having evidence of election fraud.
"Sidney Powell is lying by the way. I caught her. It's insane," he wrote to Ingraham on November 18. Several days later, he called Powell "a nut" and told his colleague he had to "try to make the [White House] disavow her, which they obviously should have done long before."
In other messages, he called her "poison," a "crazy person," a "lunatic," an "unguided missile" who was "dangerous as hell." Carlson said he hoped she would be "punished" and that while he's "got a high tolerance for crazy," Powell is "too much."
Carlson Tried to Oust a Fox Reporter Who Fact-Checked Election Fraud Claims
On November 12, Carlson sent a tweet from Fox reporter Jacqui Heinrich into his group text thread with Ingraham and anchor Sean Hannity, calling for her to be fired for "fact-checking" Trump.
In the tweet, Heinrich said that "top election infrastructure officials" had found there to be "no evidence that any voting system deleted or lost votes, changed votes, or was in any way compromised."
"Please get her fired," Carlson told Hannity. "Seriously...What the f***? I'm actually shocked....It needs to stop immediately, like tonight. It's measurably hurting the company. The stock price is down. Not a joke."
Another executive said that Hannity was also infuriated by Heinrich's tweet, saying, "She has serious nerve doing this and if this gets picked up, viewers are going to be further disgusted."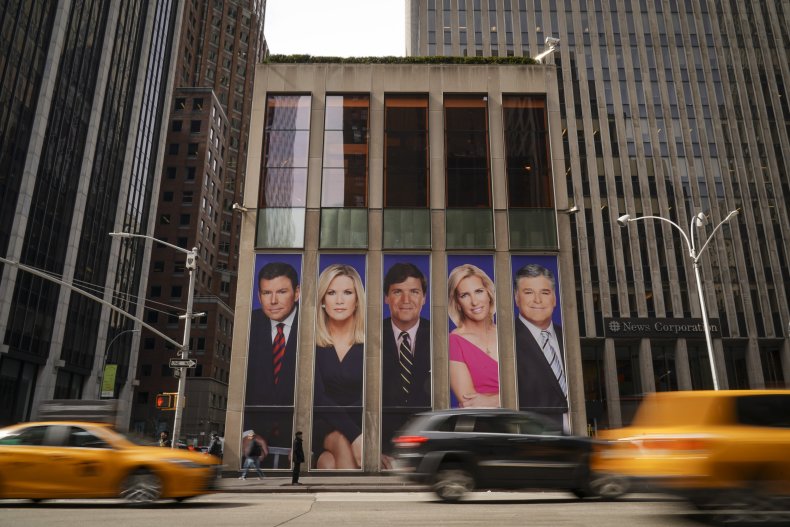 Carlson Knew Election Fraud Claims Were False
Less than a week after the election, Carlson told his viewers, "False claims of fraud can
be every bit as destructive as the fraud itself."
He said that while his team found election fraud, the irregularities that he could confirm do not "seem to be enough to alter the election results."
"We should be honest and tell you that," he said on his November 9 show.
Four days later, Carlson wrote privately that Trump needed to concede the election, agreeing that "there wasn't enough fraud to change the outcome" of the 2020 election.
Then on November 21, Carlson said that it was "shockingly reckless" to claim that Dominion rigged the election, especially "if there's no one inside the company willing to talk, or internal Dominion documents or copies of the software showing that they did it," adding that "as you know there isn't."
Bonus: Other Fox Execs Put Pleasing Their Audience Over Facts
While this message did not come from Carlson, Hannity did text Fox executive Porter Berry, his executive producer Tiffany Fazio and his producer Robert Samuel on November 24 that: "Respecting this audience whether we agree or not is critical. Fox has spent the month spitting at them."
There were several instances where top executives chose to continue promoting election claims on the network to entice viewers to continue watching Fox, as opposed to competitors like Newsmax.
For example, after the Arizona call, Fox News CEO Suzanne Scott told Lachlan Murdoch, "Viewers going through the 5 stages of grief."
"It's a question of trust the AZ [call] was damaging but we will highlight our stars and
plant flags letting the viewers know we hear them and respect them," Scott said.
In a separate email, she said, "We can fix this but we cannot smirk at our viewers any longer."