Republicans' Chances of Beating Gretchen Whitmer With 3 Months to Election
Republicans are aiming to unseat Michigan Governor Gretchen Whitmer in three months, and the race is down to two candidates now that the GOP has ended its chaotic primary playing field by choosing a nominee.
The swing state's political climate has Michigan Republicans hopeful that GOP candidate Tudor Dixon can defeat Whitmer in November. Dixon, who earned an eleventh-hour endorsement from former President Donald Trump last Friday, won Tuesday's primary with more than 40 percent of the GOP vote after nearly 80 percent of the ballots were counted, beating out four other Republican hopefuls.
But early numbers suggest that Whitmer is likely to win reelection in Michigan, which Trump won narrowly in 2016 before President Joe Biden took back the state in 2020.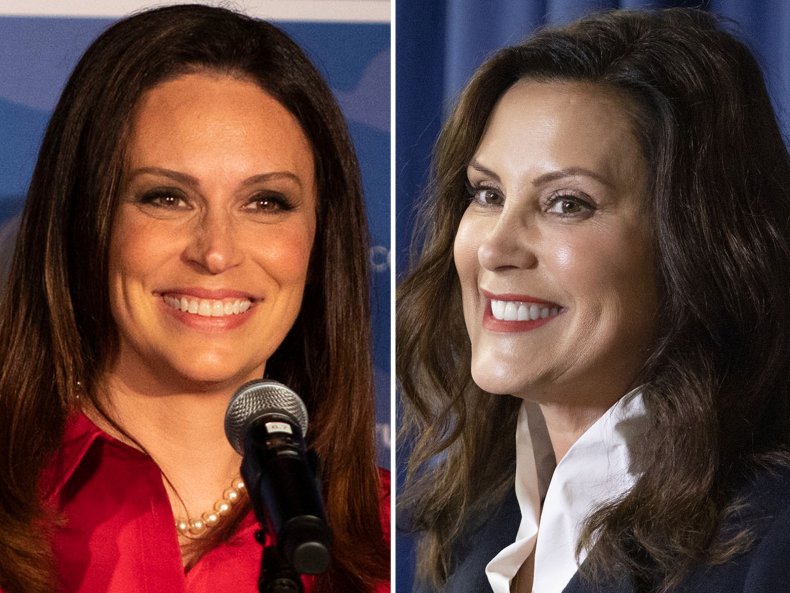 Dixon was able to solidify her lead on the eve of the primary thanks to Trump's backing. Support for the Republican surged from 35 to 41 percent after his endorsement, allowing her to break away from the pack with a double-digit lead over all four competitors, according to an Emerson College poll.
The conservative commentator is on track to see an even bigger boost now that she'll be the Republican candidate on the ballot against Whitmer, who is running for her second term.
Ahead of Tuesday's primary, however, the nonpartisan Cook Political Report moved the governor's race from "toss-up" to "lean Democrat," citing Whitmer's strong approval ratings and her ability to "amass an impressive war chest" against the messy backdrop of the GOP primary.
Whitmer rose to national prominence during the coronavirus pandemic for enacting some of the nation's stricter lockdown measures. While many approved of her handling of the health crisis, she received fierce criticisms and saw protesters storm the state Capitol in April 2020. The governor was also the target of a foiled kidnapping plot in response to Michigan's stay-at-home COVID order.
The Republican primary race was riddled with scandals leading up to Tuesday's election. Two leading candidates were kicked off the ballot amid allegations of signature falsification, and another was arrested by the FBI and charged in connection with the January 6, 2021, Capitol riot.
Cook rarely shifts a prediction ahead of a primary election, but Senate and Governors Editor Jessica Taylor said the Democrat governor's advantage would stand strong against whoever ends up being her opponent.
Another poll, conducted by The Detroit News between July 5 and 8, showed Whitmer with a double-digit lead over Dixon, earning the support of nearly 51 percent of likely voters over her opponent's 40 percent.
As of August 3, FiveThirtyEight is giving Whitmer a 95 in 100 chance of winning the election. The polling analysis site predicts Dixon has a 5 in 100 chance of defeating the governor.