Judge Zip-Tied, Shot by Militia Member Who Had Whitmer on Hit List: Police
A man accused of fatally shooting a former Wisconsin judge on Friday morning reportedly had a hit list that included several elected officials including Michigan Governor Gretchen Whitmer.
The Juneau County Sheriff's office received a call at approximately 6:30 a.m. reporting an armed person inside a New Lisbon home, the Wisconsin Department of Justice (DOJ) said in a statement.
When authorities arrived, they tried to negotiate with the alleged shooter. However, after several attempts, they entered the home at 10:17 a.m. and found the 68-year-old homeowner dead. Police also found a 56-year-old man later identified as Douglas K. Uhde in the basement suffering from a self-inflicted gunshot wound, according to the DOJ. The man was then taken to a medical facility and is in critical condition, according to Attorney General Josh Kaul.
The victim has since been identified as John Roemer, who previously served as a Juneau County judge, according to local news station WISN-TV. When officers entered the home, they reportedly found him zip-tied to a chair and fatally shot.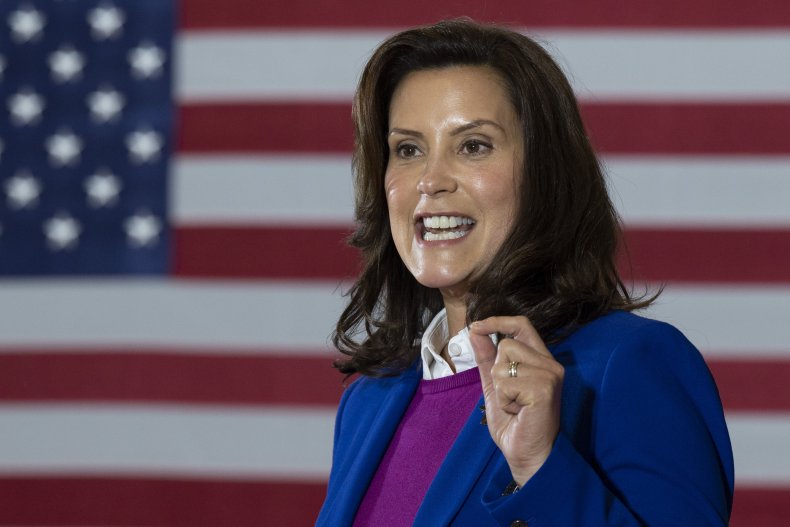 Authorities believe Roemer was targeted, according to the DOJ's press release. Local news station WTMJ reported that the suspect was also a member of a militia.
Law enforcement told the news station they found a hit list inside the suspect's car that included several elected officials, including Whitmer, Wisconsin Governor Tony Evers and Senate Minority Leader Mitch McConnell.
A spokesperson for Whitmer's office described the report as "deeply troubling," but declined to provide further comment on the investigation in a statement to Newsweek.
"Governor Whitmer has demonstrated repeatedly that she is tough, and she will not be bullied or intimidated from doing her job and working across the aisle to get things done for the people of Michigan," the statement said.
A spokesperson for Evers declined to comment, saying the governor's office does not comment on specific security or his security detail.
Newsweek also reached out to McConnell's office and the Wisconsin Department of Justice.
The shooting remains under investigation by the Wisconsin DOJ and local authorities. Many details about the shooting, including the identity of the suspect and why he allegedly targeted these authorities, remains unknown as of Saturday afternoon.
Violence against elected officials occurs from time-to-time in the United States.
Notably, Whitmer, a Democrat first elected in 2018, has faced a number of violent threats during her time in office. A group of men allegedly planned to kidnap her in 2020 because they were angry about the coronavirus restrictions she implemented during the beginning of the pandemic. They allegedly planned to break into her vacation home and kidnap her at gunpoint.
Meanwhile in April, a 65-year-old man named Jay Allen Johnson was sentenced to nearly three years in prison for threatening Senators Lisa Murkowski and Dan Sullivan, both Republicans from Alaska.
Update 6/5/22 9:28 a.m. ET: This story has been updated with Uhde's identity.