Republicans' Chances of Beating Maggie Hassan in New Hampshire: Polls
In the run-up to the midterms, Republicans are hoping to unseat New Hampshire Democratic Senator Maggie Hassan, and have viewed her seat as one that could be vulnerable in November. However, polling shows that Hassan is in a tight race, but has a slight lead over her potential Republican challengers, who will face off in a primary election on September 13.
A poll from the University of New Hampshire conducted in April showed Hassan with a 1 point lead in a potential matchup with retired U.S. Army General Don Bolduc. Hassan received support from 47 percent of likely voters, while Bolduc received 46 percent. Matched up against state Senate President Chuck Morse, Hassan was down down 2 points—44 percent to Morse's 46 percent. Meanwhile, Hassan maintained a 1 point lead over Kevin Smith, a former New Hampshire town manager. The incumbent senator received support from 45 percent of voters to Smith's 44 percent. The margin of error was 3.1 percent, with 1,183 likely voters surveyed.
A poll from St. Anselm College in March showed Hassan with larger leads over her opponents where she led Bolduc by 5 points, Morse by 7 points, and Smith by 10 points. The margin of error was 2.8 percent, with 1,265 registered voters surveyed.
The most recent polling on the race, conducted by progressive think tank, Data for Progress, in late June and early July, also shows Hassan with slight leads. The Democratic senator was up by 4 points against Bolduc and Smith, and 3 points against Morse. The margin of error was 3 percent, with 903 likely voters surveyed.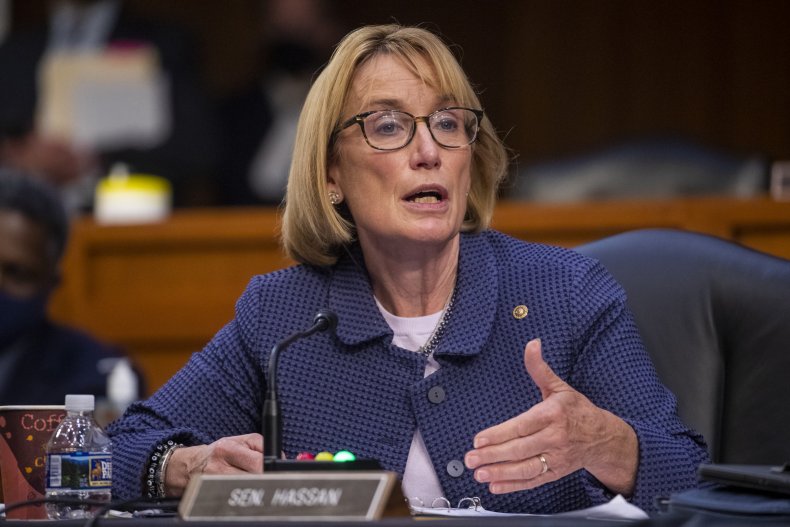 Analysts watching the New Hampshire Senate race have said that Republican Governor Chris Sununu's decision to not run for senator has given Hassan a major advantage.
"Sununu's decision to forego the Senate race turned the race from a slam dunk into a coin toss," Ken Spain, a Republican strategist told Axios in July. "New Hampshire falls into the growing category of races where Republicans are relying on the political environment to carry some of their candidates across the finish line."
On Friday, however, Sununu said he may weigh in on the race, adding that he won't be endorsing Bolduc, who he called a "conspiracy theorist-type candidate," in an interview with WGIR radio, according to New Hampshire Public Radio (NHPR). "He's not a serious candidate, he's really not, and if he were the GOP nominee I have no doubt we would have a much harder time."
On Friday, Senate Minority Leader Mitch McConnell suggested Republicans may not perform as well in the upcoming midterms as previously expected, and that he believes there's a "greater likelihood" the House flip Republican than the Senate.
"Senate races are just different," he said. "They're statewide, candidate quality has a lot to do with the outcome."
Newsweek has reached out to Hassan's campaign for comment.