Republicans Demand Adam Schiff Appear at Private Impeachment Hearing After Weeks of Complaining About Private Hearings
A top Republican in the House Intelligence Committee has formally requested that chairman Adam Schiff appear at a closed-door hearing on ongoing impeachment inquiries—after weeks of Republicans complaining about purportedly secret hearings.
In a letter first published by Fox News, Rep. Devin Nunes (R-CA) wrote to Rep. Schiff (D-CA) on Friday to demand that he appear before the House Intelligence, Foreign Affairs and Oversight committees for a private deposition.
In his letter, Nunes claimed that Schiff did not have the jurisdiction to lead the impeachment inquiry, that he was more motivated with removing a duly-elected president than with public responsibility and said that he needed to be questioned on his handling of the whistleblower who overheard President Donald Trump's call with Ukrainian counterpart Volodymyr Zelenskiy.
It comes as the House Intelligence Committee announced its intention to start its first public hearings on impeachment proceedings next week. Ambassador William Taylor and Deputy Assistant Secretary George Kent are due to testify on Wednesday, and the committee will hear from former Ambassador Marie Yovanovitch on Friday.
"Prior to the start of your public show trial next week, at least one additional closed-door deposition must take place," Nunes wrote in his letter to Schiff. "Specifically, I request that you sit for a closed-door deposition before the House Intelligence, Foreign Affairs and Oversight Committees."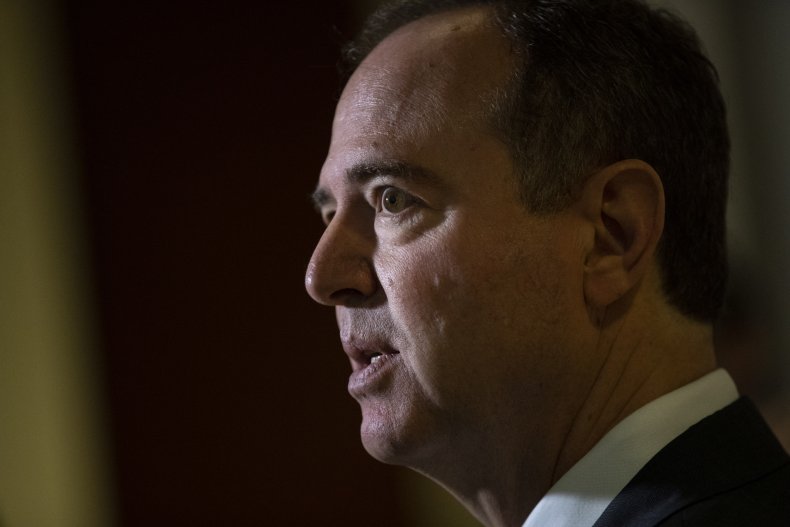 The move comes after weeks of repeated complaints by Republicans that impeachment hearings should not be held in private and that further transparency was needed.
Last month, Dozens of Republicans, led by Reps. Matt Gaetz (R-FL) and Steve Scalise (R-LA), stormed a private hearing while administration officials gave testimony with regards to the quid-pro-quo allegations that Trump faces.
The unauthorized breach of the Sensitive Compartmented Information Facility (SCIF) where the depositions took place occurred even though almost 50 GOP members—roughly a quarter of House Republicans—were authorized to attend.
Nunes, alongside Rep. Jim Jordan (R-OH), also wrote a lengthy letter chastising Schiff's lack of transparency.
The moves came even though a Republican-controlled Congress approved the rules for private hearings in 2015. Transcripts of the depositions typed up by professional stenographers were also released.
Trump also criticized the private hearings and called for them to be held in public. Now that this is in fact happening next week, he and other Republicans no longer support the move and have instead called the inquiry a "hoax."
Meanwhile, a number of Senate Republicans said they plan to "tune out" the public hearings, with many of them labelling it "a sham," "a joke," and "a witch hunt."
In a tweet, Schiff criticized this apparent reversal of posture from Republicans. "They [Republicans] don't want the American people to learn the truth about the President's serious misconduct," he said.
The graphic below, provided by Statista, shows the presidential impeachment process according to Article 1, Section 2 and 3 of the U.S. Constitution.