Second Stimulus Check, Payroll Tax Cut: Republicans and Democrats Draw Red Lines for Relief Deal
Four months on from the passage of the first coronavirus stimulus package in March, Congress is gearing up to work out the terms of a second injection into the U.S. economy—but debates over a few red lines could stall the process.
President Donald Trump told Fox Business earlier this month that he wanted another round of stimulus to come "quickly and in a non-complicated fashion" when lawmakers return to Capitol Hill on Monday.
The commander-in-chief also indicated that he wanted another round of stimulus checks to be paid directly to Americans in need of one, adding that he wanted it to be "larger" than the $1,200 proposed by House Democrats.
Republican Senate Majority Leader Mitch McConnell sounded cautious on the idea at the start of the month, but opened up the possibility of another round of stimulus checks—remarking that they "could well be" included in the next coronavirus stimulus package
However, House Speaker Nancy Pelosi (D-CA) has marked the issue as a potential red line for her party in negotiations setting out the parameters of the relief fund.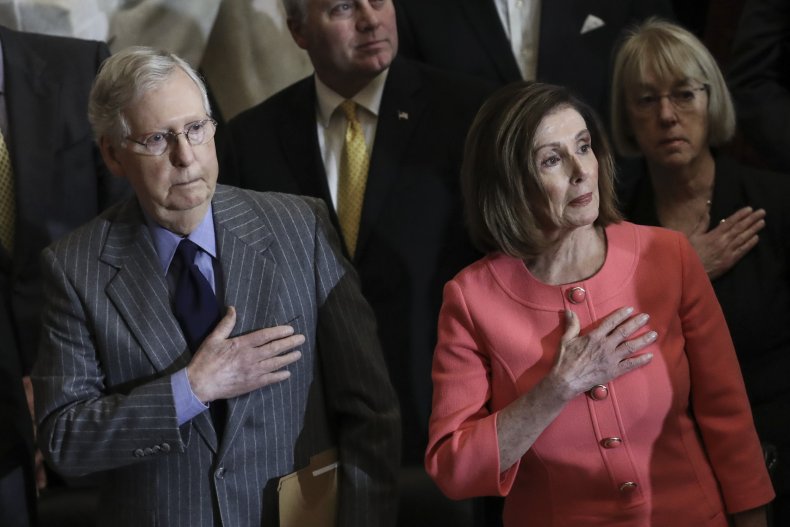 The California Democrat told the media on Thursday that the passage of another round of stimulus was a "necessity" and "so essential" for Americans.
"This is urgent. They need to buy food. These are necessities," Pelosi said. "And when people use that money for necessities, they inject demand into the economy and create jobs."
Democrats are also pushing for an extension of the provision offering an additional $600 per week to unemployment benefit recipients, first included as part of the CARES Act passed in March.
The Republican Party appears to be split on the issue, with some arguing that the unemployment benefits will discourage people from returning to work, and others hinting at a willingness to compromise on terms of the extension.
The Los Angeles Times reported on Wednesday that Congress was getting closer to striking a deal on an extension of the additional unemployment payments, which will dry up at the end of this month without renewal.
But McConnell has characterized the program as a "bonus not to go back to work" making it "harder" for people to get back into employment, suggesting there could still be some friction on the extension.
The Senate majority leader does, however, appear to be keen on including an idea of his own in the next coronavirus relief fund—liability protection for businesses lasting five years.
"No bill will pass the Senate without, liability protection for everyone related to the coronavirus," CNN reported McConnell telling Kentucky reporters this week.
The proposal shielding companies from coronavirus-related lawsuits filed by workers and members of the public has not been welcomed by Democratic leadership on Capitol Hill, who have also opposed Trump's demand that a payroll tax cut be part of any relief bill that he signs.
Politico reported on Thursday that the president suggested to his own party he would not back a package that failed to include the tax cut, citing three sources close to the matter.
Asked on CNN if the demand to include a payroll tax cut was OK with her, Speaker Pelosi said: "No it's not. No, it is not."
Newsweek has contacted the offices of Sen. McConnell and Speaker Pelosi for comment.