Republicans Are Discussing Climate Change Even Less than Before With Trump as President
Republican lawmakers have rarely discussed global warming or climate change, but since Donald Trump became president, conservative politicians have grown even more silent on the issue.
Republican dialogue on climate change has hit a five-year low, while Democratic messaging has soared, according to an analysis by public affairs software company Quorum.
In 2013, the GOP mentioned climate change 293 times in press releases, floor statements, tweets and other social media posts. That messaging peaked in 2015, when Republicans talked about climate change more than 670 times.
But when Trump was sworn into office in 2017, the GOP radically downsized conversation on the matter, bringing up climate change less than 400 times. In 2018 that number fell even further, with Republican lawmakers discussing the environmental issue only 215 times.
The most vocal GOP lawmakers on climate change are Senator Jim Inhofe, Representative Carlos Curbelo and Representative David McKinley. But three of the top ten Republicans who frequently mention climate change will not be returning to the incoming Congress, including Curbelo, McKinley and Representative Ileana Ros-Lehtinen.
President Trump has repeatedly slammed the idea that climate change poses a serious problem to Americans and insists that he has a "natural instinct for science" that informs his understanding of the environmental threat.
Shortly after he was sworn into office, Trump's Environmental Protection Agency shut down its web pages that contained any climate change information. The administration's environmental policies have also rolled back Obama-era legislation aimed at lowering pollution and protecting clean water.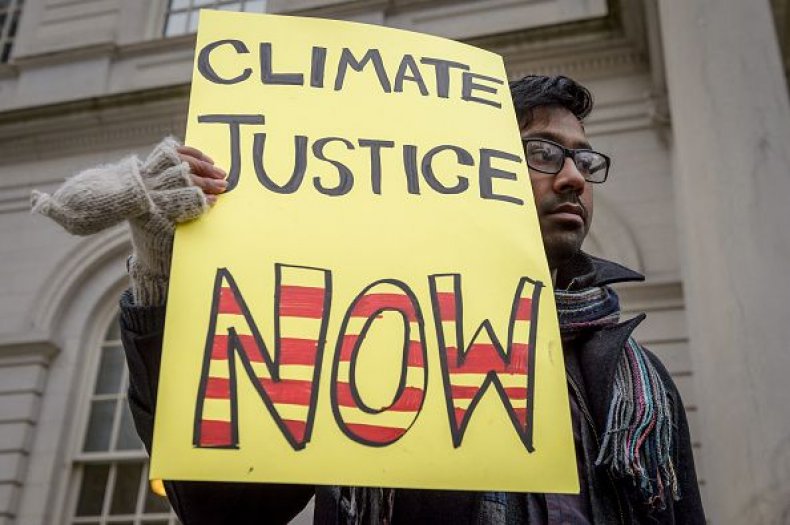 Trump has also scoffed at the climate change reports conducted by his own administration. Last month, the president and his top officials attacked the federal government's latest analysis, which outlined how global warming will cost the United States hundreds of billions of dollars in damage.
"I've seen it, I've read some of it, and it's fine," Trump told reporters about the report. "I don't believe it."
As Republicans have downplayed climate change discussions on Capitol Hill, Democrats have amped up their dialogue on environmental issues. In 2016, Democrats talked about it more than 2,600 times, but they have mentioned climate change more than 5,000 times in both 2017 and 2018.
The most vocal Democrats on climate change include Senator Sheldon Whitehouse, Senator Bernie Sanders and Representative Don Beyer. Of the top 10 most vocal Democrats, only one—Representative John Delaney—is leaving office with the start of the 116th Congress in January.
Quorum's analysis comes as the Trump administration is going to unveil a complete reworking of clean water protections on Tuesday. The rollbacks are expected to ease the federal government's oversight of smaller bodies of water throughout the United States.