Republican voters take a more favorable view of Rep. Marjorie Taylor Greene than Liz Cheney, and believe the freshman lawmaker is more representative of the GOP than the House Republican leadership figure, according to new polling data.
The latest data released by Quinnipiac University pollsters on Wednesday found that 17 percent of Republicans voters had a favorable view of Greene (R-GA), while 20 percent said they viewed her unfavorably.
A further 62 percent said they hadn't heard enough to take a view
Only 7 percent of GOP voters said they viewed Cheney (R-WY) favorably, by comparison, while more than a third took an unfavorable view of the Republican leader.
Fifty-five percent said they hadn't heard enough to take a view.
Earlier this month, Cheney and Greene were at the center of a skirmish between the two warring factions of the GOP: the pro-Trump populists and the "traditional" wing of the party.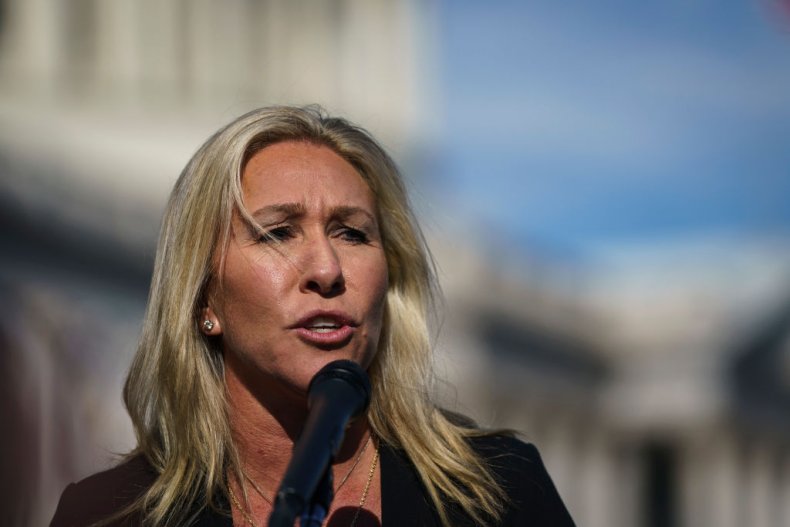 As the Trumpian faction tried and failed to oust Cheney from her leadership post, the Republican Party also refused to punish Greene over controversial remarks she made before taking office.
House Democrats later voted to strip Greene of her committee assignments.
Asked who they believed was more representative of the GOP, Republicans told Quinnipiac pollsters that they slightly favored Greene.
Twenty-three percent said Greene was more representative of the party, while 18 percent backed Rep. Cheney. But the majority of Republicans (59 percent) were undecided on the matter, or did not know what to make of the match-up.
GOP voters were even more divided on the question of which figure they most wanted to have a bigger role in the Republican Party's future.
A quarter of those polled said they would like to see Greene have a bigger say in the GOP's future, while 22 percent said Cheney was the better candidate to direct the party as it looks toward the 2022 midterm elections. Again, most Republicans were undecided on the matter.
When all voters—Republican, Democrat and independent—were surveyed the results were very different.
Asked who they would like to have a bigger role in the GOP in the future, Cheney or Greene, 45 percent picked Cheney and 14 percent picked Greene.
"Rep. Liz Cheney's stand on impeachment costs her within the GOP but wins over some Democrats," the Quinnipiac University Polling Analyst Tim Malloy said in a statement. "Rep. Marjorie Taylor Greene's vitriolic and specious rhetoric does nothing but cripple her standing as a freshman representative and costs her dearly in the House."
Quinnipiac University surveyed 1,056 U.S. adults between February 11 and February 14 for its latest poll. Its margin of error stands at 3 percentage points.