Republicans Appear to Care More About an FBI Affair Than Russian Election Interference
During FBI agent Peter Strzok's closed-door interview with lawmakers last month, House Republicans seemed to care more about a relationship he had with a colleague and probing the Mueller investigation than they did about Russia interfering with a U.S. election.
Republicans failed to ask the FBI agent any questions about a national security threat posed by past Russian interference in the 2016 election. There were also no questions asked about future threats of Russian influence for this year's election, according to a summary released by Democrats on Wednesday about the June 27 talks with Strzok.
Republicans did, however, ask 25 questions about Strzok's affair with Lisa Page, a former FBI lawyer who Strzok exchanged inappropriate text messages with about then-candidate Trump. More than 200 questions meant to hinder, according to Democrats, special counsel Robert Mueller's probe into possible Russian collusion with the Trump campaign were also asked.
The 11-hour-long meeting with Strzok was part of Congressional Republicans' skepticism for the FBI's past investigation into Hillary Clinton's private email server and the current Mueller probe that has targeted several of Trump's former campaign or administration officials.
The summary said Republicans asked questions like, "I don't mean to embarrass you, but is Lisa Page someone that you do or at some point in time did love?" and, "So what I'm trying to establish through all of that is, was Lisa Page someone that you cared about deeply at the time you were sending these messages?"
Newsweek subscription offers >
Democrats did not say what Strzok's responses to any of the questions were, but they did call for the full transcript of the meeting to be released by Republicans.
"This investigation is a political charade—a platform to elevate far-right conspiracy theories and undermine the Special Counsel's ongoing criminal investigation of the President and his campaign aides, which has already produced five guilty pleas and criminal charges against 23 individuals and entities," said Representative Jerrold Nadler, the ranking member of the Committee on the Judiciary.
Strzok and Page both worked under former FBI Director James Comey during the FBI's investigation of Clinton's emails. Following that report and the firing of Comey by Trump, the Department of Justice Inspector General launched an investigation. The DOJ watchdog published a report last month that revealed messages between Strzok and Page which suggested the two of them, along with the FBI, would try and stop Trump from getting elected.
"[Trump's] not ever going to become president, right? Right?!" Page wrote to Strzok. Strzok replied: "No. No he's not. We'll stop it."
However, investigators did not find any political bias on behalf of Comey or the FBI when it came to protecting or prosecuting Clinton.
Page later left the FBI but Strzok remains. He was assigned but then removed from special counsel Robert Mueller's investigation of Russia's interference in the 2016 election.
Page refused to comply with a subpoena on Wednesday that was handed down by the House Judiciary Committee for her to testify before members of Congress. House Speaker Paul Ryan said he is willing to hold her in contempt of Congress if she continues to not cooperate, according to Politico.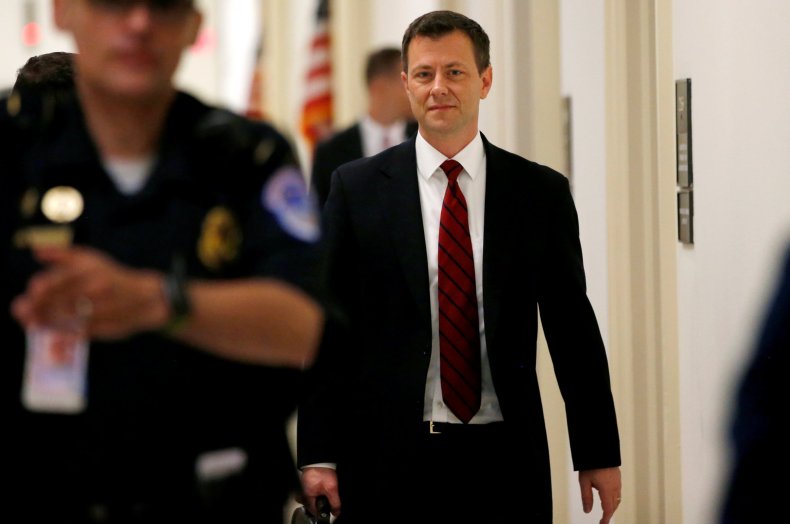 Republicans Appear to Care More About an FBI Affair Than Russian Election Interference | U.S.