Republicans Make a Case for Child Marriage
Days before the close of the 2023 session, members of West Virginia's House of Delegates voted to enact a bill banning child marriage in the state.
But it wasn't unanimous. When the bill moved on to the Senate, just over one dozen members of the House voted against it.
Child marriage has long been taboo in the United States, but it's still legal in at least a dozen states across the country. While more recent figures are unavailable, the Pew Research Center said West Virginia had the nation's highest rate of child marriages in 2014, with five-year averages of 7.1 marriages for every 1,000 children between 15 and 17.
And most were girls. According to state health statistics from 2015 to 2019, 259 girls and 52 boys under 18 were married in West Virginia. Some had been married more than once.
Legislators defended allowing minors to marry for a myriad of reasons, including concerns expressed on the House floor that teens who want to get married will seek a remedy out of state and that limits on marriage with a parent's consent were arbitrary and taking something away.
"The only thing it's going to do is cause harm and trouble in young people's lives," Harrison County Delegate Keith Marple, a Republican and the lone person to speak against the state bill to ban child marriage, said on the House floor ahead of the vote last Wednesday.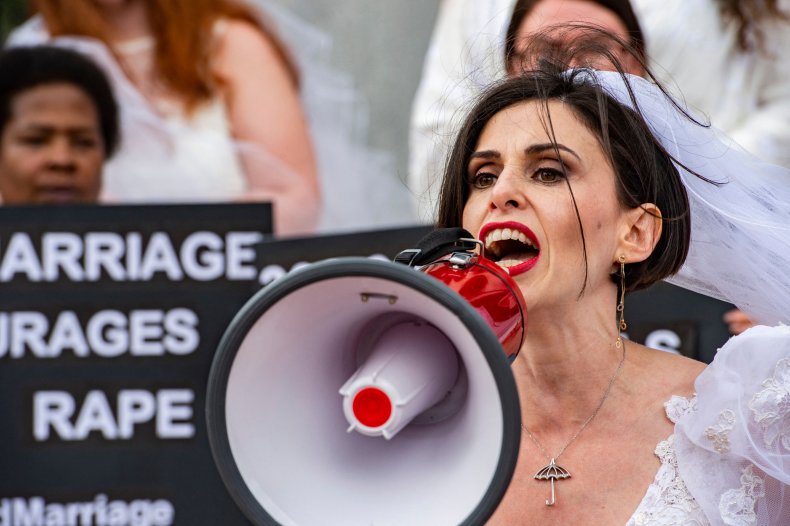 Child marriage is technically illegal in most of the country: Almost everywhere in the United States, the legal marriage age in statutes is 18. However, many states—West Virginia included—had statutes allowing children as young as 16 in some jurisdictions to get married with their parents' permission.
The West Virginia bill is an outright ban on all marriages under 18. When the House advanced it to the Senate with a resounding 84 votes in support, just over 12 Republicans voted against it.
But West Virginia is by no means unique. A more modest proposal in Wyoming that passed the House of Representatives faced pushback from the state Republican Party, which cautioned that there were potential "constitutional concerns" with the bill that could restrict people's rights and disincentivize expecting young parents from staying together for their children. More than two dozen people voted against it in the House, and seven opposed the bill in the Senate.
In West Virginia, opponents of the legislation said that an outright ban on children under 18 marrying was overly restrictive and ignored the social norms in more rural parts of the state. Some who voted against it said that teenage marriages are commonplace where they grew up, while others expressed their belief that some teenagers are mature enough to make their own decisions about marriage.
"West Virginia is a socially conservative and traditional state, in my observation," Republican Delegate Jim Butler, who voted against the bill, told Newsweek. "Many middle age and elderly people that I know were married when younger than 18 and are still married many years later."
"People simply grow up differently," he said later. "Some 16-year-olds, for example, are much more mature than others."
Others argued that teenagers younger than 18 are able to drive, work and sign up for military duty with the approval of their parents and therefore should be able to marry. Banning marriage for anyone under 18, they said, was too restrictive.
"I would prefer that people wait until they are of the legal age of 18 to marry," GOP Delegate Doug Smith, another of the bill's opponents, told Newsweek.
"However, I believe that there should be exceptions for age 16 or 17, with parental consent. Heck, you can join the military at 17 with parental consent, but with this bill you can't get married until you are 18. I feel that there could be other situations that would warrant an exception," Smith said.
Opponents of child marriage argue that this represents an incorrect view of what actually occurs in child marriage.
In most marriages reported nationwide involving children under 18, the children were girls, a trend that anti-child-marriage groups say represents the true function of child marriage: not for young couples to elope but for statutory rapists to marry their victims with the cover of the victim's parents.
And for those younger than 18, it can be very difficult to exit that arrangement, even if it takes a turn for the worse.
"Marriage before 18 means that this minor—who is almost always a girl—is much more likely to experience physical and sexual violence within that marriage," Fraidy Reiss, founder and executive director of the anti-child-marriage organization Unchained at Last, told Newsweek in an interview last month. "And it's very likely that this child, probably a girl, is going to need a way out. And when they do, it's very, very difficult for them to get out."
An Unchained at Last study found that between 2000 and 2018, some 300,000 children as young as 10 were legally married in the U.S.
Asked whether he believed a parent's permission was sufficient protection against young girls being coerced into marriage, Butler said he did. He also said he believed instances of coercion were rare.
"It is possible that they could be coerced, but I think that would be very rare, and making it illegal isn't necessarily going to prevent it in every case either," he said. "As for coercion, adults can be coerced too. Within the legislation that was passed, there is a section that basically concedes that these marriages, even if not legally recognized by the state, will take place."
He continued: "Would parental consent stop coercion? I think it would in most cases, and most parents would not sign off on their young adult child marrying a person who is much older or who has bad intent."