Republicans Mitch McConnell, Kevin McCarthy Skip Ruth Bader Ginsburg Ceremony Despite Invites
Absent from the lie in state ceremony at the U.S Capitol for Supreme Court Justice Ruth Bader Ginsburg—the first woman in U.S. history to receive such an honor—were two top congressional Republicans: Senate Majority Leader Mitch McConnell (R-Ky.) and House Minority Leader Kevin McCarthy (R-Calif.).
The men were invited, according to House Speaker Nancy Pelosi's deputy chief of staff, Drew Hammill. However, they did not attend, per congressional pool reports.
McConnell spokesperson Doug Andres told Newsweek in an email that they had "no guidance or announcements on his schedule." McCarthy's office did not respond to a request for comment.
It is rare for members of the Big Four—the top leaders in both chambers—to miss such historic and significant ceremonies at the Capitol, particularly for those who lie in state.
Ginsburg's dying wish, who passed from complications arising from pancreatic cancer Sept. 18, was for her replacement to be named by the winner of the November 3 election. Despite this, McConnell is moving forward to fill the vacancy with a yet-to-be-named nominee from President Donald Trump before the election—a breakneck pace for the Senate to confirm a president's pick to the highest court in the nation.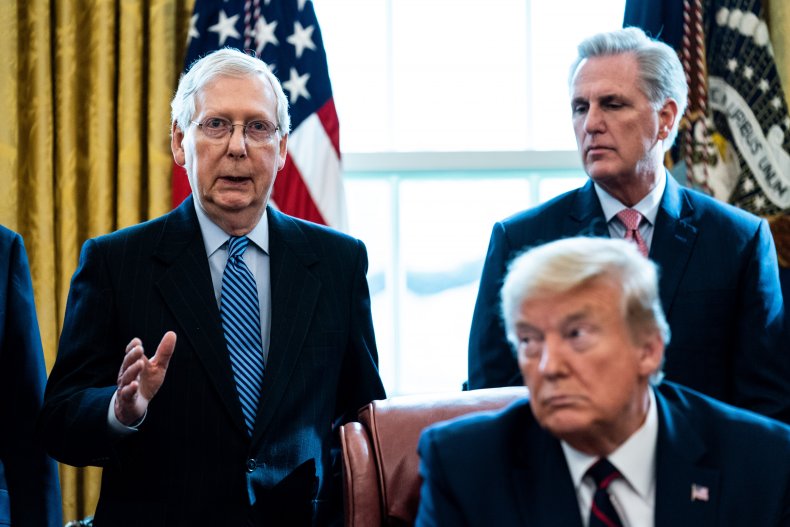 The event, which occurred in Statuary Hall, a room just off the House floor that was once home to the old House chamber, featured attendees from both parties, including Pelosi, Senate Minority Leader Chuck Schumer (D-N.Y.), House Minority Whip Steve Scalise (R-La.) and Democratic presidential nominee Joe Biden. Most of the less than 100 people socially-distanced in the room were women lawmakers.
Aside from Scalise, Reps. Susan Brooks (R-Ind.) and Debbie Lesko (R-Ariz.) were the only other Republicans spotted in attendance by pool reporters. An invitation from Pelosi was required. McConnell aide Stephanie Penn was seen early on at the ceremony.
"I'm a lawyer. I don't believe any of my other female colleagues are," Brooks told reporters afterward. "I have tremendous respect for what Justice Ginsburg did for the state of American law and for women not just in our country, but in the world."
Brooks, who is retiring at the end of her term in January and is the recruitment chair for Republicans, said she's focused on bringing more GOP women to Congress.
"Right now, we have 94 Republican women who are on the election ballots this November," Brooks continued. "I believe it's critically important for women to have a seat at the table and a voice on the House floor."
Still, the magnitude of the service was not lost. Civil rights icon Rosa Parks was lain in honor at the Capitol, the highest possible respect for a civilian. But never before had a woman in power like Ginsburg be lain in state, an accolade reserved for former presidents, top lawmakers and justices.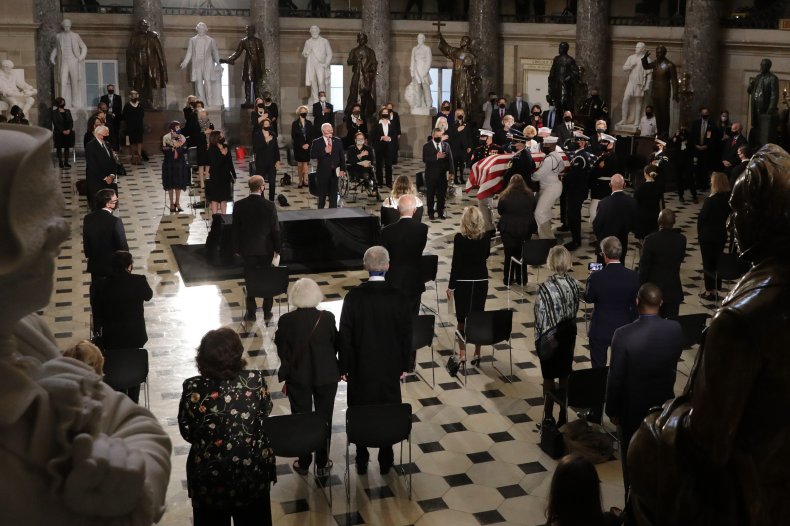 Regardless of her dying wish, Senate Republicans are vowing to confirm Trump's nominee, which is set to be announced on Saturday, before the election that is in 39 days. If accomplished, the procedure would mark one of the shortest confirmation processes in history and the closest date to an election that a new justice has been installed to the Supreme Court.
Democrats remain powerless in their staunch opposition, given the political makeup of the Senate. Some Democrats have considered boycotting the confirmation hearings, while others suggest they pack the courts if they regain power by ending the filibuster and expanding the number of justices.
Democrats remain hopeful that the partisan process that's set to consume Washington politics in the coming weeks will drive their voters to the polls on November 3 and help them take control of the Senate and the White House.
This story was updated to include remarks from Rep. Brooks.
Republicans Mitch McConnell, Kevin McCarthy Skip Ruth Bader Ginsburg Ceremony Despite Invites | U.S.