Some Senate Democrats Consider Boycotting SCOTUS Confirmation Hearing
At least two Democrats on the powerful Senate panel that will soon oversee the confirmation hearing for President Donald Trump's forthcoming Supreme Court nominee remain on the fence about whether they'll attend the televised meetings.
Senate Judiciary Committee members Chris Coons (D-Del.) and Mazie Hirono (D-Hawaii) told Newsweek they're uncertain if they'll participate in the several days of public hearings expected for mid-October, signaling they may boycott the confirmation process in an apparent snub to Republicans moving at breakneck pace to fill the vacancy on the nation's highest court before Election Day.
"We'll see," Coons said. "My gut inclination is this is the shortest time in American history, the closest to an election—ever—that there's been a nominee, and we're given just two weeks to do what should take a month."
"I want to wrestle with it," he added.
Hirono said Thursday that she'll "probably attend," but would not commit to doing so. On Wednesday, she stated that she'll "most likely" participate but declined to elaborate about any apprehensions.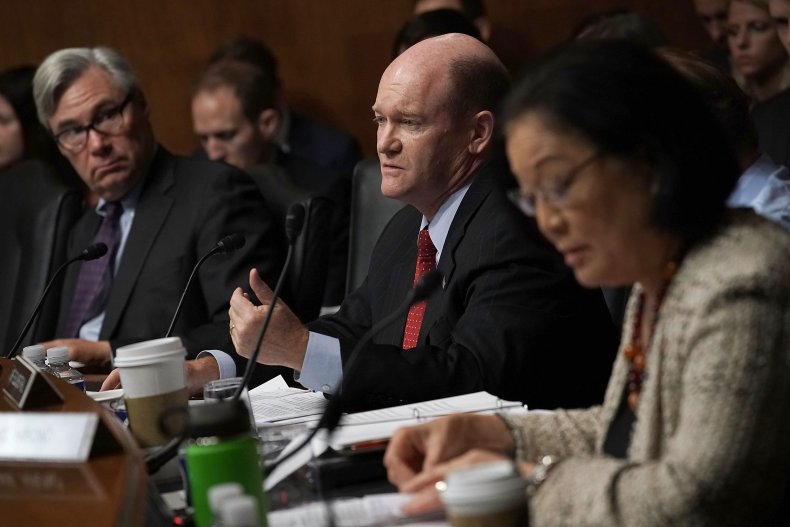 The notion of boycotting what will surely be an intense and made-for-TV process has been discussed privately by Senate Democrats in recent days as potential retribution. By replacing Justice Ruth Bader Ginsburg, who died last week at the age of 87 from complications of pancreatic cancer, just weeks before the November election, Republicans have shrugged off their stance that filling a Supreme Court vacancy under President Barack Obama eight months before the 2016 contest should not have been considered.
Republicans insist the circumstances are now different because they control both the White House and Senate, unlike when the GOP-controlled Senate blocked Obama's nominee, Merrick Garland.
Senate Minority Whip Dick Durbin (D-Ill.) denied that the Democratic caucus had agreed not to boycott the hearing during a private call Wednesday afternoon.
"I wouldn't call it an agreement," Durbin, who is also a Judiciary member, told Newsweek Thursday. "There was a discussion on the issue."
Coons and Hirono are the lone Democratic members on the panel to say publicly that they're still undecided on attending. The offices of Sen. Kamala Harris (D-Calif.) and Sheldon Whitehouse (D-R.I.) did not respond to Newsweek's inquiry.
While Harris has yet to weigh in, participating would offer the Biden presidential ticket free airtime. The vice presidential candidate's line of questioning during the confirmation hearing of Justice Brett Kavanaugh was lauded by Democrats, a representation of the potential public notoriety she could receive heading into the election.
The rest of the committee's Democrats said it would be a no-brainer to attend and ask the nominee questions.
"I've attended every one for 40 years," Sen. Patrick Leahy (D-Vt.) said, who's been a member of the upper chamber since 1975. "Why would I change?"
"That's my job," Sen. Amy Klobuchar (D-Minn.) responded, when prompted if she'll take part in the confirmation process. "Everyone will make their own decisions, and I'm going to do my job."
Snubbing the hearing would actually slightly speed up the confirmation process, given there would be fewer lawmakers to ask questions. And without Democrats, the president's nominee would face a much friendlier line of questioning from Republicans.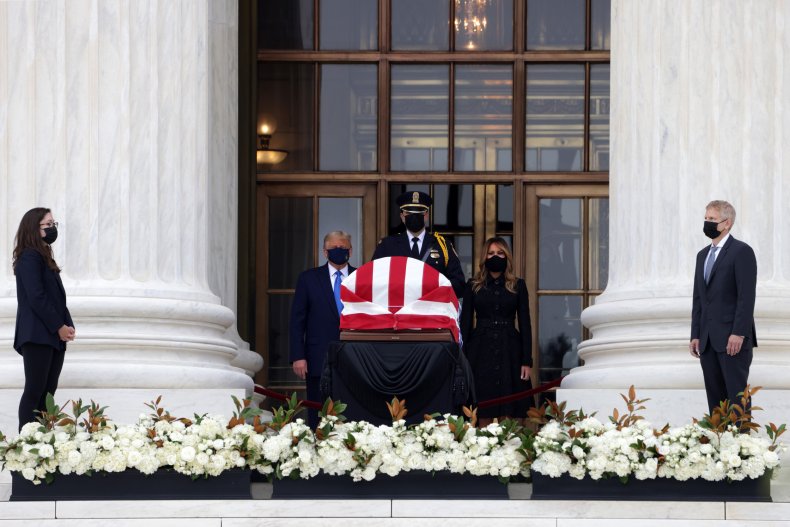 But with Democrats' hands tied, unable to prevent Republicans from filling the vacant seat before November 3, rebuffing the hearing for a Supreme Court nominee would act as one of the few ways to outright shun the process, other than voting against the nominee.
Coons, Hirono and any other Judiciary Democrats who may be uncertain do have time to reach a final decision, given Trump has yet to even announce his pick. The president said he will do so on Saturday, and that it's likely to be one of five conservative women. Judges Amy Coney Barrett and Barbara Lagoa are the frontrunners.
Trump has conceded that he's pushing to fill the vacancy prior to the election because he expects the results to be contested and determined by the Supreme Court.
As another potential form of retribution, some liberals in the party and Congress have advocated for Senate Democrats to pack the courts and expand the number of Supreme Court seats if they take control of the White House and the Senate. But Democrats have shown little-to-no willingness to take such a drastic and controversial step, which would also require blowing up the filibuster.
The confirmation hearing will be run by Senate Judiciary Committee Chairman Lindsey Graham, who said he will reveal the schedule on Saturday following Trump's candidate selection.
"I want it to be a meaningful hearing," the South Carolina Republican told Newsweek. "I'll leave it up [Democrats] for them to participate."