Republicans Want to Ban People Vaccinated for COVID From Donating Blood
A Montana Republican is pushing a bill to bar those who have received a COVID-19 vaccine or suffer from "long COVID" from donating blood—a proposal some critics say could effectively eradicate the state's supply of blood.
Formally introduced in the Montana State Legislature on February 17, House Bill 645 proposes a misdemeanor offense for anyone who knowingly donates whole blood, plasma, blood products, blood derivatives, human tissue, organs, or bones containing "gene-altering proteins, nanoparticles, high-count spike proteins from long covid-19, or other isolates introduced by mRNA or DNA vaccines, mRNA or DNA chemotherapies, or other novel mRNA or DNA pharmaceutical biotechnologies."
The legislation, which has yet to receive a committee vote, comes over what the bill's sponsor, Representative Greg Kmetz, described as fears from his constituents of ensuring a "safe" blood supply—even as experts assert that it is safe to donate blood after receiving a COVID vaccine or being diagnosed with COVID.
"Many of my constituents question just because we hear these two words, 'safe and effective,' a million plus times, does that make them true?" Kmetz asked colleagues in a hearing on the bill last week. "[...] These are the people that are concerned about our blood supply. These are the people that put me in this office. These are the people that I represent."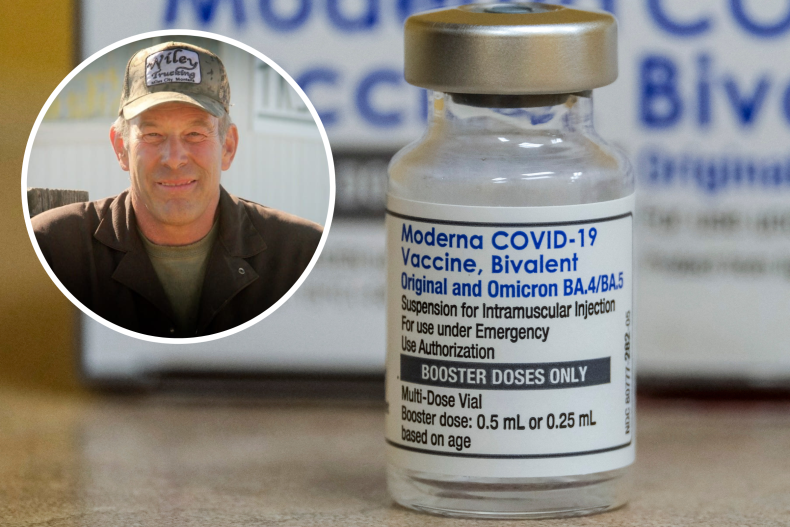 Kmetz has been backed by fellow Republicans, Rep. Jodee Etchart, who is the bill's requester, and Rep. Lola Sheldon-Galloway.
Many of the concerns pushed by the bill's proponents often cited uncredible or even biased information to support them.
Some who testified in favor of the bill claimed, without evidence, that friends and family died prematurely as a result of receiving the vaccine. There is currently no proof linking the COVID vaccine to premature death.
Another woman cited a Facebook post pushing claims that COVID-19 vaccines turned the blood of embalmed corpses into fibrous clots, a finding medical fact checkers have already debunked as the result of a heavily flawed study.
Others cited concerns over a spike in myocarditis cases among teens who received some types of vaccine, which U.S. Centers for Disease Control and Prevention (CDC) data found to be rare.
Meanwhile, opponents of the bill, which included multiple medical professionals, said its language was overly broad and would, in effect, decimate Montana's blood and organ donor supply.
According to data from the CDC, approximately two-thirds of Montanans have received at least one dose of the COVID-19 vaccine, while just 3 percent of eligible donors nationwide donate blood. Cliff Numark, the Senior Vice President of Donor Services for blood supplier nonprofit Vitalant, said the bill would cause "devastating harm" to the state's healthcare system, and potentially reduce the state's overall blood supply by as much as 80 percent.
Numark said there is no test available to verify whether the vaccine was in someone's bloodstream, making the bill impossible to comply with if passed into law.
In recent weeks, Vitalant has urged blood donors to come forward amid a shortage that has been worsened by adverse weather. Nationwide, the American Red Cross, which in January 2022 declared its first-ever blood crisis, says that someone in the U.S. needs blood and/or platelets every two seconds.
"Our blood is safe," Vicky Byrd, CEO of the Montana Nurses Association, told lawmakers. "Our scientists and our practitioners, we have to trust them. We know what they're doing."
While COVID-19 patients are barred from donating blood while infected with the virus—primarily because of the precondition for donors to be in "good health" when donating—all blood donation groups and the American Red Cross have maintained that it is safe to donate blood after receiving the vaccine.
"Blood donations from individuals who have received a COVID-19 vaccine approved or authorized for use in the U.S. are safe for transfusion," Red Cross officials told Newsweek in a statement.
"Similar to other vaccines such as those for measles, mumps or influenza, COVID-19 vaccines are designed to generate an immune response to help protect an individual from illness, but vaccine components themselves do not replicate through blood transfusions or alter a blood recipient's DNA.
"In summary, there is no scientific evidence that demonstrates adverse outcomes from the transfusions of blood products collected from vaccinated donors and, therefore, no medical reason to distinguish or separate blood donations from individuals who have received a COVID-19 vaccination," they said.
Though the bill's opponents said there was no evidence to support a ban on vaccinated donors giving blood, the bill's proponents said that was because studies have not yet been done.
From a practical standpoint, Numark said a ban would result in "unnecessary and unconscionable" death.
"This house bill would criminalize the act of attempting to altruistically donate blood," Numark said. "It would decimate the blood supply."
Newsweek reached out to Greg Kmetz for comment.
Update 2/28/23, 2.15 p.m. ET: This article was updated with a statement from the Red Cross.