Republicans Put More Stock in 2022 Midterms Than Democrats: Poll
Republican voters appear to be more invested in the 2022 midterms than Democratic voters, with significantly more of the GOP supporters saying the party that controls Congress really matters.
Most analysts believe Republicans are well positioned to take control of the House and possibly the Senate in the elections this November. Historical precedent shows that the party of the president in power generally loses a substantial number of House seats in the first midterms after a commander in chief takes office.
As Democrats hold the House with the narrowest of margins, even if the GOP manages to flip just a few seats, power could shift substantially in Washington. Meanwhile, the Senate is evenly split—so even one seat flipping in favor of the Republicans without an equivalent flip for Democrats would end Democratic control of the upper chamber as well.
Polling released by Pew Research Center on Thursday showed that Republican voters are substantially more likely to say the party that controls Congress really matters.
While 70 percent of GOP voters held this view, just 60 percent of Democrats said the same. That also marks a shift from the 2018 midterms during President Donald Trump's administration, when a roughly equal number of Democrats (67 percent) and Republicans (65 percent) said the party in control of the legislative branch was important.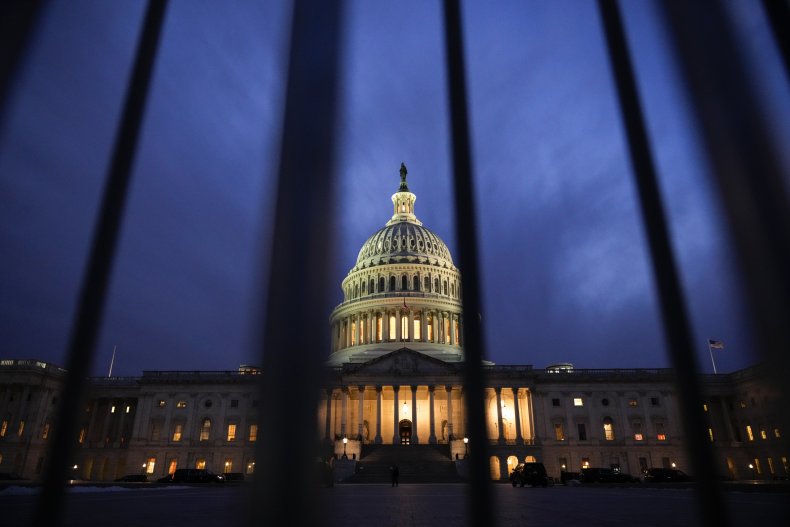 While more Republicans may be concerned about their party controlling Congress, both parties are currently tied with voters. Forty-three percent of voters say they plan to cast ballots for GOP congressional candidates, and the same percentage say they will do the same for Democratic contenders.
At the same time, many voters appear to be undecided. Ten percent said they are "not sure" how they will vote in congressional races. Meanwhile, 4 percent said they plan to vote for an alternative to the Republican and Democratic contenders, while 1 percent did not answer.
A press release sent to Newsweek by the Pew Research Center explained that "the economy is the top election issue out of the 15 asked about in the survey, with about eight-in-ten voters (78 percent) who say the economy is very important to their vote this fall." Republicans are more concerned about the economy, however, with 90 percent viewing it as "very important," compared with just under 70 percent of Democrats.
The polling was conducted from March 7 to 13, surveying more than 10,000 respondents. The margin of sampling error was plus or minus 1.5 percentage points.
Other recent polls have shown Republicans with a significant advantage over Democrats going into the midterms this year. Survey results released in mid-February by the Convention of States Action in partnership with the Trafalgar Group showed the GOP enjoyed 54.4 percent support in the upcoming elections, compared with just 41.9 percent for Democrats.
But a YouGov poll conducted from March 19 to 22 showed Democrats leading Republicans by 4 points. The GOP's congressional contenders had the backing of 39 percent of respondents, while Democrats had the support of 43 percent.
FiveThirtyEight's midterm election tracker shows Republicans narrowly ahead of Democrats for control of Congress. The site's average of recent polls has the GOP with about 44.5 percent support among voters, and Democrats enjoy the backing of 42.5 percent.
President Joe Biden cautioned Democrats earlier this month that his administration would face substantial roadblocks if their party doesn't maintain control of Congress after the midterms.
"If we don't do that, don't do that, it's going to be a sad, sad two years. Think about Republicans if they controlled the Congress these last two years," the president told Democratic National Committee members at their winter meeting in Washington, D.C., on March 10.