Republicans Raise $12.6 Million Amid Reports About Cash Problems
Reports of the National Republican Senatorial Committee's cash woes have been greatly exaggerated, newly released fundraising numbers revealed.
According to reports filed with the Federal Elections Commission Tuesday, the NRSC finished August with just over $16 million cash on hand. While significantly less than the nearly $24 million it had to end July, it was an amount that easily eclipsed the committee's financial position at similar points during the 2020 and 2018 election cycles by millions of dollars.
The committee's performance was received warmly by Republican strategists who have been dogged by negative stories in outlets like the New York Times and the Washington Post filled with criticism of NRSC chairman Rick Scott's leadership and the committee's significantly high rates of spending.
Over the summer, the NRSC announced the cancellation of millions of dollars in advertising buys in numerous battleground states around the country. And in early September, a New York Times profile charged the NRSC with burning roughly 95 percent of its record-setting haul this cycle on fundraising efforts that had so far failed to pan out.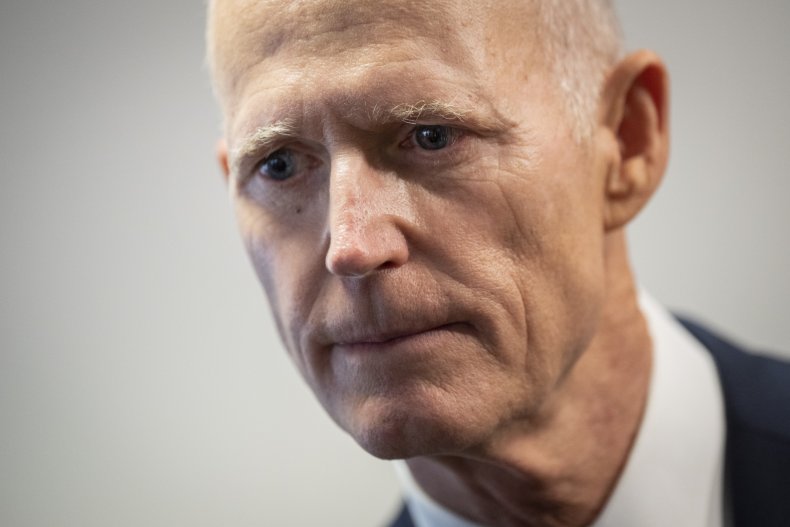 That raised concerns from Senate Republicans fearful of being outspent in the most critical months of the campaign and palace intrigue about the tenuous relationship between Scott and Senate Majority Leader Mitch McConnell, who publicly expressed apprehension about Republican chances to win the Senate earlier this fall.
It was a narrative that drew a sharp rebuke from NRSC leadership at the time, who said the dollar figures were a reflection of a changing fundraising strategy that included spending significant sums of money to expand the committee's digital outreach and increasing the levels of coordinated advertising with campaigns earlier on in races, with the idea the McConnell-aligned Senate Leadership Committee would pick up most of the tab in the late summer and early fall.
And already, the committee has begun replacing a number of the advertising spends it had previously canceled, with increased investment on coordinated ads in battleground states like Georgia, North Carolina, New Hampshire, Wisconsin, Nevada, and Arizona, Chris Hartline, communications director for the NRSC, told Newsweek.
"We're doing we're spending a lot right now, and we're spending with the campaigns," Hartline said. "Most of the bitching from D.C. people has either been consultants that just hate us or vendors who aren't getting as much as they thought and are mad we're spending more on this side of the wall than that side of the wall. I don't know exactly where it's coming from, but the people who are not complaining are the campaigns themselves."
Fundraising for the NRSC itself has been a mixed bag.
According to FEC reports filed Tuesday, the NRSC took in just under $2 million in small donations through August 31—more than a million less than the Democrats' Senate campaign arm took in throughout July—and brought in just over $4 million in major donations, a number Democrats also eclipsed by more than a million dollars.
While small donations were down by a million dollars compared to last month, large donations were up by a million dollars, while additional PAC support over the past month boosted overall fundraising to just over $12.6 million, slightly more than their counterparts at the Democratic Senatorial Campaign Committee.
But in what has already become the most-expensive midterm election in U.S. history in an environment some feel now favors Democrats, the NRSC will not be left to pull the load on its own.
On Tuesday, campaign finance reports showed billionaire casino mogul Steve Wynn had pumped $10 million into GOP super PAC Our American Century, which took out $500,000 ad buys in 10 closely contested Senate races across the country earlier this month. And last week alone, the Senate Leadership Fund reported independent expenditures exceeding $20 million in a number of races across the country, according to a Newsweek review of campaign finance reports, padding onto a total of pre-planned ad buys that has continued to grow throughout the summer.
It still remains to be seen whether Republicans will be able to close the existing gap between themselves and their Democratic counterparts, however. Entering September, Democratic Senate candidates boasted a cash on hand advantage of more than $45 million over Republicans, according to accounting by OpenSecrets, leaving them with a firepower advantage entering the final weeks of the 2022 midterm elections.
That comes with a caveat, though. While the Democratic National Committee leads in cash on-hand, the Republican National Committee outraised the DNC by just over $6 million last month, according to FEC reports filed Tuesday.