Republicans Refute Trump's False Mail-In Voting Claims, Warn They Could Hurt GOP Candidates
President Donald Trump's continued attacks on voting by mail are false and should cease—before they hurt Republicans at the ballot box.
That is what several GOP senators reiterated on Thursday as their party's leader hurled more false claims to his 86 million Twitter followers about casting ballots by mail.
"Republicans have traditionally done better at mail-in voting," Sen. Bill Cassidy (R-La.) told Newsweek. "It could potentially [hurt us]. If you have a district, for example, which has more folks who live in nursing homes and are afraid to go to the voting polls or are unable to physically."
Trump repeated past misleading and false assertions that vote-by-mail ballots are riddled with fraud, despite no widespread evidence to that effect—an extension of his efforts to erode public trust in the upcoming U.S. election.
He warned of election "MAYHEM!!!" unless voters head to the polls in person—even amid a pandemic—and went so as to suggest in a pair of tweets that the results may never be known. Twitter flagged both of the posts for containing inaccurate information about elections, offering users a link to "learn how voting by mail is safe and secure."
The red flags from Twitter didn't seem to deter the president.
"Because of the new and unprecedented massive amount of unsolicited ballots which will be sent to 'voters', or wherever, this year, the Nov 3rd Election result may NEVER BE ACCURATELY DETERMINED, which is what some want," Trump tweeted. "Another election disaster yesterday. Stop Ballot Madness!"
In a subsequent post, the president said that election officials sending unsolicited ballots to voters "should give it up NOW, before it is too late, and ask people to go to the Polling Booths and, like always before, VOTE. Otherwise, MAYHEM!!! Solicited Ballots (absentee) are OK."
Several Republicans, including one of his closest Capitol Hill allies, said Trump's claims simply weren't true.
"It's just not accurate," said Sen. Marco Rubio (R-Fla.), the acting chairman of the Senate Intelligence Committee. "It may take a lot longer than it ever has with the amount of mail-in ballots that are going to come in. But I don't have any concerns about the accuracy."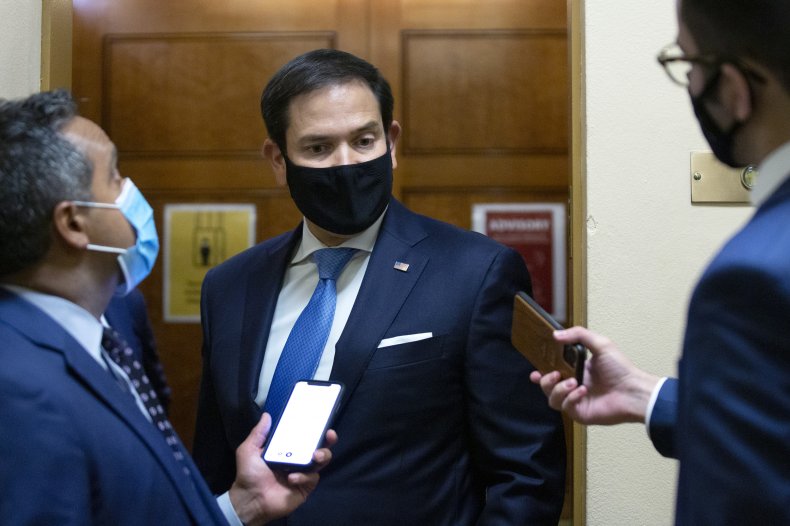 Sen. Lindsey Graham (R-S.C.), a confidant to the president who has found himself battling for his own re-election, said he has "no reason to believe" the results won't be accurate.
Another Republican in a fierce fight to hold on to her seat said the mail-in process in her state has a long history of success.
"Maine has had absentee ballots for a very long time, and it's always worked very well," said Sen. Susan Collins (R-Maine), one of the most vulnerable GOP lawmakers in the upper chamber.
However, she went on to state her opposition to states mailing out ballots without voters requesting them, as Trump and other Republicans have before.
"That could be a problem," Collins said.
Trump later followed up with yet another tweet that included a link to his campaign where he said supporters should visit to request an absentee ballot.
Democrats have suggested that Trump is trying to question the integrity of the election just weeks away as a precursor to refusing to accept the outcome over claims of mass voter fraud. But it could backfire, given many of the president's supporters are elderly and cast their ballots by mail.
"He's going to try to create as much of a cloud of suspicion around the election as possible, because he knows he can't win," Sen. Chris Murphy (D-Conn.) said. "He's probably shooting himself in the foot because our folks are going to come out and vote, come Hell or high water. It's going to be his supporters who are going to believe him that the election is maybe not going to be fair and free, and they may stay home."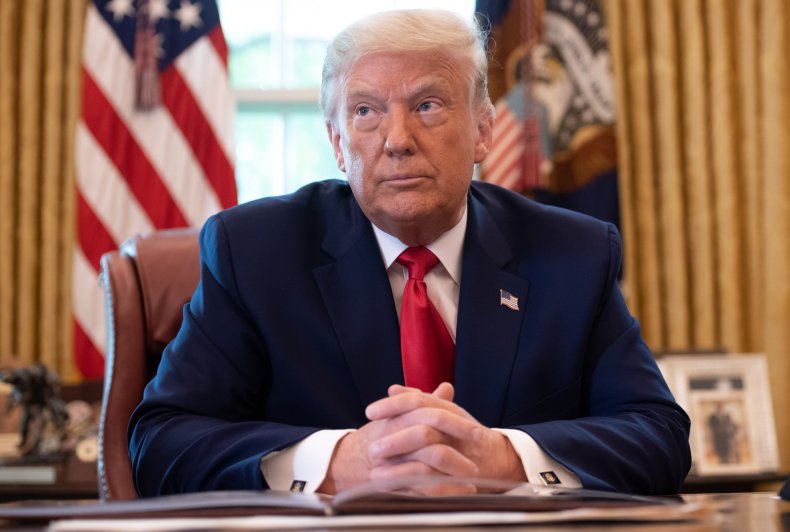 Just 10 states will automatically mail ballots to voters this year, some of which do that every year. Others are making an exception because of the pandemic. Two states—Colorado and Nevada—are battlegrounds for Trump and Democratic Presidential Nominee Joe Biden.
Still, election officials have showed little concern about potential fraud thanks to safeguards that are in place, such as a voter's mail-in ballot signature matching their voter registration signature on file.
Some experts have warned about the "red mirage" theory, in which Trump appears to win big on election night, only to lose in the coming days when the mail-in ballots are counted. But election expert Daniel Smith at the University of Florida has thrown cold water on the phenomenon.
He's previously told Newsweek that the results may actually be known faster, because most states begin counting absentee ballots before Election Day. An influx of mail-in votes could mean a larger swath of the electorate will be known immediately after the polls close.
That hasn't prevented lawmakers on both sides of the aisle from worrying.
Sen. Cassidy believes America will know who its next president is on the evening of November 3, and has confidence in local election officials. But he's concerned about the automatic mailing of ballots and "ballot harvesting."
A practice that some states have outlawed, ballot harvesting is when a third party collects absentee ballots from voters en masse and turns them in to polling sites.
The most high-profile fraudulent ballot harvesting case was in North Carolina's 9th Congressional District in 2018, featuring Republican Mark Harris. A GOP operative, Leslie McCrae Dowless, was charged with mishandling absentee ballots in an attempt to benefit Harris, eventually resulting in Harris' win being overturned.
Cassidy noted that Democrats have been quite successful at ballot harvesting in past elections, where it's allowed.
"We know it's morally objectionable because when the congressman did it in North Carolina, [House Speaker] Nancy Pelosi wouldn't seat him," Cassidy said. "And yet, it's commonly done in California. Republicans do very well with [absentee voting]. Democrats do much better with ballot harvesting. I'll let that speak for itself."