Will We Know on Election Night Whether Trump or Biden Won?
Senator Rick Scott knows the feeling all too well.
Although he declared victory on election night in 2018, the Florida Republican's win wasn't official until 12 days later amid an intense recount. Scott, who was governor at the time, quickly ordered a law enforcement investigation just 48 hours after the polls closed over claims of voter fraud, which alleged that some counties failed to report how many outstanding ballots remained.
"Remember what happened to me?" Scott recalled to Newsweek. "They found 95,000 ballots after election night. They didn't follow the law."
State officials concluded that no voter fraud had occurred. But because of the Sunshine State's election laws, Scott's razor-thin margin of victory and a violation of election law in Broward County, the race came to be seen as a potentially chaotic preview of the November 3 election not just in Florida, but in the entire country.
Some election analysts are predicting there will be no definitive winner on election night, because a record influx of vote-by-mail ballots amid the pandemic might delay the official results by several days.
There is a concern that such a delay could lead to political turmoil, particularly if politicians try to sow doubt about the integrity of the election. Both presidential campaigns are already gearing up for legal battles that could arise in several states over the results.
"If we get past election night and this thing lingers," Sen. Ron Johnson (R-Wis.) told Newsweek, "I just think what we've seen in cities like Portland and Seattle pale in comparison."
Democrats fear President Donald Trump may prematurely declare victory after appearing to win in an electoral college landslide, a scenario that a Democratic group first sounded the alarm on last week. In a phenomenon they called a "red mirage," the data and analytics group Hawkfish projected that Trump could lead on election night 408-130 in the Electoral College, only to ultimately lose days later by 334-204 when the majority of mail-in ballots are counted.
However, not everyone sees a doomsday scenario unraveling on election night. In fact, some experts see the opposite occurring.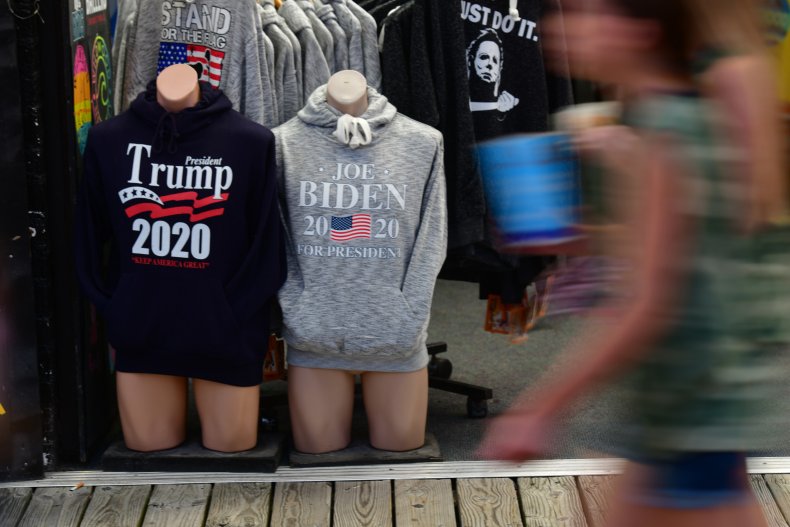 University of Florida elections expert Daniel Smith is "skeptical" of the red mirage theory because most states begin counting mail-in ballots prior to election night or as they are received. Faster results could be produced thanks to the influx of mail-in ballots in states like Florida, which posts its absentee count minutes after closing the polls.
Forty-one states begin counting vote-by-mail ballots either as they are received or at some point prior to Election Day, according to the National Conference of State Legislatures. The only swing states with a large impact on the presidential contest that begin counting on Election Day are Michigan and Pennsylvania.
"The blue wave after election night is certainly true in some states like California, where they don't start canvassing their ballots until the closing of polls," Smith told Newsweek. "I expect that's not going to be the case nationally. I don't think Trump is going to be winning election night in California only to have his result flipped like some members of Congress have."
Still, it's a scenario that lawmakers from both parties are deeply concerned about—but not for the same reasons.
Trump has already characterized the red mirage scenario shows a "Rigged Election." White House press secretary Kayleigh McEnany has also said that a "system that's fair" will only happen if "we know who the president of the United States is on election night."
Democrats say Trump's goal is to muddy the election waters.
"This president is obviously going to play whatever games are available to him to try to cloud the results of this election," Sen. Chris Murphy (D-Conn.) told Newsweek. "That's what this whole assault on mail-in voting is designed to do."
Republicans on Capitol Hill, similar to their Democratic colleagues, are wary of what a delayed election result could mean. After all, Hillary Clinton has said Democratic Presidential Nominee Joe Biden should not concede on election night "under any circumstances."
Understandably, Republicans are more concerned about vote-by-mail ballots being accurately and efficiently counted than they are of a preemptive Trump victory declaration. Some would prefer that vote-by-mail deadlines be moved up (dates that are set in stone by state laws) in order to receive the ballots well ahead of Election Day.
"Ideally, I think one of the recommendations is that people put deadlines for submission of ballots like a week or two beforehand," Sen. Bill Cassidy (R-La.) told Newsweek.
The U.S. Postal Office has become hamstrung with major delivery delays in recent months. Democrats have alleged that the operational changes made by Postmaster Louis DeJoy, a major contributor to the Trump campaign, were designed to cripple the agency ahead of an election in which more than half of all ballots cast are expected to be delivered by mail.
The disabling and/or removal of more than 600 high-speed mail-sorting machines nationwide could determine the outcome of the election. Additionally, more than half a million mail-in ballots in primary elections around the country this year were disqualified due to missed deadlines or ballot errors.
"Look at how screwed up some of these elections have already been because of the dramatic increase in mail-in ballots," Sen. Ron Johnson said. "It's not that the Post Office can't deliver them. It's that the election officials have deadlines that do not recognize the reality of the situation. They still have deadlines based on a mail-in ballot level that really can be ignored."
Absentee ballot deadlines vary widely from state to state. Most states—29 of them, including the battlegrounds of Arizona, Colorado, Florida, Michigan, New Mexico, Pennsylvania and Wisconsin—require that ballots must be received by Election Day. But even in those states, the specific deadline time on Election Day varies widely. Florida, for instance, requires the ballot be received by 7 p.m. on Election Day, while states like Pennsylvania will accept them until 8 p.m.
Two states—Louisiana and Mississippi—mandate that mail-in ballots be received one day prior to the election. Nineteen states and the District of Columbia, including the battlegrounds of North Carolina, Ohio and Virginia, require a postmark by Election Day, and the deadline for the receipt of the ballot by election officials runs from one to 17 days after the election.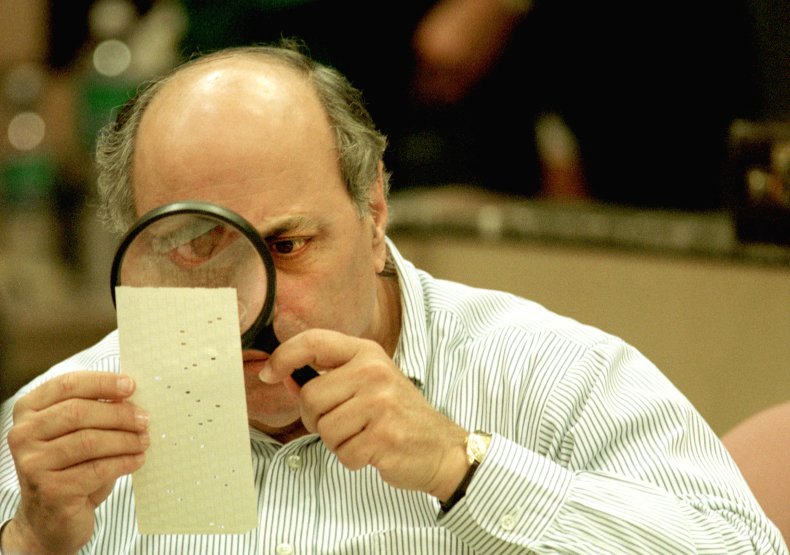 Senator Mike Rounds pointed to the "red mirage" projection for exactly why other states should take after his.
"Get it in in a reasonable length of time so that it does get there by Election Day," the South Dakota Republican said. "That eliminates that possibility."
Though Republican voters typically dominate voting by mail, Democrats this cycle stand to have the advantage. Trump has repeatedly, without evidence, tried to discredit casting ballots by mail—a voting method that he himself uses and which does not succumb to widespread fraud.
His flurry of attacks against the age-old voting method have prompted pleas from GOP officials across the country to cease the inaccurate rhetoric out of fear of alienating Republican mail-in voters, many of whom are older and may also forgo in-person voting amid a pandemic.
Democratic voters are already outpacing Republicans for mail-in ballot requests, particularly in swing states. As of Wednesday, requests from Democrats in North Carolina outpaced Republicans by 3 to 1. And in Florida, 500,000 more Democrats had requested mail-in ballots than GOP voters, outpacing Republicans by roughly 35 percent.
The best hope for a swift election night outcome is a landslide victory by either presidential candidate, with few outstanding ballots in battleground states.
"Hopefully, it'll be so clear with the Trump victory that you'll have room to spare there," Sen. Mike Braun (R-Ind.) said. "But polls don't indicate that."