Republicans Respond to Reports of Chinese Balloons During Trump Era
Republicans have responded to reports that Chinese spy balloons flew over the U.S. during the administration of former president Donald Trump.
The U.S. military shot down what the Pentagon said was a Chinese spy balloon off the coast of South Carolina on Saturday after it traversed sensitive military sites across North America.
Republican critics had demanded President Joe Biden order the balloon be downed, with Trump writing on his Truth Social website on Friday: "SHOOT DOWN The BALLOON!"
President Joe Biden told reporters on Saturday that he had ordered the balloon to be downed as soon as possible on Wednesday but that he was advised that the best time for such an action would be when it was over water.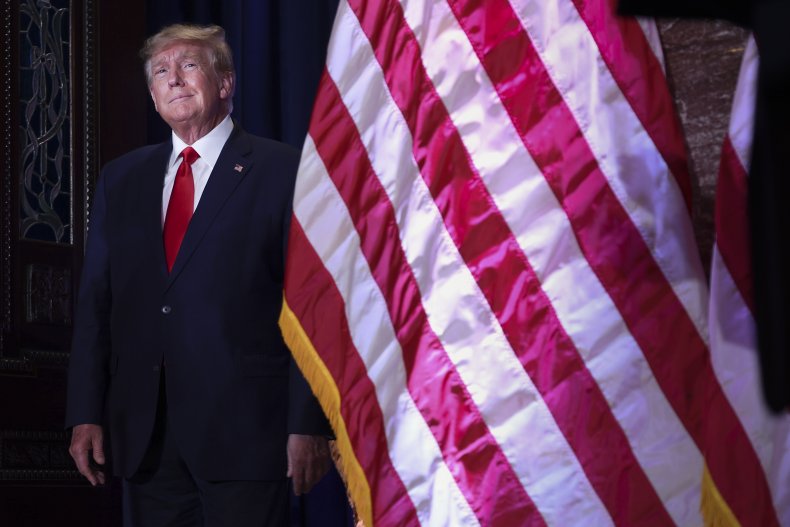 On Saturday, a defense official said similar Chinese balloons briefly transited the continental United States at least three times during the Trump administration. Officials said this had also happened on at least one other occasion during Biden's time as president.
Trump responded on Truth Social with a denial.
"The Chinese Balloon situation is a disgrace," he wrote, adding that his successor's administration is "grossly incompetent."
He added: "Now they are putting out that a Balloon was put up by China during the Trump Administration, in order to take the 'heat' off the slow moving Biden fools. China had too much respect for 'TRUMP' for this to have happened, and it NEVER did. JUST FAKE DISINFORMATION!
A Trump spokesperson has been contacted for further comment.
Former Secretary of State Mike Pompeo was asked on Fox News if Chinese balloons had violated U.S. airspace during Trump's presidency.
"Not to the best of my knowledge," he said. "This is different in kind, for sure… I don't remember reports of anybody saying this from the ground during our four years in office."
Sen. Marco Rubio, the top Republican on the Senate Intelligence Committee, said on CNN's State of the Union that the latest incident cannot be compared to any other incidents in past.
"The existence of the balloons is not a mystery," he told Jake Tapper.
"What is unprecedented is a balloon flight that entered over Idaho and flew over Montana, over all these sensitive military installations, air force bases, ICBM fields, right across the middle of the country.
"That has never happened before, that is unprecedented. That it flew briefly over some part of the continental U.S., that's one thing, but what we saw this week, it's unprecedented and that's why everyone's reacting the way they're reacting. We've never seen this. So this is no comparison to anything that may have happened up to this point."
Rubio also questioned why the balloon was not shot down earlier, suggesting it may have been because the Biden administration did not want to cancel Secretary of State Antony Blinken's trip to Beijing.
"Why didn't the president go on television?" Rubio said. "He has the ability to convene the country and cameras and basically explain what we're dealing with here and why he's made the decisions he's making and what they intend to do."
On Fox News Sunday Sen. Tom Cotton said former Trump administration officials were not aware of any incidents of suspected Chinese spy balloons.
He went on to suggest that could be because "maybe that had happened first during the Obama administration and the military was told at the time that this is no big deal and they shouldn't raise the alarm bells on it."
He added: "Maybe what's even more worrisome is…that our senior military knew about these balloons in the past and [had] not informed their civilian superiors during the Trump administration.
"Or maybe worst of all, did we not know about these balloons in the past and we only learned about them in retrospect by studying historical data? Again, these are all open questions for which the American people deserve answers and we in Congress are going to get those answers."