Republicans Rip Biden for Fencing Off Capitol Before State of the Union
Prominent MAGA Republicans have called out President Joe Biden over fencing that was recently erected around the U.S. Capitol building in advance of his upcoming State of the Union address.
The president is set to deliver his second State of the Union speech before Congress on Tuesday evening. This will also be his first address since the Republican Party gained a slim majority over the House of Representatives during last year's midterm elections, emboldening far-right members of the conference and presenting new challenges for the passage of legislation.
Representatives Marjorie Taylor Greene of Georgia and Lauren Boebert of Colorado, two of the most outspoken far-right members of the House, called out Biden on Monday for the protective fencing that was put up around the Capitol building in Washington, D.C. The barricades were set in place on Sunday evening, as they have been several times in the last few years during times of elevated security risks.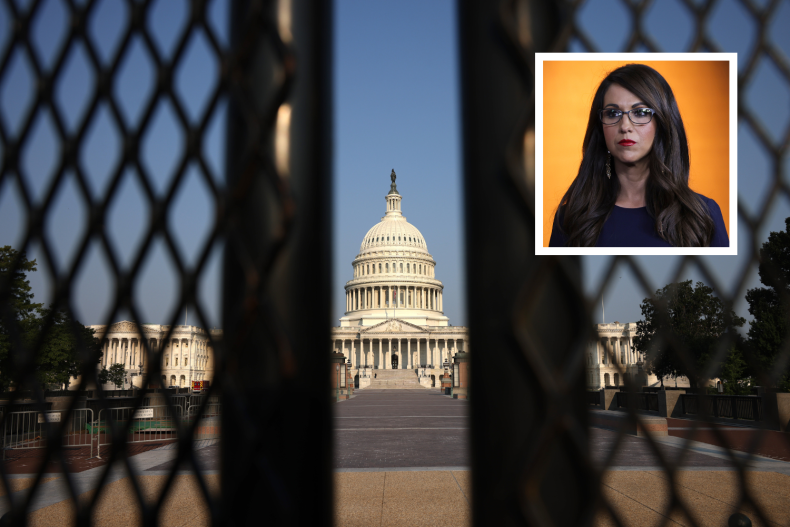 "The fence is back up around the Capitol for SOTU because Biden knows walls work on the ground," Greene wrote in a Monday tweet. "Joe Biden is more afraid of Americans visiting their Capitol than a Chinese Spy Balloon invading our air space that could have carried God only knows what."
Greene's tweet also made reference to the recent situation involving the Chinese spy balloon, first spotted in American airspace over Montana on Wednesday. Republicans like Greene were intensely critical of the Biden administration in the days that followed for not shooting down the balloon immediately.
The balloon, which China said was a weather balloon that simply blew off course, was ultimately shot down over the Atlantic Ocean on Saturday afternoon, six nautical miles off the coast of South Carolina. Biden explained that he ordered the surveillance craft to be brought down as soon as it was confirmed on Wednesday, however, his military advisers urged that they wait until it could be done over the water. Doing so helped ensure that it would have a softer landing and be more retrievable, and helped prevent falling debris from harming citizens.
"They've reinstalled the fence around the Capitol," Boebert wrote in her own tweet. "With no reports of increased threats, I can only assume it's to ensure Biden doesn't wander off after the SOTU."
Fencing was erected around the Capitol following the events of January 6, 2021, in which supporters of former President Donald Trump stormed the building to try and disrupt the certification of his loss to Biden in the 2020 election. It has since also been erected during a protest held by supporters of the January 6 prisoners and, more pertinently, around the time of Biden's 2022 State of the Union address.
Newsweek reached out to the White House for comment.