Republicans No Longer Fear Tucker Carlson
The widespread Republican criticism Tucker Carlson has received over his attempts to reframe the January 6 riot as mainly a "peaceful" protest shows the GOP is no longer hesitant to go against the influential Fox News host.
During Monday night's episode of his Fox News show, Carlson played clips from the more than 41,000 hours of security footage handed to him by House Speaker Kevin McCarthy to push the claim the attack was not as violent as claimed disproved the "lies" told by Democrats and the January 6 House Select Committee have portrayed for over two years.
Carlson has long been considered one of the most powerful media figures in the U.S., whose primetime show repeatedly seemed to influence the decision-making of Donald Trump while he was in the White House. In early 2020, the Fox News host even reportedly urged Trump personally to take the coronavirus pandemic seriously.
As well as heavy criticism from Democrats and accusations from Capitol Police Chief Tom Manger that Carlson "cherry-picked" non-violent footage from January 6 to suit his "offensive and misleading" agenda, the Fox News host was also condemned by prominent figures in the GOP—a far cry from events just over a year ago.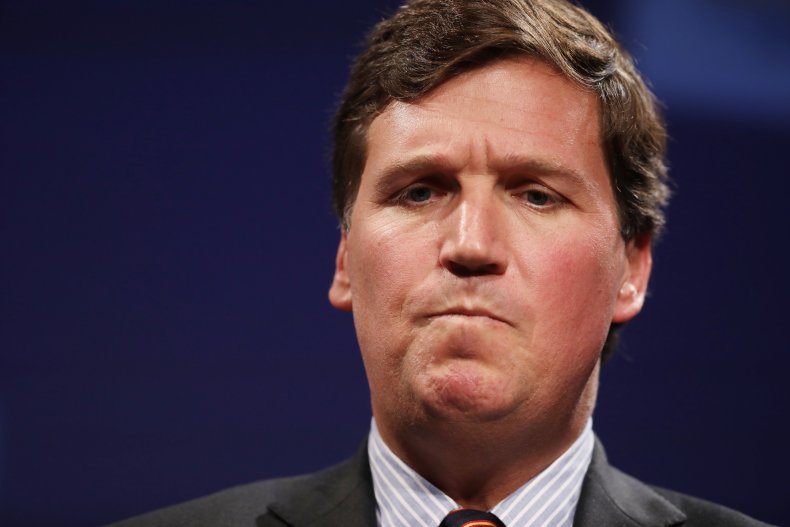 In the immediate aftermath of the Capitol Riot on January 6, 2021, Texas Senator Ted Cruz described the attack as a "despicable act of terrorism." Cruz continued to call the attack by Trump supporters a terrorist incident several more times, including at a Senate hearing on January 5, 2022, the eve of the one-year anniversary of the Capitol riot.
However, the following day, Cruz appeared on Carlson's primetime show to backtrack the remarks he gave at the Senate hearing after he was criticized by the Fox News host.
After being attacked by Carlson several times, Cruz said he messaged the Fox News host personally to ask if he could come on air to explain his "sloppy" and "frankly dumb" comments.
"What I was referring to are the limited number of people who engaged in violent attacks against police officers," Cruz said. "That being said, Tucker, I agree with you it was a mistake to say that yesterday."
Cruz was widely criticized by Democrats for the move.
In an editorial for The Washington Post, reporter Aaron Blake said the January 2022 interview showed that the "Jan. 6 conspiracy theorist" Carlson "had the real power" in the relationship with Cruz, a high-profile Republican who was the runner-up in 2016 GOP presidential nomination behind Trump.
However, with signs the GOP is now determined to move on from Trump heading into 2024, several prominent Republican lawmakers have shown they will not make the same mistake as Cruz, and have openly criticized Carlson for his attempts to paint the January 6 attack as "mostly peaceful chaos."
Senate Minority Leader Mitch McConnell said he wants to "associate myself entirely" with Capitol Police's version of events on January 6, instead of Carlson's.
North Carolina Senator Thom Tillis called Carlson's attempt to suggest the Capitol riot was not violent "bull****." Utah Senator Mitt Romney said it was "really sad" to see Carlson "go off the rails" by trying to re-characterize the January 6 attack.
Texas Congressman Dan Crenshaw said it was "definitely stupid" that some Republicans were still trying to reframe what occurred on January 6 and the footage Carlson played didn't show "anything we don't already know."
Crenshaw added: "I don't really have a problem with making it all public. But if your message is then to try and convince people that nothing bad happened, then it's just gonna make us look silly."
When asked about Carlson's Monday night show, South Carolina Senator Lindsey Graham said he is "not interested in whitewashing January 6."
Carlson hit out at the Republicans who have publicly come out against him, suggesting on his Tuesday show that they're "on the same side" as Senate Majority Leader Chuck Schumer.
Newsweek reached out to Fox News via email for comment.