Full List of Republicans To Speak Out Against Tucker Carlson's Jan. 6 Show
A number of Republican lawmakers have criticized Tucker Carlson for attempting to portray the January 6 attack as "mostly peaceful chaos" on his Fox News show.
On Monday Carlson broadcast previously unseen footage from the insurrection, handed to him by House Speaker Kevin McCarthy, which the Fox host claimed disproved the "lies" told by Democrats and the January 6 House Select Committee about the violence at the Capitol riot.
His attempt to downplay the January 6 attack received bipartisan condemnation. McCarthy's decision to give the footage to Carlson, who is frequently accused of pushing conspiracy theories on his show, has also sparked a rift within the GOP between Donald Trump loyalists and Republicans who publicly condemned the insurrection by the former president's supporters.
The clips Carlson played on Monday night include footage of the "QAnon Shaman" Jacob Chansley being allowed to walk through the building's corridors without being stopped by police.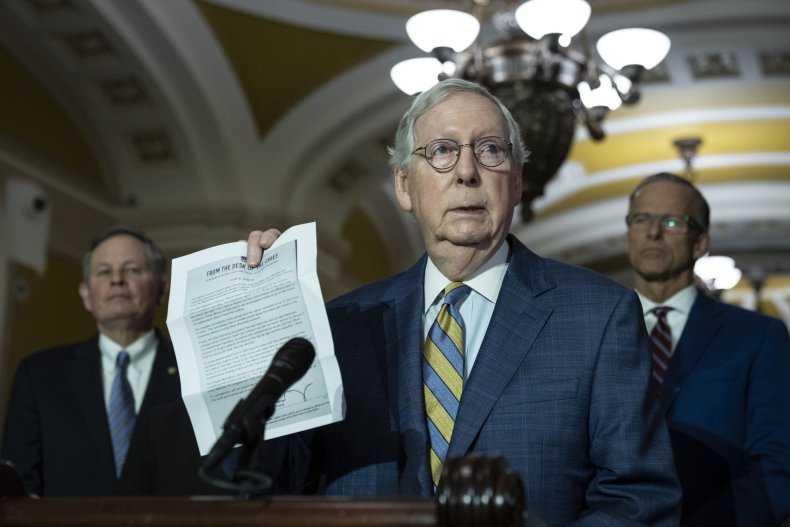 Carlson, who received 41,000 hours of footage, played sections that showed people inside the Capitol but not causing violence, using them to suggest that most of the people who stormed the building that day were "not insurrectionists, they were sightseers."
Republicans Who Have Spoken Out Against Tucker Carlson's Jan. 6 Coverage
Sen. Mitch McConnell
The Senate Minority Leader told reporters that he wants to "associate myself entirely" with Capitol Police's version of events on January 6, as he held up a letter from Police Chief Tom Manger that accuses Carlson of having "cherry-picked" non-violent footage to suit his "offensive and misleading" agenda.
McConnell said: "Clearly, the chief of the Capitol Police, in my view, correctly described what most of us witnessed first hand on January 6.
"It was a mistake, in my view, for Fox News to depict this in a way that's completely at variance with what our chief law enforcement official here at the Capitol thinks."
Sen. Thom Tillis
The North Carolina senator strongly rebuked Carlson's reframing of the January 6 attack, calling it "b*******."
"I was here. I was down there and I saw maybe a few tourists, a few people who got caught up in things," he told NBC. "But when you see police barricades breached, when you see police officers assaulted, all of that … if you were just a tourist you should've probably lined up at the visitors' center and came in on an orderly basis."
Sen. Kevin Cramer
The North Dakota Republican called Carlson's portrayal of the Capitol attack "a lie."
"Breaking through glass windows and doors to get into the United States Capitol against the borders of police is a crime," Cramer told CNN.
"I think particularly when you come into the chambers, when you start opening the members' desks, when you stand up in their balcony—to somehow put that in the same category as, you know, permitted peaceful protest is just a lie."
Sen. Mitt Romney
The former Republican presidential candidate said he was "really sad to see Tucker Carlson go off the rails" by trying to re-characterize the January 6 attack, accusing the Fox News host of "joining a range of shock jocks that are disappointing America and feeding falsehoods."
"The American people saw what happened on January 6." the Utah senator told reporters. "They've seen the people that got injured. They saw the damage to the building. You can't hide the truth by selectively picking a few minutes out of tapes and saying this is what went on. It's so absurd. It's nonsense.
"It's a very dangerous thing to do, to suggest that attacking the Capitol of the United States is in any way acceptable and it's anything other than a serious crime, against democracy and against our country," Romney added.
"People saw that it was violent and destructive and should never happen again. But trying to normalize that behavior is dangerous and disgusting."
Sen. Mike Rounds
The South Dakota senator rejected Carlson's framing of the riot as "peaceful."
"I was there on January 6. I saw what happened. I saw the aftermath. There was violence on January 6," he told reporters.
"I think the footage that's available should be made available to all networks and everybody should be able to see for themselves just what kind of chaos we had on that day."
Sen. John Kennedy
The Louisiana senator dismissed Carlson's description of January 6, describing the attack as an "abomination."
"You're entitled to believe what you want in America, but you can't resort to violence to try to convince others of your point of view," Kennedy said, according to Politico.
Rep. Dan Crenshaw
The Texas congressman said it was "definitely stupid" that Republicans were still trying to reframe what occurred on January 6 and the footage Carlson played didn't show "anything we don't already know."
Crenshaw added: "I don't really have a problem with making it all public. But if your message is then to try and convince people that nothing bad happened, then it's just gonna make us look silly."
Sen. John Thune
Speaking to CNN, the South Dakota senator and minority whip said: "I think it was an attack on the Capitol … There were a lot of people in the Capitol at the time that were scared for their lives."
Sen. Lindsey Graham
The South Carolina senator said there were aspects about January 6 that should be explored further, such as why there have been no arrests in connection with the pipe bombs planted near Democratic and Republican national committee headquarters the night before the Capitol attack.
"I think the January 6 committee had a partisan view of things, and I'd like to know more about what happened that day and the day before," Graham said. "I'm not interested in whitewashing January 6."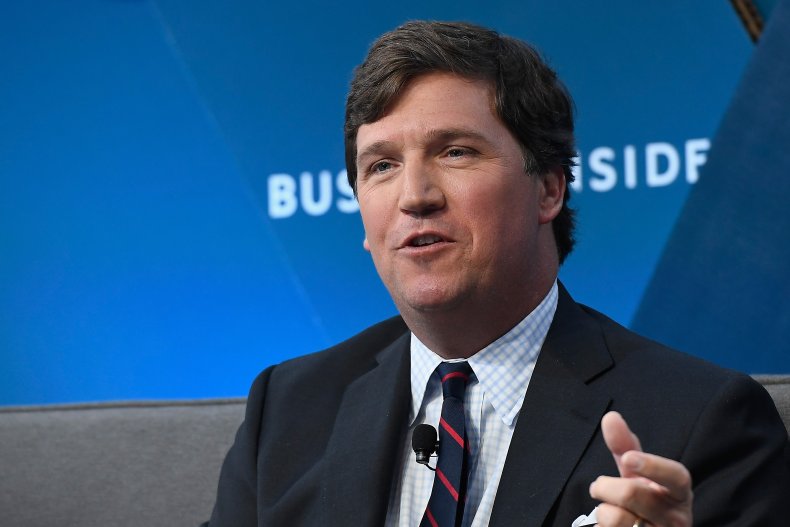 On his Tuesday night show, Carlson said the Republicans who had criticized him were "on the same side" as Senate Majority Leader Chuck Schumer.
In a speech on the Senate floor, Schumer called Monday night's edition of Tucker Carlson Tonight "one of the most shameful hours we have ever seen on cable television."
One person who has backed Carlson in his characterization of the January 6 attack is Donald Trump.
"GREAT JOB BY TUCKER CARLSON TONIGHT. The Unselect Committee of political Hacks & Thugs has been totally discredited," the former president posted on Truth Social on Tuesday.
"They knowingly refused to show the Videos that mattered. They should be tried for Fraud and Treason, and those imprisoned and being persecuted should be exonerated and released, NOW!"
Fox News has been contacted for comment.