Mitch McConnell's Fox News Denouncement Sends MAGA Into Meltdown
Senate Minority Leader Mitch McConnell has joined some of his GOP colleagues in condemning Fox News host Tucker Carlson's reframing of the January 6 Capitol attack, sparking a MAGA meltdown on social media.
McConnell, who former President Donald Trump has repeatedly referred to as a "broken old crow," said on Tuesday that he thought the way Carlson presented newly aired surveillance footage taken from the Capitol on January 6 was a "mistake."
Carlson on Monday described January 6 rioters as "sightseers" who were "peaceful" while airing a small portion of nonviolent moments on the day of the riot, taken from the more than 40,000 hours of footage given to him by GOP House Speaker Kevin McCarthy.
The airing of the footage prompted Trump to demand that those imprisoned for crimes related to the attempted insurrection be released, while many of his supporters celebrated Carlson's footage as a refutation of other footage that clearly shows violence from the rioters.
McConnell took a different stance when asked about the footage, backing a statement from U.S. Capitol Police Chief Tom Manger, who said the "outrageous" presentation had "conveniently cherry-picked from the calmer moments" of the riot to reach "offensive and misleading conclusions."
"Clearly the chief of the Capitol Police, in my view, correctly described what most of us witnessed firsthand on January 6," McConnell told reporters while holding up a copy of Manger's statement.
"It was a mistake, in my view, for Fox News to depict this in a way that's completely at variance with what our chief law enforcement official here at the Capitol thinks," he continued.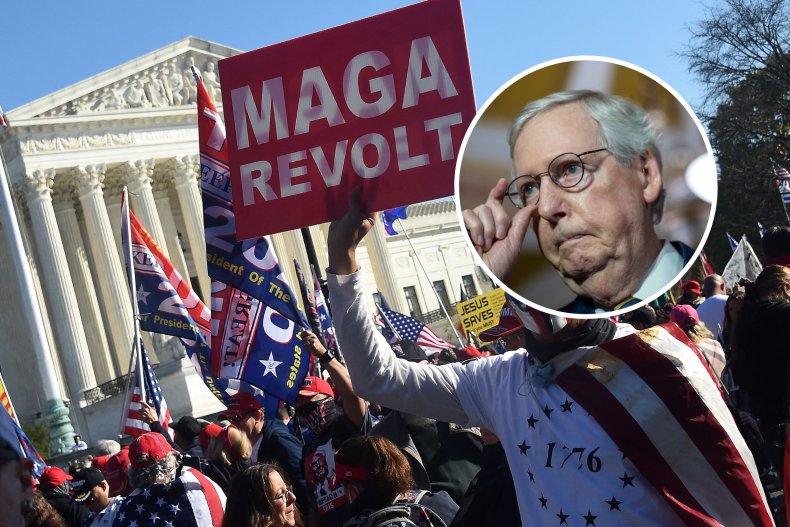 Trump supporters and associates, including his son Donald Trump Jr., lashed out at McConnell a short time later.
"Don't believe anything that you see in the video," Trump Jr. said while tweeting a clip of McConnell's comments. "Believe the politicized report from the person who reported directly to Nancy Pelosi and what the main stream media have pretended is the truth for two years. With Republicans like Mitch who needs democrats?"
"McConnell said 'my concern is how it was depicted' on Carlson's highly rated show," tweeted Jenna Ellis, former lawyer of the ex-president. "Apparently he wasn't concerned about the J6 committee's depiction?!"
"MCConnell is worse than a Democrat," actor Nick Searcy tweeted. "He leads the party that should be helping the DC Gulag prisoners, and yet he leaves them with no one to defend them. He is a corrupt coward, a liar, and should never be re-elected. @LeaderMcConnell has betrayed his party and his country."
"I don't know how many times I need to say that McConnell isn't just useless, but dangerous," former Fox & Friends co-host Jedediah Bila tweeted. "But I'll say it again."
"McConnell says the problem is the way the J6 footage was "depicted" by @TuckerCarlson," tweeted J.R. Majewski, a Trump-endorsed failed congressional candidate. "Where was he these last 2 years when the public was only shown one side?"
"Mitch McConnell has and forever will be a traitor to the movement to make America great again," conservative podcaster Wayne Dupree tweeted.
McConnell also received some praise for rejecting Carlson's narrative.
"Another rare agreement with McConnell," tweeted Chris Hahn, Democratic activist and podcaster who has appeared on Carlson's show. "Tucker is a conspiracy theorist and an apologist for seditionists."
Progressive podcaster Brian Tyler Cohen tweeted, "Republicans are now calling Mitch McConnell a Democrat for siding with Capitol Police against Tucker Carlson."
"In case you were wondering how far right they've gone."
McConnell was not the only Republican to denounce Carlson and the footage aired by Fox. His fellow GOP Senators Kevin Cramer, Thom Tillis, John Thune, Mitt Romney, Mike Rounds and Chuck Grassley were among those who also pushed back on Tuesday.
Cramer said Carlson's framing was "just a lie," according to CNN's Manu Raju, while Tillis reportedly called the narrative "bulls***."
Newsweek has reached out to Trump's office, Fox News and the U.S. Capitol Police for comment.