Republicans Want China to Define 2020 Election, Securing Victory for Trump
President Donald Trump, robbed by the pandemic of his chance to campaign on economic strength, is hopeful that focusing on China during the election will convince enough wavering voters that it is he, not the Democratic nominee Joe Biden, who has the strength and willpower to take on America's foes in Beijing.
The presidential race is looking increasingly grim for the Trump Campaign. The president is behind in key swing states and, stripped of a healthy economy, is doubling down on his divisive and authoritarian rhetoric, even mooting the idea of delaying the election.
From the top of the 2020 ticket to the down-ballot races, Republicans are going in hard on China. They see it as an exploitable weakness of Biden's campaign and one that could carry the election for Trump in November, according to multiple Republican senators and aides that spoke with Newsweek.
These Republicans believe their party's edge on Biden's Democrats over the China issue leaves them in pole position to steer America's response to its greatest strategic challenge since the Cold War.
The COVID-19 pandemic has magnified long-term trends pushing the U.S. and China into conflict. Lawmakers, academics, and journalists were aware of these currents, but the unprecedented disruption of the pandemic has shown voters what is at stake.
"People are realizing—number one—that China is not good to their word," Tennessee Sen. Marsha Blackburn told Newsweek.
"Number two, you cannot trust them to follow through on what they say that they are going to do. Number three, people question them as being a reliable and dependable partner.
"And the fourth thing, people are now saying: 'Hey, wait a minute, we have become much too dependent on China. Therefore it is time for us to change how we do business, and how we partner and how we interact with China.'"
Trump initially praised Chinese President Xi Jinping for his response to the COVID-19 outbreak, but has since pivoted to blaming Beijing entirely for the pandemic. Prominent GOP lawmakers have lined up behind him, seeking to pin the deaths, disruption, and economic dislocation on the Chinese Communist Party [CCP.]
Biden is trying to bolster his China stance amid the nadir in relations between Washington, D.C. and Beijing. But his service in the Obama Administration has left him vulnerable to accusations of being too soft on China—a charge that could be leveled at almost every Western government over the past three decades.
While there may be agreement that China is a problem to be addressed, there is not yet a consensus on how to do it.
Trump's mammoth trade war has been paid for in part by Americans, while his admiration of Xi and reported encouragement of the CCP to push ahead with its alleged cultural genocide in Xinjiang have left U.S. lawmakers fretting.
For all the president's personal quirks, his administration is packed with China hawks. It has been tough on Beijing, backing up its aggressive rhetoric with action on trade, territorial disputes, human rights abuses, and China's alleged "Trojan horse" state-linked technology companies.
Beijing at the Ballot Box
Blackburn has been a leading Senate voice demanding greater scrutiny of America's ties with Beijing. A staunch ally of the president, she has backed multiple pieces of legislation in support of pro-democracy activists in Hong Kong, condemning China for its behavior in Xinjiang, and enabling Americans to sue the Chinese government for coronavirus losses.
The China issue is now resonating with voters, Blackburn said: "They're turning that frustration into knowledge and awareness."
China is already playing into Arizona Sen. Martha McSally's re-election battle. A long-time China hawk, she has accused her opponent—former NASA astronaut Mark Kelly—of having ties to businesses linked to Beijing. Kelly has vehemently denied the charge.
Jacob Peters, a Kelly campaign spokesperson, told Newsweek that the candidate "has long said that China is an adversary that must be dealt with alongside our allies...Senator McSally continues to use this failed national playbook to launch misleading and false attacks on Mark Kelly because she can't run on her own record of voting to gut protections for Arizonans with pre-existing conditions."
"It does seem that policymakers, elected officials, and regular American citizens have a higher level of awareness now than I've seen before about the threat of China," McSally told Newsweek.
"The coronavirus was a tipping point for people waking up to the threat of Communist China for our national security and for our own economic security and public health."
"I hear from Arizonans all the time: 'Why are my drugs made in China? Why are we relying on them for PPE?' And there's so much more.
"Policymakers are now more clear-eyed about the very real threat that's been happening in plain sight for many, many years."
Florida senator and former presidential candidate Marco Rubio is one of the party's leading foreign policy voices and a staunch critic of the CCP.
"The Trump administration has forced Americans and others around the world to grapple directly with what it means to be entangled with Beijing and the implications of those relationships," Rubio told Newsweek by email.
"The increasingly negative views of the Chinese government by the American people show that they're aware that something is profoundly wrong with our bilateral ties and we must re-examine how we do business."
Texas Sen. Ted Cruz likewise credited the pandemic with shifting perceptions in the U.S. "For a long time in Washington, there were apologists for China in both parties," Cruz told Newsweek by email.
"The [CCP's] behavior during the coronavirus pandemic has changed that perception, and I believe the most significant long-term foreign policy consequence of this pandemic is that people on both sides of the political aisle are realizing what a threat communist China is to our national security."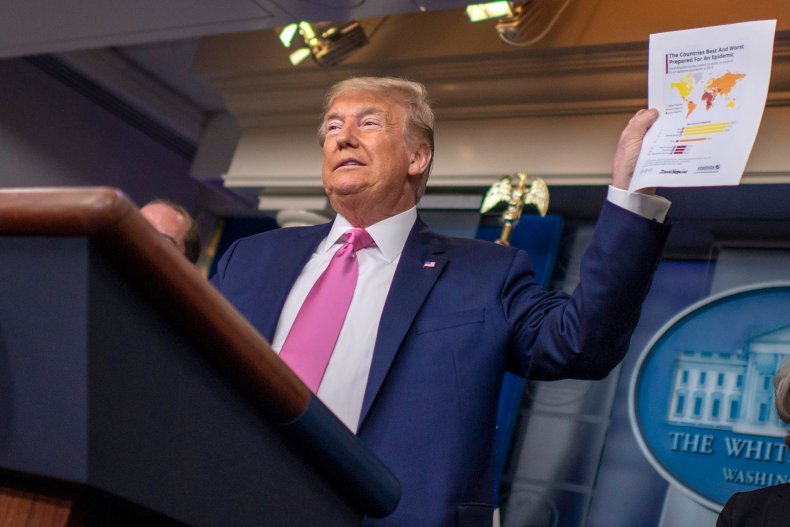 The Blame Game
Critics have said Trump's "blame China" campaign is useful political cover given his own failure to control the coronavirus outbreak in the U.S. The country has become the worst-affected in the world, with the president spreading dangerous medical myths and promising that the virus would simply disappear.
Indeed, Politico reported in April that the National Republican Senatorial Committee had circulated a 57-page memo urging GOP candidates to deal with the coronavirus crisis by aggressively attacking China and branding the Democrats as "soft" on Beijing.
It remains to be seen if Americans will buy into Trump's blame game. Alex Conant, a political strategist, co-founder of Firehouse Strategies, and a former Rubio staffer, told Newsweek the president's strategy "hasn't been effective so far."
"In the early days of the virus when his approval ratings were actually relatively strong—including support for his handling of the virus—deflecting to China was working for him," Conant said. "As the pandemic has gotten worse in the U.S., people are less interested in excuses and want a solution."
Asked whether Trump was trying to deflect from his own failings, Blackburn thought American voters would give the president credit for restricting travel from China in the early days of the pandemic.
Trump has repeatedly falsely claimed to have frozen travel from China entirely in February, though the order still allowed U.S. citizens and their families to continue to travel.
It also did not stop travel to the U.S. from China's Hong Kong and Macao territories. Given that coronavirus was already spreading around the U.S. before the travel restrictions, many are skeptical of the president claiming to have saved "a lot of lives" with his order.
Blackburn also claimed that the order "ended travel from China," which is not correct. She echoed Trump's suggestion that the restrictions "saved a lot of lives." She instead said Americans were frustrated with shifting guidance from the Centers for Disease Control and Prevention rather than confusion and disinformation from the White House.
McSally wouldn't be drawn on whether Trump had a hand in how the disaster unfolded. "I just look at the facts," she said when asked about Trump's role. "This isn't just a political game. And that's what my focus is."
Trump's friendly personal relationship with Xi is also a cause for concern among Republicans and Democrats, though it is mostly only the latter who say so publicly. Blackburn dismissed such worries, suggesting "many people realize that Donald Trump is affable and personal and feels that he can create relationships with individuals."
But Biden too will have to bat away accusations of having been blind to the China challenge.
"I think Biden arguably has some of the same potential vulnerabilities," Conant said. "I would expect both presidential campaigns to criticize the other for being too friendly with China."
More conflict with China—whether spearheaded by a Republican or Democratic president—will come with retaliation from Beijing.
Already U.S. consumers and exporters have paid the price for Trump's trade war, despite his false claim that China is footing the bill. Will voters accept lower incomes or less product choice in order to face down Beijing?
Blackburn has previously warned that the trade war tariffs "are not good for Tennessee."
But she told Newsweek that "most Americans would say that the most expensive line item and their budget issue this year has been a cost incurred that landed on them because of COVID," when asked if her constituents would be willing to shoulder the potential cost of a showdown.
McSally said Americans have to stand up to China regardless. "We can't afford not to, I guess is the bottom line," she said. "China is responsible for their decisions. We're responsible for ours and we have to protect Americans."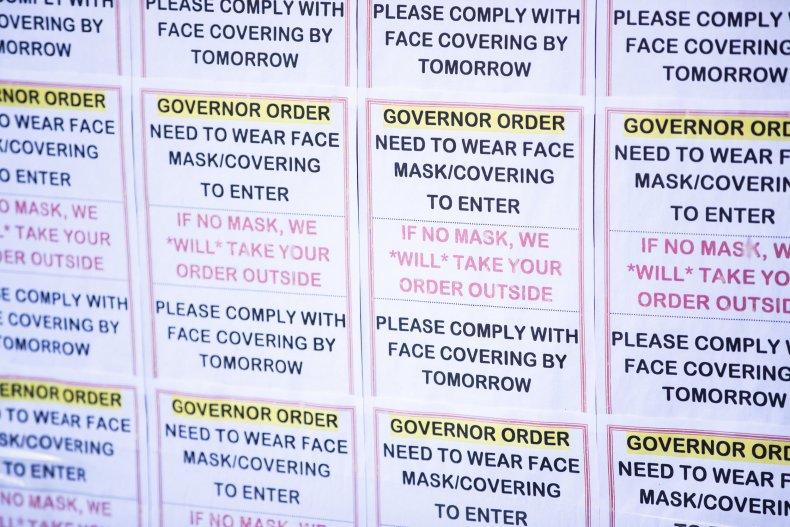 'A Thousand-Year War'
Lawmakers from both sides are realizing the need to re-evaluate ties with China and end the naive commercialist policies of recent decades that have enriched and emboldened the CCP.
The world's liberal democracies are recognizing their own roles in China's rise. They benefited from cheap labor and goods through wilfully exporting their manufacturing cores and embracing consumerism, undermining their own working classes. The shift has left many voters angry, underemployed, and disillusioned with establishment politics.
China is but one element of this globalization, which fuelled the wave of anti-establishment frustration that pushed Trump into the White House and won populist politicians elections and power elsewhere.
"Remember, the [Steve] Bannon populist theory of the world revolves around China," one GOP aide who did not wish to be named told Newsweek. "I don't think that any Republican that downplays the threat posed by the Chinese will be taken seriously."
Indeed, Republicans are queuing up to take shots at Beijing.
Cruz framed the confrontation in the same epic historical terms as Bannon, telling Newsweek: "China is waging a thousand-year war and for the sake of the free world America needs to win this contest."
But leading GOP voices are hesitant to accept America's role in China's rise. Rubio accused China of having "weaponized globalization to achieve its strategic economic and political goals, all while running systematic campaigns of brutality against Uyghurs and Tibetans."
Blackburn argued that China "has had it both ways"—profiting off the international status quo while not following its rules. "I think China just feels like they deserve to be the dominant society, and they're going to push back on anybody out there," she said.
The same could be said of the U.S.—and certainly the Trump Administration—an allegation regularly leveled at Washington by Chinese officials, state media, and other rival nations less than enamored with the fraying Pax Americana. "It would not be a valid argument," Blackburn countered, pointing to China's myriad human rights abuses.
Regardless, GOP and Democratic figures know that the China challenge is one that will stretch across parties, across administrations and generations.
"The American foreign policy establishment made a mistake once—and knows that it made a mistake once—by declaring that we'd reached the end of history," the GOP aide said.
"I don't think we're stupid enough to make that mistake again in the short term. I don't think anybody's talking about an end goal—we have policy goals.
"The conservative foreign policy establishment wants the United States to decouple from China," while keeping its own allies and non-aligned nations out of Beijing's orbit. "China's going to be a significant geopolitical issue for a century."
In the short term, the GOP sees China as a weak spot for Biden. "A Biden, Schumer Pelosi power structure is not going to stand up to China," McSally said.
"I'm deeply concerned about if there's a shift and the power goes to the Democrats, that they will not stand up to them. And that is going to be a consequential decision in American minds and Arizonans minds when they go to the polls in November."
There exists "a substantive difference between how hardline Trump and Republicans want to be on China and how hardline Biden and the Democrats want to be on China," according to the GOP aide."
Is it also an electoral vulnerability for Democrats? "Probably," the aide added. "Is it fair to criticize Biden for being disproportionately pro-China versus Trump? It is."
Foreign policy has rarely swung an American presidential election. "Unless we're in the middle of a war, foreign relations normally aren't a big part of presidential elections, and I don't think 2020 will be any different," Conant said.
Americans are too preoccupied with the pandemic, the economy, race relations, and the most divisive administration in recent history: "I don't think the election will be settled by who can sound tougher on China."
But coronavirus has blurred the domestic-foreign divide. Regardless of how much blame lies with Beijing and how much with Trump, the pandemic has reached into American homes and uprooted voters' lives in a way few knew was possible. According to the GOP aide: "The China issue long ceased being a 'foreign policy issue.'"
Speaking to Newsweek in July, Blackburn said: "What you're going to see is as we go through the fall, if people feel that we have our hands around this, if they are seeing a positive movement and a positive trend in their life, Donald Trump is going to be just fine."
But as the end of August approaches, Trump is yet to get a handle on the outbreak. The rate of new infections is on the way down across the nation but the virus is a long way from under control.
Nations in Europe and Asia further down the curve than the U.S. are now grappling with their own fresh outbreaks, and the U.S. will likely have to do the same as the election looms.
The administration remains mired in allegations of corruption, accusations of trying to smother the democratic process, and hampered by the president's tacit backing for fringe, racist and extremist groups that glorify him.
Trump's behavior may become more erratic and divisive as polling day draws nearer and the stakes of a potential defeat become more apparent to his inner circle.
Foreign policy wins—whether new sanctions on China, convincing allies to block Chinese tech from their markets, or a historic Israel-United Arab Emirates normalization deal—might not be enough to reverse the slide.