Pistol braces are at the center of a furious row between the Bureau of Alcohol, Tobacco, Firearms and Explosives (ATF), which is trying to ban them, and Republican lawmakers, who are ready to go to war with the Biden administration to keep them legal.
A pistol brace, also known as stabilizing brace or arm brace, is an accessory attached to the rear of a gun that allows the weapon to be fired one-handed. The brace uses Velcro to attach the firearm to a person's arm, stabilizing the gun.
Such stabilizers were used in a 2021 mass shooting at a grocery store in Boulder, Colorado, where 10 people were killed by a single gunman.
Pistol braces are often paired with AR-style firearms, which were used in several mass shootings in 2022. Calls to ban AR-15-style rifles followed many of these incidents, including the massacre at an elementary school in Uvalde, but have encountered the firm resistance of Republicans and gun advocates.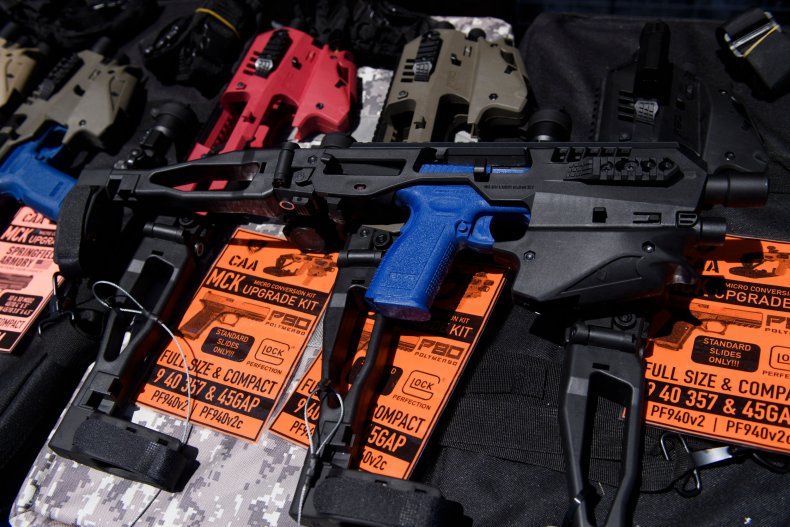 Last summer, as part of a crackdown on "ghost guns" and illegal arms dealing, the ATF moved to regulate pistol braces with a measure that would reclassify many pistols using such devices as short-barreled rifles—a change that would require owners to ask for a federal license under the National Firearms Act.
A final rule on the measure was issued by the bureau on January 13, stating that gun owners must register their existing pistols equipped with stabilizing braces with the government within 120 days. After that they must pay a $200 fee, which new buyers must also pay immediately. Alternatively, owners can remove the brace, surrender the firearm to an ATF office or destroy it. Those who fail to comply with the requirement could face a fine of up to $10,000, or 10 years in prison, or both.
Announcing the measure in January, ATF director Steve Dettelbach said the reasoning behind it "is that short-barreled rifles have the greater capability of long guns, yet are easier to conceal, like a pistol."
Attorney General Merrick Garland said the rule was intended to let firearm manufacturers, dealers and owners know that they "cannot evade these important public safety protections simply by adding accessories to pistols that transform them into short-barreled rifles."
The ATF's measure has outraged Republicans and gun rights groups, who have accused the Biden administration of undermining the people's constitutional right to bear arms.
Earlier this month, more than 40 Republican senators introduced a Congressional Review Act resolution that aims to prevent the ATF from enforcing the pistol brace rule.
Opponents to the new regulation argue that the measure is an attack on the Second Amendment and will harm disabled people and veterans who use pistol braces to have better control of their firearms.
"Millions of Americans—including disabled veterans—use pistol braces," tweeted Georgia Rep. Andrew Clyde. "Yet unelected anti-gun bureaucrats are determined to turn these law-abiding gun owners into criminals. Congress must pass my resolution to repeal the ATF's pistol brace rule in order to protect #2A rights."
Louisiana Senator John Kennedy, one of the signatories to the resolution, called the ATF's rule "misguided" and said "countless law-abiding gun owners in Louisiana and other states will become criminals in the blink of an eye" because of it.
Senator Roger Marshall of Kansas said: "The Biden administration's war on every American's fundamental right to bear arms is relentless and an offense to our founders. Congress must use every tool at its disposal to stop the Biden ATF from enacting this unconstitutional gun grab and creating its newly proposed anti-2nd Amendment gun registry.
"The Congressional Review Act is one of those important tools and I'm pleased to co-lead this effort with Senator Kennedy."
Gun rights groups have also accused the ATF of abusing its authority and the Biden administration of waging a "war against American gun owners," as Gun Owners of America said in a recent statement.
The National Rifle Association is suing the Biden administration to block the ATF's ban. In February, the NRA filed a federal lawsuit in North Dakota that describes the new rule as "arbitrary" and accuses the bureau of "abuse of power."
Newsweek has reached out to the ATF for comment.
Correction, 3/24/23, 1:45 p.m. ET: This article was updated to clarify that owners of pistols equipped with stabilizing braces must pay a $200 fee. Those who fail to comply with the requirement could face a fine of up to $10,000, or 10 years in prison, or both.