Republicans Who Backed Infrastructure Bill Face Attacks Conflating It With Social Spending Package
The House Republicans who voted on the bipartisan infrastructure bill that passed on Friday are not only being slammed by their GOP colleagues for siding with Democrats, but also under fire from critics who are conflating that legislation with the social spending bill.
The 13 Republican lawmakers who supported the infrastructure legislation, which passed by a vote of 228 to 206, included: Don Bacon of Nebraska; Brian Fitzpatrick of Pennsylvania; Andrew Garbarino of New York; Anthony Gonzalez of Ohio; John Katko of New York; Adam Kinzinger of Illinois; Nicole Malliotakis of New York; David McKinley of West Virginia; Tom Reed of New York; Chris Smith of New Jersey; Fred Upton of Michigan; Jeff Van Drew of New Jersey; and Don Young of Alaska.
Some hard-right GOP colleagues who are close to former President Donald Trump even suggested that those 13 lawmakers should be removed from the Republican Party for helping the Democrats on President Joe Biden's agenda.
"Every Republican who voted for the infrastructure bill must be eliminated from the party," tweeted Florida Rep. Anthony Sabatini.
Colorado Rep. Lauren Boebert tweeted: "RINOS [Republicans in name only] just passed this wasteful $1.2 trillion dollar 'infrastructure' bill. Pelosi did not have the votes in her party to pass this garbage. Time to name names and hold these fake republicans accountable."
Meanwhile, the 13 Republicans are also being criticized by those who are conflating the infrastructure bill with the social spending Build Back Better Act.
"Too many are believing and sharing disinformation and conflating the 2 bills," Bacon tweeted Sunday, as he referred to some of the components in the reconciliation bill that includes climate initiatives and improving education and health care.
"The entire bill is infrastructure. Don't believe the disinformation," he said in another tweet. "There's a second bill that we'll be voting on next week. Many are saying the stuff in the second bill was in this bill. It's disinformation intended to divide and raise their ratings."
Progressive Democrats previously attempted to link the votes for the bipartisan bill and the social spending package together in fear of losing moderates' support for the Build Back Better Act if the infrastructure bill passed first, according to Vox.
While some GOP members are blasting Bacon and his fellow Republicans for their infrastructure bill vote, supporters on social media are praising the move.
"Thank you Rep. Bacon for voting for the bipartisan infrastructure bill. Manufacturers and Ag producers in Nebraska and the US will be better off with improved roads, rails, waterways and broadband," wrote Leif Magnusson, a board member at the Association of Equipment Manufacturers, on Twitter on Saturday.
Bacon himself was praised for putting politics aside and thinking of people's best interests.
"That only makes me feel better about his vote. He put [the] country above [the] party. Imho, he showed integrity, common sense and the ability to not confuse what's best for R or D, but for everyone. That's how it's supposed to work. He represents more ppl than just those that know him," tweeted user @CuzISaidSoBrat.
The fate of the social spending bill is uncertain, and many Republicans vowed to vote against it, including Bacon.
He said in said in a statement released after passage of the bipartisan bill: "When that bill does come to the floor for a vote, I will be a hard 'NO.' Congress holds the purse, and we owe it to our constituents to remain fiscally conservative with our federal spending. They are the ones who will pick up the tab, and I believe they deserve better."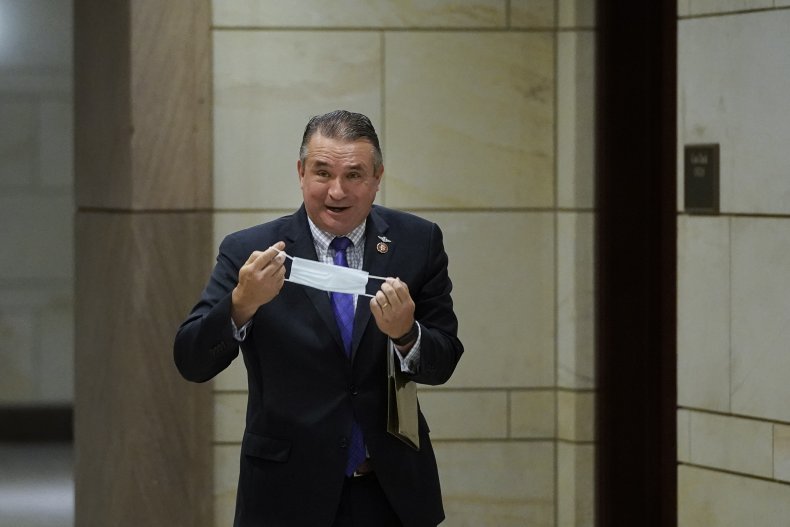 "Make no mistake. This [infrastructure bill] is not the Bernie Sanders' Socialist Budget Busting Bill, which would've cost American taxpayers their hard-earned money," Bacon added.
With the GOP being unified against the social spending bill, Democrats can't afford to lose a single vote in an evenly divided Senate. Therefore, support from moderate Democratic Senators Joe Manchin and Kyrsten Sinema is crucial. The White House previously said that Biden has already sat down with both senators to negotiate over the bill.
Newsweek contacted Bacon for comments.