Restaurant Closes Early After 'Cocky Jerks' Abuse Staff: 'Our Last Straw'
A Michigan restaurant was forced to close early on Saturday after customers treated its staff "like trash," said the manager.
"My staff began to break down both physically and mentally," said Larah Moore, general manager of East Park Tavern in Charlevoix, Michigan, in an interview with Newsweek.
Moore circulated the restaurant's sign in a Facebook post after it was forced to close on Saturday night, amid Charlevoix's annual Venetian Festival. The piece of paper taped outside read, "Due to the mistreatment of our servers our kitchen is closed."
Moore was familiar with the chaos in downtown Charlevoix during the Venetian Festival. She knew the event attracted thousands of tourists, having worked through it for most of her adult life. But this year was different.
"I'm so incredibly disappointed and embarrassed by the Fudgies we have this year," she wrote in her post with nearly 7,000 shares.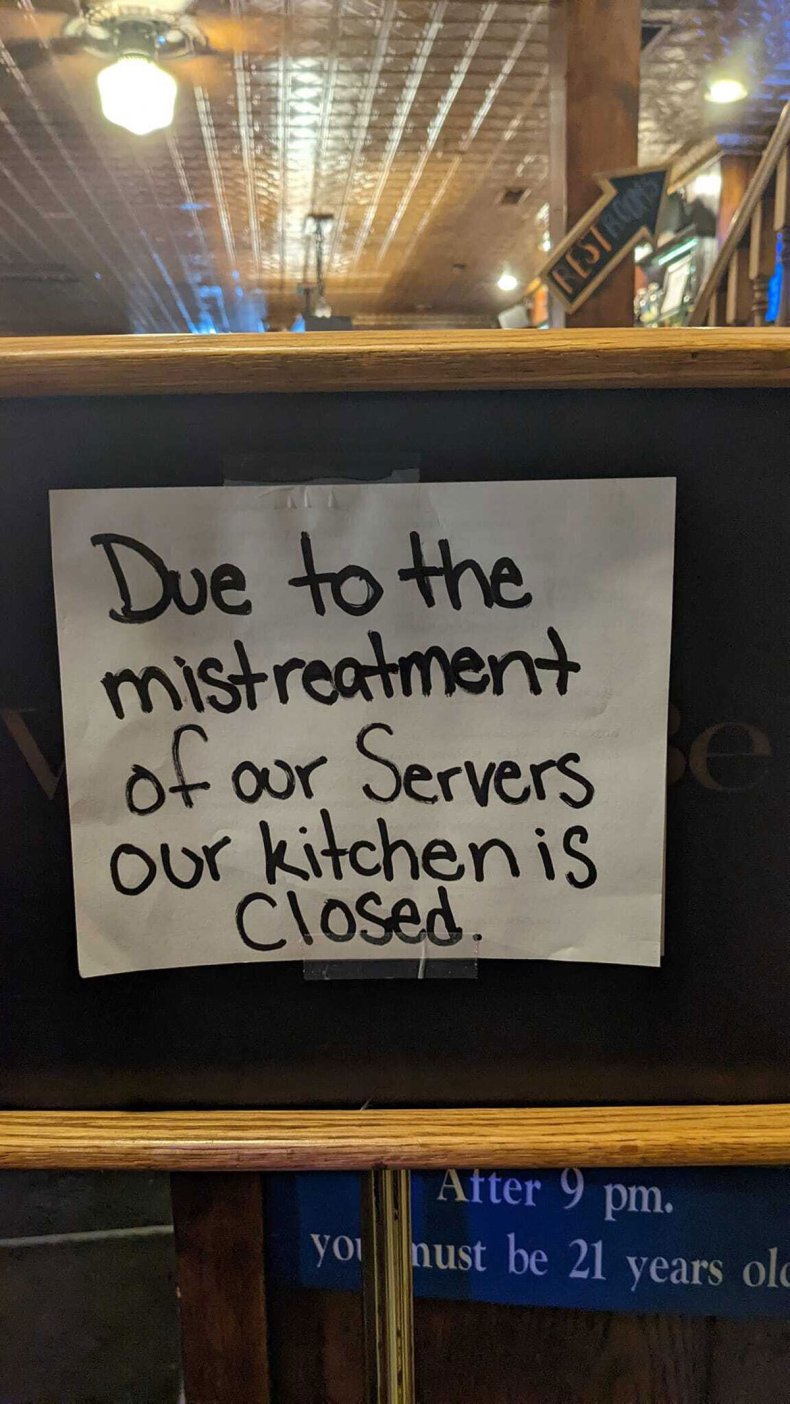 "My staff took a BEATING all week. Last night was our last straw. Too many rude comments. Too many arrogant individuals acting like they can throw money at us to get their way. Too many cocky jerks," the post continued.
"No one gets to treat my staff like trash," said Moore, adding, "We are here to ensure great food, drinks and quality of your time spent with us. We are not here to be abused."
The pressures of staffing issues and longer work hours, rising food prices, supply chain issues and higher guest expectations have driven a burnout crisis in the restaurant industry. According to Limeade, an employee wellness company, 52 percent of food service and hospitality workers who left their jobs in 2021 said burnout pushed them to quit.
Employees in food service quit their jobs at a rate of 5.7 percent in May, more than double the national average rate of 2.8 percent, according to the Bureau of Labor Statistics.
Moore told Newsweek that East Park Tavern was "extremely understaffed," leaving its remaining workers struggling to manage an interminable wave of rude, swearing customers on Saturday night.
"Most of them were working doubles multiple days this week," she said. "Running up and down stairs in our three-floor restaurant is not for the faint of heart. It's extremely hard and grueling work, and then to be underappreciated on top of it really takes a mental toll."
In just the past month, restaurant workers have suffered multiple high-profile cases of abuse from their patrons.
On July 15, a brawl took over a restaurant in San Antonio, Texas, after a patron started fighting with staff over his bill.
Weeks earlier, three customers wreaked havoc at a fry restaurant in New York City, hurling items at employees and leaping over the register after they were charged $1.75 extra for sauce.
Meanwhile, a Chick-fil-A restaurant in South Carolina was slammed on social media this month for holding a "Break the Record Day," urging customers to bust the drive-thru's record for its number of orders served in an hour.