Restoring U.S. Stockpile After Sending Ukraine Weapons to Cost $1.5 Billion
A short-term spending bill approved by Congress on Friday includes $1.5 billion to replenish the U.S. weapons stockpile after it has been used to aid Ukrainians in their fight against Russia.
The New York Times reported on Friday that the spending package—which includes more than $12 billion in military and economic assistance for Ukraine—allocates $1.5 billion to replenish U.S. weapons, while also freeing up the Biden administration to transfer an additional $3.7 billion worth of equipment and weapons to Ukraine.
Since the beginning of Russia's invasion of Ukraine, the U.S. has provided Ukraine with weapons and equipment including helicopters, anti-aircraft systems, guns, grenade launchers, military vehicles, communications systems and ammunition. The U.S. has also provided Ukraine with High Mobility Artillery Rocket Systems (HIMARS) and ammo for the systems, which military analysts have said have been key in the Ukrainians' success on the battlefield.
In remarks on Friday reacting to Russian President Vladimir Putin's speech declaring that Russia had annexed occupied areas of Ukraine, President Joe Biden announced new sanctions and said he would be signing the latest round of military aid for the Ukrainians.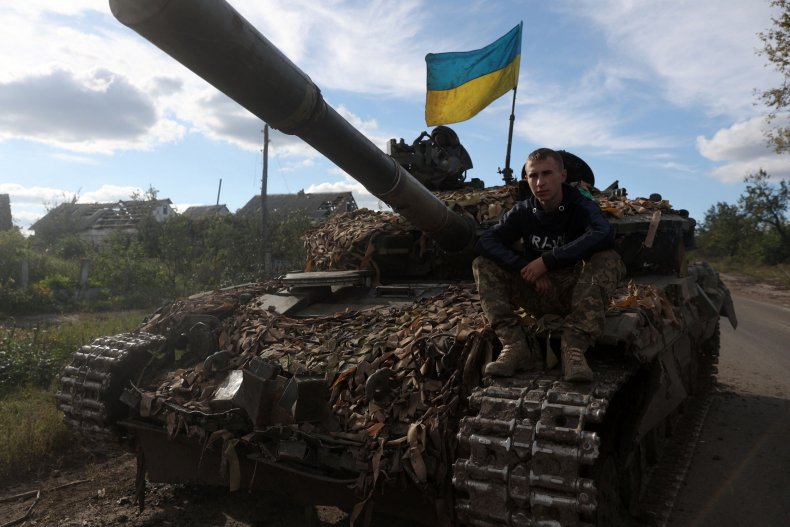 "Make no mistake: These actions have no legitimacy. The United States will always honor Ukraine's internationally recognized borders. We will continue to support Ukraine's efforts to regain control of its territory by strengthening its hand militarily and diplomatically," Biden said.
"We will continue to provide Ukraine with the equipment it needs to defend itself, undeterred by Russia's brazen effort to redraw the borders of its neighbor. And I look forward to signing legislation from Congress that will provide an additional $12 billion to support Ukraine," the president added.
Newsweek has reached out to the Department of Defense and the White House for comment.
As the U.S. has supplied weapons to Ukraine, some officials have raised concerns about the state of America's own weapons supply. In April, Democratic Senator Richard Blumenthal, of Connecticut, said the U.S. has "probably sent about one-third of its Javelin anti-tank missiles to Ukraine."
"Unless the president invokes the Defense Production Act to prioritize deliveries of components to the manufacturer to give that demand signal...we will run out of these key arms," Blumenthal added.
While Ukraine has relied on its weapon supply from U.S. officials, the country claimed earlier this month that Russia has had to rely on "outdated" missiles as its stock runs low.
"Due to the lack of high-precision weapons, the enemy began to use outdated S-300 anti-aircraft guided missiles more often," the General Staff of the Armed Forces of Ukraine stated on Facebook. "More than 500 such missiles were launched on the territory of Ukraine, some of which did not reach the target. The occupiers are armed with several thousand such missiles, but most of them are unusable."