Resurfaced Video of McCain Saying Paul 'Working for' Putin Tops 560K Views
A resurfaced video of the late Senator John McCain, an Arizona Republican, accusing Senator Rand Paul, a Kentucky Republican, of "working for" Russian President Vladimir Putin has garnered more than 560,000 views on Twitter.
The political action committee VoteVets on Tuesday tweeted the 2017 clip of McCain slamming Paul, after the Kentucky lawmaker contended that the U.S. support for Ukraine joining NATO influenced Russia's invasion of its Eastern European neighbor. VoteVets captioned the clip of McCain, writing: "Just a reminder that John McCain called out Rand Paul nearly a decade ago as a Russian asset. He was then, and he is now."
In the remarks from March 2017, McCain, referring to Montenegro, said Paul "has no argument to be made. He has no justification for his objection to having a small nation be part of NATO, that is under assault from the Russians. So I repeat again, the senator from Kentucky is now working for Vladimir Putin."
The strong criticism from Paul's former GOP colleague came after the Kentucky lawmaker blocked a bipartisan Senate effort to approve a treaty allowing Montenegro into the NATO alliance through unanimous consent. If there are no objections, the Senate can pass measures through unanimous consent, which does not require members to actually cast individual votes.
Speaking to MSNBC the next day, Paul shot back, suggesting that McCain, who died the following year, had served in the Senate too long. "You know, I think he makes a really, really strong case for term limits. I think maybe he's past his prime; I think maybe he's gotten a little bit unhinged."
Paul went on to explain that he did not see the benefit to the U.S. of allowing Montenegro to be part of NATO due to its small size and relatively insignificant military. Under the NATO alliance, all member states are required to militarily defend one another if any other member state is attacked.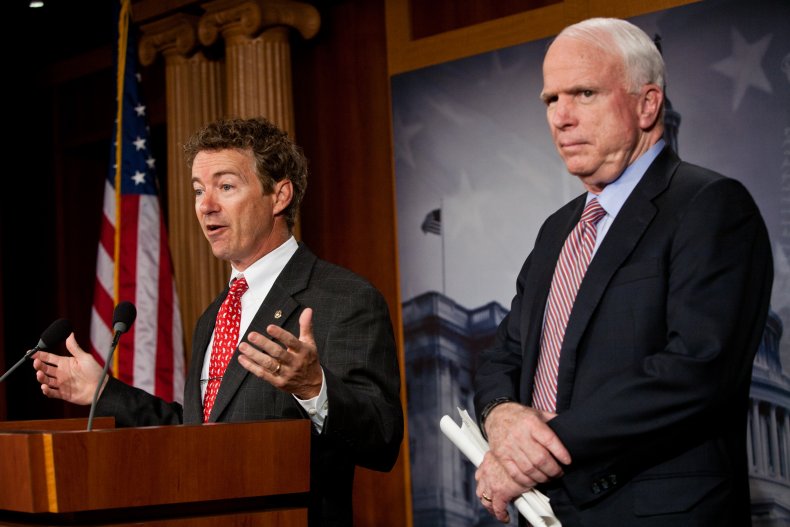 "Adding a country with fewer than 2,000 soldiers to NATO is not in our self-interest. There is no national security interest that an alliance with Montenegro will advance. If we invite Montenegro into NATO, it will be a one-way street with the U.S. committing to defend yet another country," the Kentucky Republican argued in Time.
The Senate did eventually approve the treaty with Montenegro, admitting the Balkan country to NATO. The vote passed 98 to 2, with just Paul and GOP Senator Mike Lee of Utah voting against it. Lee shared similar objections to those expressed by his colleague from Kentucky.
"I don't see how the accession of Montenegro, a country with a population smaller than most congressional districts, and a military smaller than the police force of the District of Columbia, is beneficial enough that we should share an agreement for collective defense," Lee said in a Senate floor speech at the time.
McCain's remarks were resurfaced this week after Paul questioned Secretary of State Antony Blinken about the U.S. support for Ukraine's desire to join NATO. Ukraine's constitution requires the Eastern European nation's leaders to work toward NATO ascension, although analysts have assessed for many years that such a prospect was unlikely in the near term.
"Knowing full well that Ukraine was unlikely to ever join NATO, since it had already been 14 years since they said they were going to become members, why was it so important last fall—before this invasion—to continue agitating for Ukraine's admission to NATO?" Paul asked Blinken during a Tuesday Senate hearing.
Blinken responded, saying: "These are sovereign decisions for European countries to make and, of course, for the NATO Alliance to make in terms of making sure that a country that wishes to join actually adds value to NATO." Referring to Russia, Blinken said that "one country can't dictate to another the choices it makes about with whom it allies, its foreign policies."
"While there is no justification for Putin's war on Ukraine, it does not follow that there is no explanation for the invasion," Paul continued. "You could also argue that the countries that it has attacked were...part of the Soviet Union."
The Soviet Union has been defunct since December 1991. Ukraine has been an independent nation since a few months before that, in August of the same year, meaning it's been free of Moscow's control for over three decades.
Alexander Vindman, who served as the director of European and Russian affairs for the National Security Council in the administration of former President Donald Trump, pushed back against Paul's assessment.
"Paul implies that Russia is justified in attacking Ukraine because, UKR was once part of the USSR," Vindman wrote in a Twitter post. "By that logic Britain is justified in attacking the U.S. and colonial powers their former holdings."
Others, like VoteVets, argued that Paul was essentially making Putin's argument for justifying his internationally condemned invasion of Ukraine. The Russian president pointed to Ukraine's desire to join the Western military alliance, but also has argued that the former Russian empire should be reconstituted.
"Absurd. Rand Paul again spouting Putin propaganda, denying Ukrainian sovereignty and showing ignorance of simple history. Perhaps he's keen to earn more spurious Russian investments in Kentucky," Garry Kasparov, a Russia chess grand master who is also a political activist, wrote in a tweet.
Newsweek reached out Paul's press secretary for further comment.