Resurfaced Video Shows George Floyd Pleading for an End to Gun Violence and 'Kids Getting Killed'
A video of George Floyd encouraging a "lost" younger generation to end gun violence has emerged online in the days after his death.
"You youngsters are just going around, busting guns in crowds. Kids are getting killed," Floyd said to the camera. "It's clearly the generation after us, man, that's so lost."
In the resurfaced video, Floyd also said he was shocked when he heard another adult condone gun violence. He added that half the young people using guns "go home and their knees shaking at night, but they don't show it to nobody because they aren't tough then."
Before ending the video by asking young people to "come on home," he tells them, "One day it's going to be you and God. You're going up or you're going down."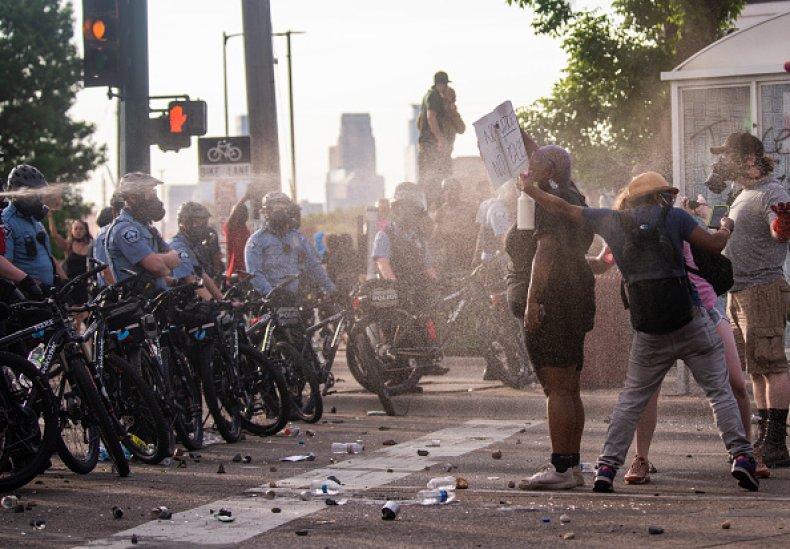 Floyd's death went viral earlier this week after he died in police custody on Monday. A widely circulated bystander video shows former Minnesota police officer Derek Chauvin placing his knee on Floyd's neck as he repeatedly says he cannot breathe.
The officers were arresting Floyd on suspicion of forgery after he allegedly used a counterfeit $20 bill at the Cup Foods deli in Minneapolis. Police said Floyd resisted arrest, a claim that has been disputed by new security footage.
The original video shows a handcuffed Floyd pinned to the ground, begging for help as Chauvin keeps his knee on his neck until he loses consciousness.
"Please, I can't breathe," Floyd can be heard saying, "My stomach hurts. My neck hurts. Everything hurts."
Floyd was declared dead at a nearby hospital shortly afterward, but a report from the Minneapolis Fire Department revealed he did not have a pulse when he was placed into the ambulance.
Immediately following the release of the video, many public figures, including Minneapolis Mayor Jacob Frey, Minnesota Senator Amy Klobuchar and basketball star LeBron James, have demanded justice in the case.
Hundreds of demonstrators gathered at the intersection where Floyd was detained and in Minneapolis' Third Police Precinct on Tuesday and Wednesday. Protests became violent as riot police used tear gas and rubber bullets on the crowds, and downtown businesses were burned and vandalized.
A petition, created by Floyd's sister Philonise, demanding criminal charges be brought against the police officers involved in her brother's death had gained 1 million signatures by Thursday.
The four officers were fired from the Minnesota Police Department on Tuesday. The FBI announced on Thursday it would be launching a joint investigation into Floyd's death with the Department of Justice.
Newsweek reached out to Floyd's family attorney for comment but did not hear back before publication.